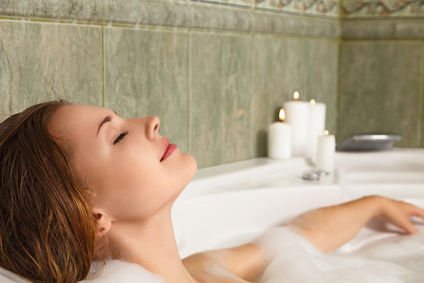 Nothing is quite so luxurious and pampering as a hot relaxing bath. It loosens tight muscles, relieves pain and aches, and promotes circulation. There are ways to make the experience even more pleasurable with just a few little additions to your routine.
Aromatherapy/Scented Sensations
You can take actual flowers into the tub, and let them lazily float around you for their smell and pretty appearance. Better yet, you could also purchase fake floating flowers that have an amazing aroma, and no guilt for cutting fresh flowers. A small sachet of scented potpourri hanging nearby or scented candles burning can also lend a pleasant refreshing scent experience to your bath. Don't forget about essential oils which could used in an infuser, dropped onto a cloth nearby, or even added to the bathwater for smell sensations and medicinal benefits.
More Than Bathwater
Adding Epsom salt to your bathwater is a wonderful way to reap more health benefits. It will increase your relaxation and leave you feeling rejuvenated. Epsom salt is actually a crystallized form of magnesium sulfate. Magnesium has been shown to assist in muscle function, stabilize levels of insulin in the body, and promote normal blood pressure.
Adding essential oils like rosemary, lavender, rose, iris or chamomile to your bathwater is known to promote relaxation and a sense of calm. Since essential oils are not water soluble, adding them to an Epsom salt bath will help disperse them and soothe your skin.
Scrub Your Cares Away
There are few things as delightful to the senses as homemade sugar scrubs. Both for the smell and the softness it will bring to your skin, a scrub is a must-have for the perfect bath experience. As you unwind from the cares of the day, you can buff away dry patches and leave behind supple skin.
Quiet Relaxation Techniques
As you lie back in the water with your neck reclining comfortably on a bath pillow, close your eyes. Take a slow, deep breath and focus on how your chest rises and falls. Notice how your stomach expands with each breath. Hold your breath for a few seconds, and then exhale slowly. Place cool cucumber slices or a cool compress over your closed eyes to give them a soothing touch as well.
Other things to try for peace of mind include prayer, guided imagery, meditation and progressively focusing on the relaxation of one muscle group at a time.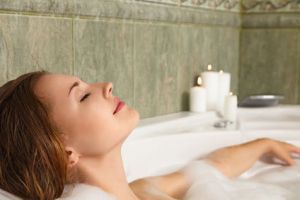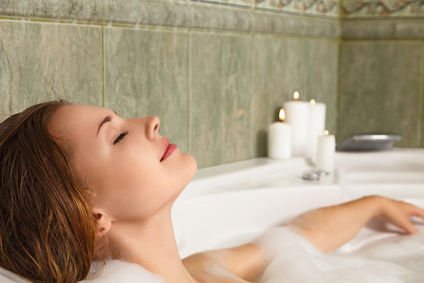 Music To Free Your Mind
As you lie in the warm water, eyes closed, inhaling your favorite fragrance, what could be better than a little peaceful mood music. Nature sounds, classical music, your favorite easy listening tunes, or even a guided meditation can all be the perfect accent to your relaxation experience.
Mood Lighting
Battery operated candles can be a nice touch to enhance your relaxation with soft lighting. This way there is no need to worry about dripping wax, and the soft flicker can give you the same peaceful feeling as the real thing.
Follow-up With Lotion or Rosewater
What better way to follow up an amazing bath then by caressing your skin with the feel of a soft, moisturizing lotion (coconut oil works great!). Rub it gently into problem skin areas to lock in much needed hydration. Follow up with a spray of refreshing rosewater or witch hazel to naturally tone the skin.
-The Alternative Daily
Sources:
http://www.glamour.com/lipstick/2008/11/13-diy-at-home-spa-tricks/1
http://www.huffingtonpost.com/josie-feria/relaxing-bath_b_1181632.html
http://www.livestrong.com/article/166139-the-best-ways-to-relax-in-the-bathtub
http://www.livestrong.com/article/104389-relaxing-spa-bath-home-men