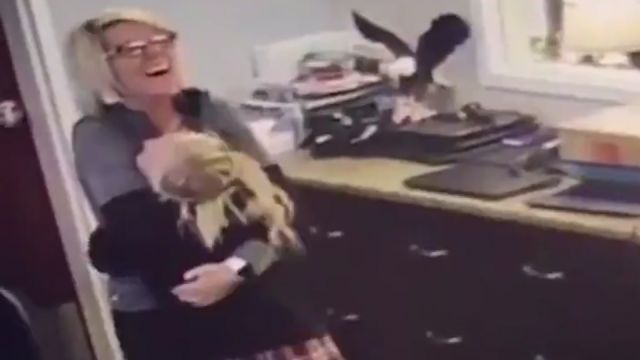 An 11-year-old girl's joyous reaction to news she was finally being adopted has gone viral online, after the heart-warming moment was caught on camera.
The girl, Tannah Butterfield, received the good news from her school's office manager Jackie Alexander. When Alexander broke the long-awaited news, Tannah leaped into her arms in joy, hugging her and not letting her go.
"All that excitement, joy and happiness that you see in Tannah went right through to me," Alexander told NBC News. "We could not quit embracing. She just held me tight."
"It was pure joy at its finest," Alexander added.
11-year-old girl's reaction to finding out she's getting adopted will make your day. https://t.co/IZ05mWy2U9 pic.twitter.com/duksiaYplh

— ABC News (@ABC) 10 October 2017
An office employee at Utah's American Heritage of South Jordan, Alexander said she had known Tannah for two years, and had seen the girl go through the arduous adoption process.
"She's just one that I've made a little bond with and it's lasted," Alexander said.
When she was finally able to break the good news Tannah was being adopted, one of the school's security cameras caught the touching moment.
"In 12 years at this job, this is by far my best moment ever!" Alexander said when she posted the video. "To tell a little girl that she gets her family forever takes the cake. I can't even describe that hug," she said.
Alexander explained she ended up becoming the bearer of the good news after receiving a phone call earlier in the day from Tannah's new mom, Jen Fisher, who asked her to share the news with the girl. "[Jen Fisher] had called to tell me that everything had went well in court that day, that Jeff and her were going to adopt her and the rights were [removed] from the biological parents," Alexander said, according to ABC News.
"She was just so worried and didn't want her to wait any longer, so that's where I got to play a small part," she added.
The Fishers are also adopting two of Tannah's siblings, Teagun, 6, and Tallie, 2. "We just loved them so much," Fisher told ABC, explaining how she and her husband Jeff had been Tannah's foster parents for two years. "My husband and I had a lot of infertility problems and we had wanted more," she said, continuing, "This kind of fell on our lap."
The couple said they expect the adoption papers will be finalized in November, and Alexander said she couldn't be happier. As for the moment when she was able to break the news, she described it as a "sweet reminder… that life can be and still is beautiful in spite of it all."
"This is pure testament that in a world full of turmoil and strife, there is still light and joy to be found in little everyday moments," she said.
Tannah said the adoption was "the biggest thing that ever happened to me." She said of her new family, "They are just caring, loving, take good care of me."
Statistically, Tannah and her siblings are among a small, lucky minority of children in the foster care system. Barely 15 percent of minors that enter the foster care system will ever be adopted, and more than 100,000 children are waiting to be taken in permanently by families, according to the latest available data from the Child Welfare Information Gateway.
The average age of a child awaiting adoption is around seven years, and they usually spend around three years in foster care. However, due to shortages of families willing to take in children for adoption, an estimated 23,000 kids age out of foster care without finding a permanent family. An inability to find a family can leave these children with a grim future, according to a 2016 study by Arrow Child and Family Ministries.
According to the study, more than 60 percent of kids who are never adopted will be in prison, homeless or deceased by the age of 19. As many as half of these un-adopted kids will never complete high school, prompting Arrow's Texas director Keith Howard to argue the foster system has largely failed children. He argued adoption can be the only way to save these vulnerable children. "A lot of it is cyclical stuff that we see, so when we never engage that child and break the cycle, we in turn empower that cycle," he said.
A similar study in 2011 by the Brookings Institute went further, arguing Congress should make adoption easier for potential families. They concluded promoting adoption would not only improve the lives of the children, while also saving public money. "Increased adoption from foster care is a way of decreasing the number of young people who must spend much of their youth in unstable and less than ideal living arrangements," the report stated.
— Ryan Mallett-Outtrim