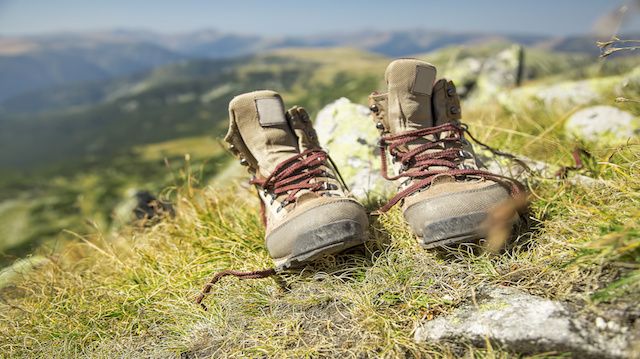 "The bad news is time flies. The good news is you're the pilot." — Michael Altshuler
In my eyes, there's nothing more rewarding than a scenic hike. As you walk past miles of greenery, encountering all of the great outdoors' best-kept secrets, you can't help but feel alive. Nature is both serene and powerful, delivering a wide range of immediate and long-term benefits.
I live for hiking and exploration — I can't get enough of it. Living in Canada, there are so many accessible opportunities both on home soil and throughout the United States. Within North America, we're so lucky to have access to such diverse, stunning scenery.
From the mountains of the West Coast, to the icebergs of the Northeast, the beauty of the North American landscape is just the beginning. These 19 hikes are on my bucket list, and if you love exploring all that this stunning world has to offer, they will most certainly make your list too. 
Tour of Mont Blanc, The Alps, France, Italy and Switzerland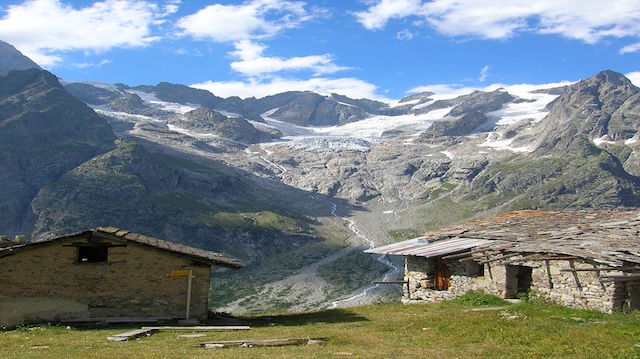 Photo credit: Wikimedia Commons
What's better than a hike that spans three different countries? On this trek you'll take in the beauty of Switzerland, Italy and France. It's best to be fairly experienced before you consider strapping on your boots for this tour that circumnavigates Mont Blanc. Not for the faint of heart, with a total distance of around 105 miles, this hike will take you on a circular route that connects all three countries. The trail is open from June to September, when the mountains are free of snow.
Guide: 4 Books to Motivate and Awaken Your Hiking Spirit
So, what can you expect to experience on your journey touring one of Europe's highest mountains? You'll explore alpine meadows, glacial valleys, and sharp peaks that reach to the heavens, to name a few.
Gros Morne National Park, Newfoundland, Canada
This past summer, I camped in Gros Morne National Park, located in Newfoundland, Canada. In fact, this is me after a long hike — the sun was beginning to set, and as a reward, I watched these icy giants dance across the water.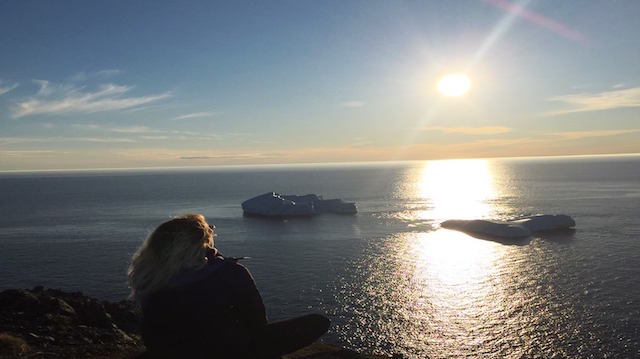 Newfoundland's breathtaking landscape has been taking shape over the past 500 million years. In the natural beauty of the national park, it's hard to distinguish a "set" trail from a simple path to the shoreline.
In terms of hiking, take your pick — Gros Morne National Park has over 60 miles of designated trails. These vary from easy coastal strolls along the lowlands to multiple-day hikes up steep terrain. One thing is for certain, the hike into Western Brook Pond is a must — an easy 3.7-mile hike past wetlands, ponds, and a glacier-carved fjord.
Being exposed to such surreal beauty can definitely rekindle your connection with nature. In Newfoundland, it's not uncommon to spot a whale from shore, and if that isn't enough, you can end your day enjoying some freshly caught seafood. Amen to that!
Tonquin Valley, Jasper National Park, Alberta, Canada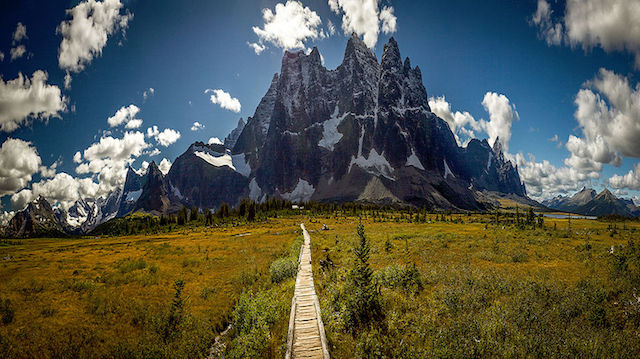 Photo credit: Wikimedia Commons 
Tonquin Valley is located in Jasper National Park, one of four parks that make up the Canadian Rocky Mountain Parks World Heritage Site. Trails run from the peaks of the South Jasper Ranges down into the valleys and alpine meadows of the park. The park offers the best of both hiking and skiing. Far too many of my friends moved to Alberta after high school — they haven't been back since. Hmm, I wonder why? 
With more than 40 miles of trails, the scenery in Jasper National Park is something that every serious backpacker must experience. With five trails to choose from — Moat Lake, Astoria River, Maccarib Pass, Eremite Valley, and the ACC Chrome Lake Trail — you'll have a unique experience on each and every hike.
Just be careful, the valleys are home to grizzly bears, and although they're incredible to see in person, they are still wild animals. Just in case you do encounter a grizzly, it's recommended that you travel in a group and make plenty of noise while hiking the trail of your choice.
Sierra High Route and John Muir Trail, California, United States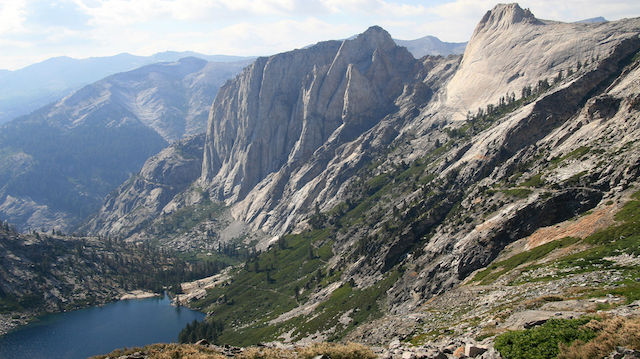 Photo credit: Wikipedia
Spanning 195 miles across the Sierra Nevada Mountains, the Sierra High Route will most certainly challenge you both mentally and physically. Geared towards highly experienced hikers and outdoor enthusiasts, the majority of the Sierra High Route is off-trail. Due to the high elevation and snowfall, it's best to complete this trek in the summer or early fall.
If you would like to see the area, but are not ready for such a challenging route, the John Muir Trail (also known as "America's most famous trail") runs parallel to the Sierra High Route. Just a small tip: Between 70 and 90 percent of hikers walk the John Muir Trail south to north, passing through Kings Canyon National Park and the Inyo National Forest, as well as Yosemite National Park. 
Laugavegur trail and Fimmvörðuháls pass, Iceland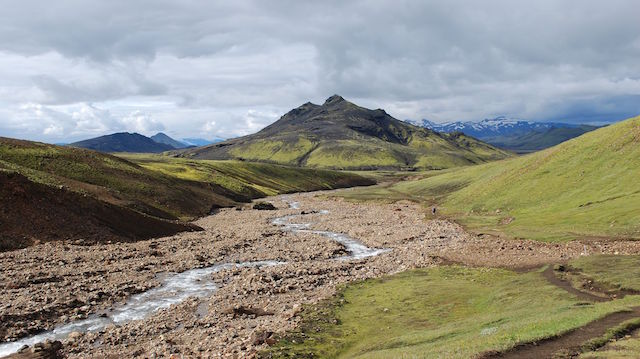 Photo credit: Wikipedia
I have always wanted to visit Iceland, and when I do, I think I will live in my hiking boots. This four- to six-day adventure is approximately 45 miles, exploring a vast wilderness, volcanic landscape, and copper-colored peaks along the way. Of moderate difficulty, it's suggested that hikers are at least 15 years old and physically fit.
If you travel between June and early September, you can take advantage of the comfy huts dotted along your journey. From hot springs to glaciers, this hike has it all. At the end of your trek, you'll be rewarded with the grand finale — the Skógafoss waterfall, which was featured in the film Thor: The Dark World.
Franconia Ridge Traverse, New Hampshire, United States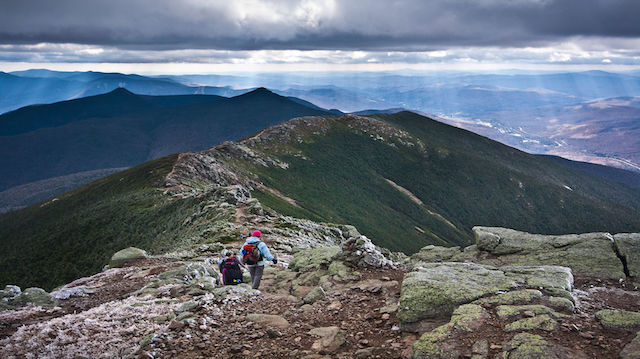 Photo credit: Wikimedia Commons
Just a few hours from Fenway Park, this nine-mile trail will allow you to hike across alpine tundra. Within four miles, this route will take you to an elevation of 3,480 feet. Once you reach the ridge, the hike itself is fairly easy. As with many trails, you have the option to hike either north to south, or south to north.
The main advantage of selecting a north-to-south route is that most of the elevation will be over and done with at the beginning of your journey. When open, you can stop off at the Appalachian Mountain Club's (AMC) Greenleaf Hut — one of eight mountain huts in the White Mountains of New Hampshire — to grab some grub and fill up your water bottles. If the weather isn't great, starting from the south and hiking north will provide protection via tree cover, before you commit to above-treeline peaks. 
There are a number of options, so make sure you map out your designated route — planning for both good and bad weather. Depending on the route you choose, the total distance will vary. With that being said, for those who would like to complete the Franconia Ridge Traverse, give yourself a full day. You will want to start your hike at sunrise so that you can descend completely before the sun sets.
Arctic National Wildlife Refuge and Preserve, Alaska, United States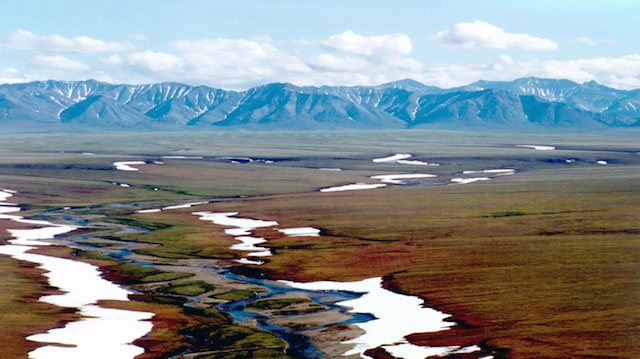 Photo credit: Wikipedia 
When I was in Newfoundland, I witnessed the migration of a massive caribou herd. It was incredible to say the least. In Alaska, caribou migrate between 120 and 400 miles. Within the 19.3-million acre Arctic National Wildlife Refuge and Preserve, hikers are able to experience coastline, tundra, mountains, and of course, incredible wildlife. 
This area is well known for its natural resources and abundance of wildlife, and the Arctic National Wildlife Refuge is vital for the survival of endangered polar bears. For those who are looking for a real adventure, it is here that you'll enjoy hiking, rock climbing, rafting, snowshoeing, and so much more. 
The Arctic National Wildlife Refuge is one of the most remote and least visited places left in North America. As you would imagine, there are no roads or facilities — and there are no designated trails. Adventure tours are available for those who prefer to stay in a group with an experienced guide.
If you're out on your own, it's important to remember that hiking in this remote area is fairly strenuous. It's best to set up a base camp so that you can leave heavy gear behind and explore more freely. In July or August, backpack through the Brooks Range where you'll come across river bars, meadows and bogs. Um, yes please!
Everest Base Camp Trek, Nepal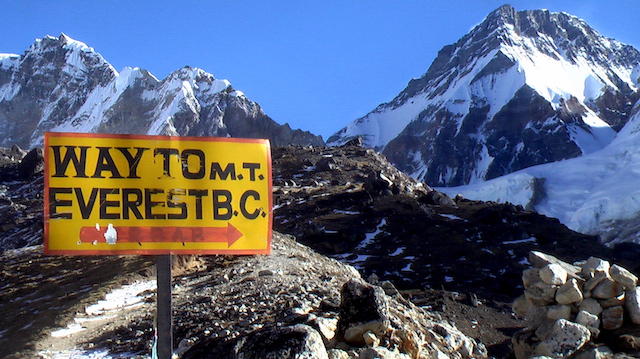 Photo credit: Flickr
Ah, Everest — just hearing the word sounds daunting. With a distance of 40 miles, you will need to be experienced and in shape, but you don't need to be a mountain climber in order to view the highest peak on the planet. Heading off on a two-week journey to reach Base Camp is a spectacular achievement.
Along the way, you will explore Sherpa villages and ancient monasteries, immersing yourself in the unique culture. As you encounter UNESCO World Heritage Sites, learning Buddhist and Hindu traditions, you will quickly understand why this trek is considered to be one of the most rewarding hiking opportunities.
Sure, there are many documentaries and Hollywood films that highlight the journey to the summit, but that does not make the hike to Base Camp any less special. Sitting at approximately 11,300 feet, this hike is recommended to those who are willing to push themselves.
Kings Peak, Utah, United States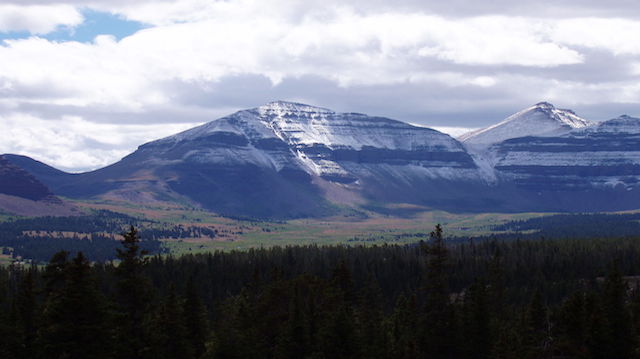 Photo credit: Wikipedia
Another trail closer to home, Kings Peak hiking trail is just shy of 30 miles long, offering a red rock and icy landscape as far as the eye can see. The highest point in Utah, this peak can be reached via a number of routes. Many begin the ascent at Henry's Fork Campground, which offers hikers excellent fishing and kayaking before their journey begins.
After approximately three miles, you will hit Alligator Lake, another popular camping spot. Before you reach an elevation of 13,528 feet, you will experience plenty of picturesque scenery — lakes, dense forest, and steep, carved ridges. It's important to note that the hike to the campsite is moderately difficult, while reaching the peak is more strenuous.
Calanques National Park, Marseille, France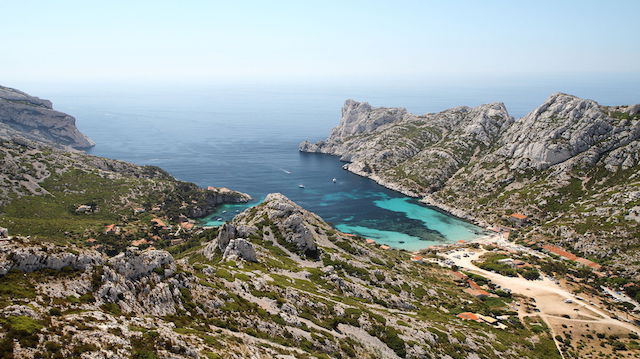 Photo credit: Wikipedia
When we think of France, we often think of wining and dining; but for those who love the outdoors, France has some stunning landscapes to explore. Calanques are limestone cliffs that tower over the Mediterranean, offering a remarkable hiking experience. Although the city of Marseille is only a couple of miles away, you will feel as though you're in a distant land — the view is unlike any other.
Water Wheel Falls, Arizona, United States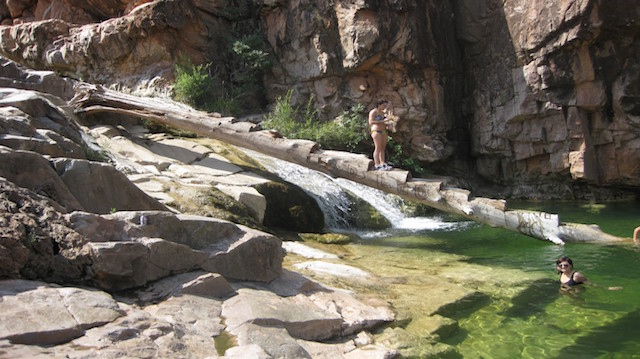 Photo credit: Man vs Gear
Located in Arizona, this two-mile hike is a short adventure, allowing people of all skill levels to enjoy nature. Accessible from March until September, you are also able to bring your four-legged friends along. Although there is no official trail, a path has been made from Water Wheel Campground — simply follow the river upstream. 
To make the journey even more memorable, carry on to Ellison Creek Cascades, where you'll find a great swimming hole, complete with a waterfall. This is a great place to pass the time and enjoy a refreshing reward at the end of your hike. Just make sure you wear a good pair of shoes, the terrain is quite rocky. Once you've enjoyed splashing around in the water, head back to camp for a meal cooked on an open fire.
Indian Point Loop Trail, Columbia River Gorge, Oregon, United States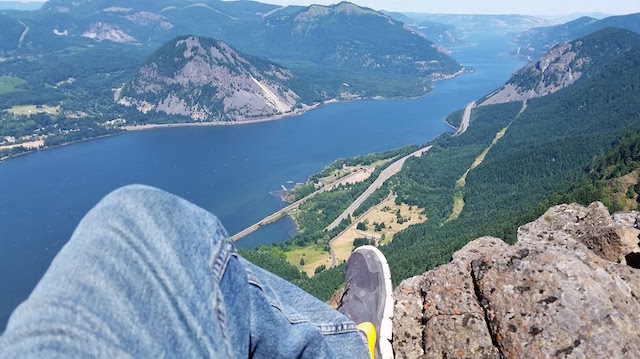 Photo credit — YouTube, Indian Point
The Indian Point Loop Trail takes hikers through a forest as they make their way to a viewpoint unlike any other. Although this hike is only a 7.6-mile round trip, it's considered to be quite difficult. Due to the elevation and the steep, rocky and unmaintained path to Indian Point, the final part of the trail is only recommended for experienced climbers. 
If you do reach the top point, you will enjoy a 180-degree view of the Columbia River. Since there are a number of different routes, it's imperative that you plan ahead and bring a map. Also, determine a set turnaround time if you do get lost. Considering you will begin at 300 feet and end at 2,700 feet, you may want to do a few hundred squats before you pack your bag, just to make sure you can handle the burn.
Grand Canyon, Arizona, United States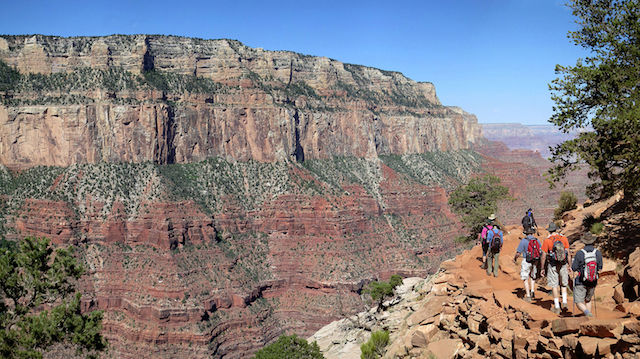 Photo credit: Wikimedia Commons
When you're in Arizona, visiting the Grand Canyon seems to be a given. No matter where you hike in this region, you're sure to have a jaw-dropping view. Although there are a number of hiking trails to choose from, some hikers want to experience it all — hiking rim-to-rim. 
From canyon cliffs to low river hikes, you'll want to start on the North Rim. When you hit the South Rim, you can reward your efforts with pizza and beer at one of the many lodging locations. I mean c'mon — if you hike 24 miles across rough terrain, you deserve a treat.
Mount Kilimanjaro, Tanzania, Africa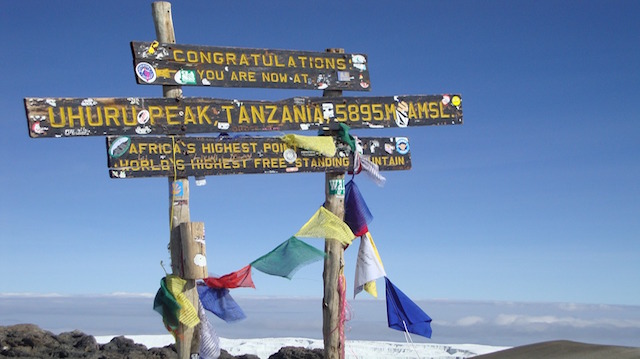 Photo credit: Pixabay
Visiting Africa is most certainly on my bucket list — experiencing its history and varied culture would be reason enough. When it comes to nature and wildlife, however, I've been told by friends that it's as if you're no longer on this planet — Africa has something magical. In Tanzania, you will find Mount Kilimanjaro, a dormant volcano that's yours to discover. 
Once again, it is recommended that you train for this hike. It is approximately 35 miles to reach the top, and you will enjoy yourself more if you're physically fit. With multiple routes, you have options in terms of length and scenery. The Marangu route is the shortest — it takes a total of five days to reach the summit. However, the Lemosho route is considered to be the best — with a total of eight days on the mountain, allowing hikers to adjust to the altitude. 
There's nothing quite like drinking water from a fresh mountain stream as you make your way to the highest peak in Africa. The summit on Mount Kilimanjaro is called Uhuru Peak. Not only is Uhuru Peak the highest point within the continent itself, but Mount Kilimanjaro is also the tallest freestanding mountain in the world. When you reach the top, you'll see so many stars at night, you will feel as though you can reach out and grab one.
Mills Lake, Rocky Mountain National Park, Colorado, United States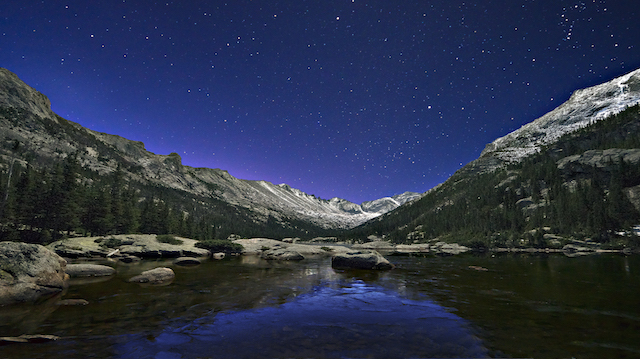 Photo credit: Flickr
Colorado has it all — lakes, mountain views, and a number of spectacular trails. Of those, the 5.3-mile trail located in the Glacier Gorge is a good place to start your adventure. Before the first mile, you will hit a 30-foot waterfall known as Alberta Falls. Once you reach Mills Lake itself, the view is stunning — don't forget your camera!
West Coast Trail, Vancouver, Canada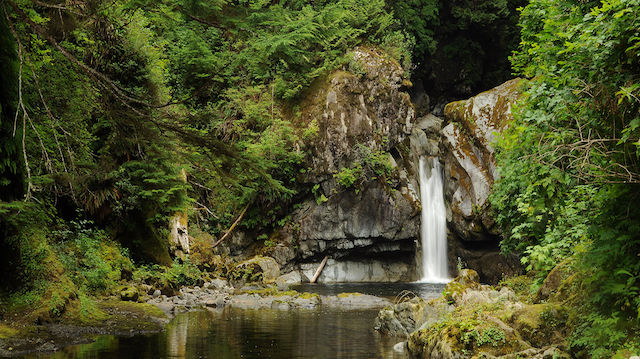 Photo credit: Wikipedia
This 47-mile hike is one to write home about, and for British Columbia locals, it is home. Open from May 1st until September 30th, the West Coast Trail offers winding beaches, bogs, and forests. With its incredible history, you'll walk along the land that First Nations tribes have inhabited for thousands of years.
As you trek through Pacific Rim National Park, you will walk in the footsteps of the people of the First Nations. Many of the hiking trails and routes were created by these tribes for travel and trade. Due to the rugged terrain and camping skills required on this trek, it is recommended for those who are experienced and physically fit backpackers.
Kalalau Trail, Kauai, Hawaii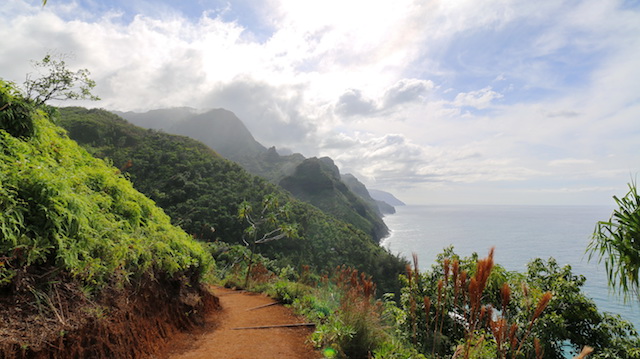 Photo credit: Flickr
Although tempting, you'll want to wear more than a hula skirt on this adventure. The Kalalau Trail is an 11-mile trek along the coast of Kauai — an island located in the state of Hawaii. Although experienced hikers can complete the 22-mile round-trip in a day, most hikers take their time, camping on the beach at Hanakoa Valley, the six-mile mark. Many hikers have described their experience on this trail as one of the best times of their lives.
Kungsleden, Sweden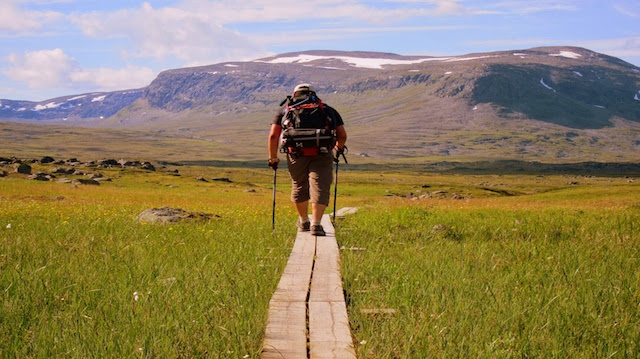 Photo credit: Wikipedia 
Kungsleden — The King's Trail — is located in northern Sweden. Approximately 270 miles long, this trek passes through Vindelfjällen Nature Reserve (one of Europe's largest protected areas) as well as four national parks. Located 100 miles inside the Arctic Circle, you will find a vast landscape of birch forests, rivers, glaciers, and mountains.
You need to be pretty serious if you're willing to complete the full length, taking a full month off work. If you're really taking your time, it may take even longer. Although the hike itself is rugged and challenging, suspension bridges have been constructed to cross dangerous rivers, and huts have been built in order to welcome travelers. Also, there are no camping restrictions, meaning you can bring all the essentials, including your camping stove.
As mentioned, the full trail is just over 270 miles, which is why the "sampler section" is recommended. This 65-mile portion will start at Abisko and end at the Sami settlement of Nikkaluokta, taking around one week to complete. You can most certainly hike in either direction. However, trekking north to south will keep the sun on your face, an important consideration in the Arctic.
MacLehose Trail, Hong Kong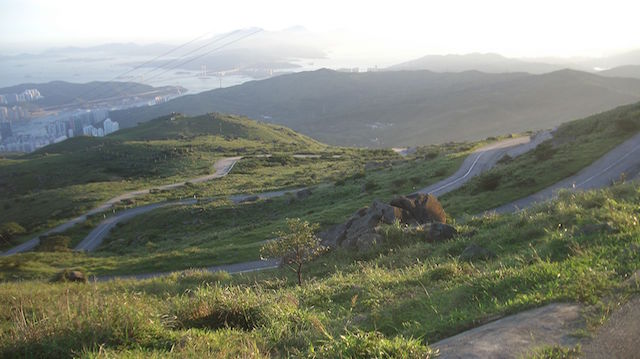 Photo credit: Wikipedia 
At just over 60 miles, the MacLehose Trail is known to offer hikers an unforgettable experience. To be honest, Hong Kong wasn't really on my travel radar — until I saw this trail. Along this hike, you will experience serene natural landscapes, within 10 different stages. 
Each stage differs in terms of length and difficulty. The first and sixth stages are the easiest, while the third and fourth are the most challenging. Overall, this trail is easy to moderate, with only a few strenuous sections.
Ask yourself, are you up for the challenge? Start ticking some of these trails off your bucket list — experiencing all that this breathtaking world has to offer.
—Krista Hillis
Krista Hillis is passionate about nutrition, mental health, and sustainable practices. She has her Bachelors in Psychology and Neuroscience and is still active in her research. Studying both the body and mind, she focuses on natural health and balance. Krista enjoys writing based on her ability to inspire others and increase overall awareness.
Sources:
http://adventure.nationalgeographic.com/adventure/trips/americas-best-adventures/hike-sierra-high-route/
http://sectionhiker.com/great-hikes-franconia-ridge-traverse
http://utah.com/hiking/kings-peak-trail
http://adventure.nationalgeographic.com/adventure/trips/best-trails/worlds-best-hikes-dream-trails/#/tour-du-mount-blanc-best-hikes_68721_600x450.jpg