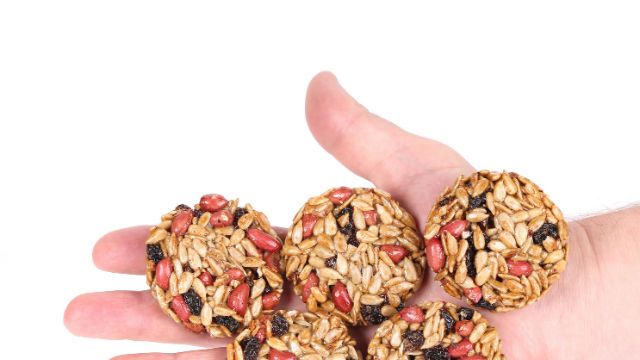 How many times have you felt your belly growl and found that you don't have a healthy treat to eat? Or maybe you're needing that little boost of energy and the only thing you can find on you is a piece of gum?
Cookies that are packed with energy boosters are the perfect snack to keep you going during the day. They help ward off those hunger pangs and give you the "pick me up" that you need.
Forget about buying cookies in the store that are filled with, who knows what? Here are three yummy cookie recipes for energy and that sweet treat you crave.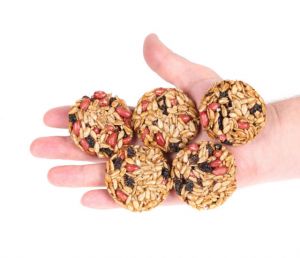 These little bites are fiber filled and delicious!
1

cup

gluten-free oats

1/2

cup

natural peanut butter

1/4

cup

agave nectar

1

Tbsp.

melted coconut oil

1

Tbsp.

chia seeds

2`

Tbsp.

flax seed meal

3

Tbsp.

chopped dark chocolate

pinch

of sea salt

1/4

Tbsp.

ground cinnamon
raisins,nuts,dried fruits and coconut
In a large bowl, mix together all of the ingredients until well-combined. Cover and refrigerate the mixture for about 30 minutes.

Using your hands, roll the mixture into 1 to 1 1/2-inch diameter balls.

Place the bites into an airtight container and store in the refrigerator for about 1 week. -Makes about 20 bites depending on the size.
Chocolate Fig Bars with Sea Salt
Figs are an excellent source of dietary fiber, vitamin B6, copper, potassium, manganese and pantothenic acid and adding pumpkin seeds to the mix boosts magnesium and adds zinc and antioxidants.
1/4

cup

pumpkin seeds

3/4

cup

water

1

cup

figs

4

scoops

pea protein

6

Tbsp.

vegan dark chocolate chips

1/2

Tbsp.

melted coconut oil

sea salt
In a food processor, blend pumpkin seeds and water for about 1 minute until smooth. Add the figs and pea protein and blend again until smooth. Flatten the mixture onto a cookie sheet and freeze for about 35 minutes.

While the fig-protein mixture is freezing, use a double boiler to melt 3 tablespoons of chocolate. Spread the melted chocolate onto fig-protein mixture and place it back in the freezer for 15 more minutes. Melt the remaining chocolate and coconut oil and mix well.

Take the fig-protein mixture out of the freezer and cut it into 6 even pieces. Dip each piece into melted chocolate and completely cover it. Sprinkle the bars with a touch of sea salt and place them in the refrigerator for about 30 minutes before eating.
Pumpkin No Bake Energy Bars
Pumpkin is chock filled with vitamin A and C and is a great source of fiber.
8

oz

chopped dates

(about 1 packed cup)

1/4

cup

honey

1/4

cup

pumpkin puree

1

Tbsp.

chia seeds or flax seeds

1

tsp.

ground cinnamon

1/2

tsp.

ground ginger

1/4

tsp.

ground nutmeg

Pinch

of sea salt

1

cup

gluten-free oats

(dry, not cooked)

1

cup

toasted coconut flakes

1

cup

pumpkin seeds

(shelled, of course)
Combine the dates, honey, pumpkin puree, chia (or flax) seeds, cinnamon, ginger, nutmeg and sea salt in a food processor, and pulse until smooth and combined.

Transfer the mixture to a large bowl, and stir in the oats, coconut flakes and pumpkin seeds until evenly combined. Cover and refrigerate for at least 30 minutes.

Line a small baking pan with parchment paper and press the cooled mixture evenly into the pan. Let it cool, and then cut into bars.

Store covered in the refrigerator for up to 2 weeks.
-The Alternative Daily
When shopping for sea salt, look for an unrefined sea salt. Unrefined sea salt retains all the natural minerals your body needs. The only sea salt we use in our kitchen is from Ava Jane's Kitchen. Learn more and receive a special offer today!
Sources:
http://www.shape.com/healthy-eating/meal-ideas/6-homemade-vegan-energy-bars/slide/2
http://dailyburn.com/life/recipes/energy-bites-recipes