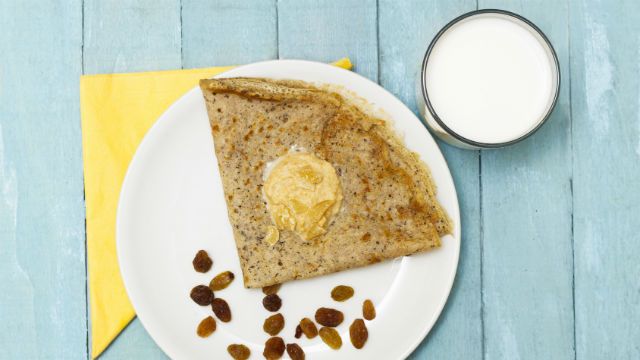 After a long day at work, the last thing you probably want to do is spend time slaving in the kitchen. At the same time, turning to unhealthy fast foods definitely won't do your body any favors.
Fortunately, there are many simple, tasty and healthy meals that can quickly be put together using just three ingredients. Keep in mind that using organic ingredients whenever possible is best for optimal nutrition without the toxins.
Scrambled eggs and baby spinach
Who says eggs are just for breakfast? This is a perfect, nutritious meal that can be eaten morning, noon or night. All you need are a few organic, free-range eggs, baby spinach, and a tablespoon of organic extra-virgin coconut oil.
Melt the coconut oil in a skillet over medium heat, add your eggs and spinach, and stir continuously until done.
Mango, chicken and arugula salad
To prepare this easy meal, just chop up a fresh mango into bite size chunks, then slice up one or two organic, free-range chicken breasts. Saute them together in a skillet with a little coconut oil, and then combine with arugula leaves for a delicious, healthy salad.
Tuna salad
Combine approximately 4 ounces of baked wild-caught tuna fillet, flaked, with 3 cups of baby arugula. Top with the juice of half a lemon. If we may venture to suggest a fourth ingredient, drizzle with a bit of olive oil, as well.
Greek portobello mushroom
All you need for this recipe is a large portobello mushroom, zucchini and feta cheese. Preheat your oven to 450 degrees and brush the portobello cap with a little olive oil. Shred the zucchini and toss with about ⅓ cup crumbled feta cheese. Place the mixture inside the mushroom and baked until cooked through, for about 15 minutes.
Honey mustard salmon
Honey, mustard and salmon are all you really need for this recipe, along with a bit of coconut oil. Preheat your oven to 400 degrees, and combine 1 tablespoon raw organic honey, 1 tablespoon organic mustard (like Eden Organic), and 1 teaspoon coconut oil. Place a piece of 4 ounce wild-caught salmon in a baking dish and brush with the honey-mustard glaze. Bake until salmon is cooked through, for approximately 8 minutes.
3-ingredient gluten-free pancakes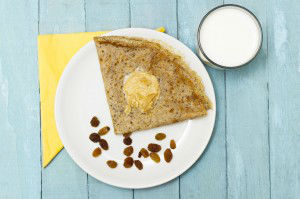 All you need for these delicious pancakes are some free-range eggs, cinnamon and some bananas. You'll need a couple bananas to about one egg, plus a dash of cinnamon to taste. Just combine the ingredients in a bowl, mixing and mashing until the mixture becomes smooth. Grease a pan with a dab of coconut oil on low to medium heat over your stove. Pour about one-quarter cup of the batter into the pan, cooking for about 1 ½ minutes on both sides. Repeat until all pancakes are cooked and enjoy!
Sundried tomato chicken in a cream sauce
3 ingredients:
2 free-range chicken breasts, halved
½ cup organic sundried tomatoes, packed in olive oil
1 cup cream
Heat a skillet over medium-high heat with 3 tablespoons of coconut oil. Add chicken and sundried tomatoes. Spices, sea salt and pepper can also be added as desired. Cook the chicken until browned. Turn over and cook on the other side, lowering heat as needed to cook all the way through. Pour cream into the skillet and simmer until warm.
-The Alternative Daily
Sources:
http://www.shape.com/healthy-eating/meal-ideas/3-ingredient-meals-under-400-calories/slide/3
http://zoomyummy.com/2014/08/29/3-ingredient-pancakes
http://www.babble.com/best-recipes/3-ingredient-dinner-creamy-sundried-tomato-chicken