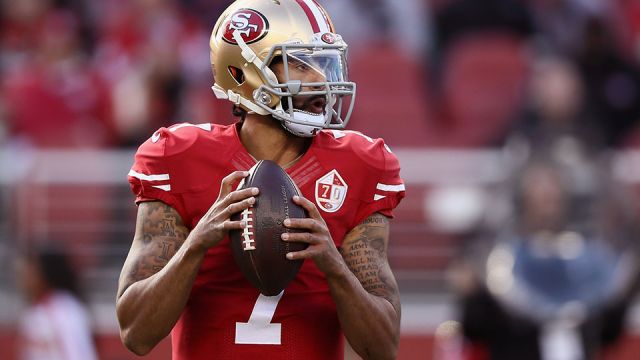 Free-agent quarterback and well-known National Anthem protester Colin Kaepernick has filed a grievance against NFL owners for collusion, according to his attorney, Mark Geragos.
Kaepernick had been waiting for months since he opted out of his San Fransisco 49ers contract to hear from another team.
If he was not picked up before training camp, Kaepernick had hoped to be signed when another team's quarterback when down due to injury, which has been the case for several teams this season.
With injury after injury to quarterbacks throughout the league, Kaepernick had reportedly struggled with the potential idea and didn't want to officially say that teams were purposefully not signing him, especially due to his wishful thinking.
Now, especially after the Green Bay Packers announced they would not sign him due to star Quarterback Aaron Rodger's injury, it seems like Kaepernick will not be signed by any team this NFL season.
To make matters worse for Kaepernick, his favorite team growing up as a child in Wisconsin was the Packers.
Him pictured as a child:
Young Green Bay Packers fans. More specifically, a young Colin Kaepernick on the right. pic.twitter.com/gaIdhE5zqQ

— Darren Rovell (@darrenrovell) October 15, 2017
Two weeks ago, the Tennessee Titans passed on Kaepernick for Brandon Weeden when their quarterback Marcus Mariota got injured.
This especially angered Kaepernick, because looking at both of their historical career statistics, Kaepernick's are quite convincingly more impressive than Weeden's.
As a result, Kaepernick has officially crossed the line and will fight the NFL through legal means because it seems like his chances to be signed by anyone are very slim.
Many advocates of Kaepernick claim is he far more experienced and talented than several starting quarterbacks in the league.
Essentially, the full transition of Kaepernick as a legitimate NFL quarterback to full-on social justice advocate is now officially complete.
Interestingly, according to Future NFL Hall of Famer Ray Lewis, the Baltimore Ravens were a phone call away from signing Kaepernick in August when their starting Quarterback Joe Flacco got injured. However, they decided to pass on him when they saw a derogatory picture his girlfriend tweeted out of Lewis with team majority owner Steve Bisciotti.
The justification for other teams passing on him has been more vague, from claims that he didn't fit systems, to him being a media distraction, to him wanting too much money.
This legal move is being viewed by some as a last chance attempt to play the sport he loves, while others are calling it a trivial publicity stunt.
Clearly, this decision by Kaepernick is only fueling the ongoing national anthem protest conversation even further.
In the grievance filed by Kaepernick, it states that he believes he is no longer in the NFL as a retaliation for his stance during the national anthem protests and his advocacy for equality and social justice.
Also, Kaepernick claims that the owners' have a "calculated coordination" with President Trump.
Kaepernick's decision has sparked lots of debate online:
Does Colin Kaepernick grievance factor gf's inflammatory memes of an NFL owner? T-shirt glorifying Castro? Ruined chances for yourself, bud.

— Britt McHenry (@BrittMcHenry) October 16, 2017
The #Packers should sign Kaepernick. They need a mobile QB behind that O-line. And if any brand could handle the backlash, it's GBay

— Farhan Lalji (@FarhanLaljiTSN) October 16, 2017
Kaepernick should submit the tape of Bortles' performance today as part of his collusion lawsuit.

— Bill Simmons (@BillSimmons) October 15, 2017
Colin Kaepernick suing the NFL for collusion is literally the equivalent of every idiot in America suing because they didn't get a job.

— Matt Couch ♦️ (@RealMattCouch) October 16, 2017
Based on the news from legal experts far more involved with the situation, it seems like Kaepernick has somewhat of a legitimate case, depending on the disclosed information that he and his lawyer are able to obtain.
However, many are claiming that Kaepernick will lack the necessary evidence to fully prove full collusion by the NFL.
What are your thoughts on Kaepernick's decision? Is he making the right move or is this just a publicity stunt? Let us know!
–PJ Amirata