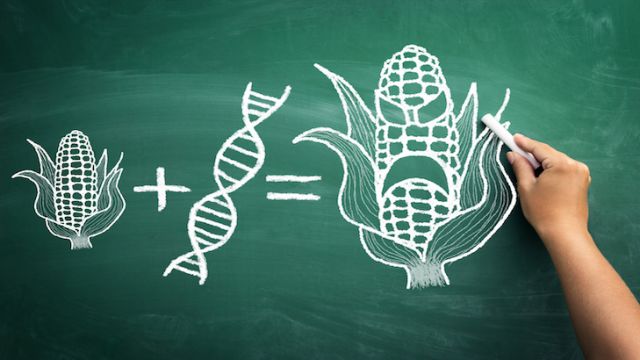 Republicans and Democrats may have just found common ground in the least likely of places: labeling regulations for food containing genetically modified organisms (GMOs). On June 23, members of the Senate Committee on Agriculture, Nutrition and Forestry announced they had agreed to a long-awaited piece of proposed legislation on GMO labeling. If passed, the bill says it will "establish a national disclosure standard for bioengineered foods."
In a joint statement, Committee Chairman Pat Roberts (R-Kansas) and Ranking Member Debbie Stabenow (D-Michigan) said the proposal was the result of cooperation between Democrats and Republicans on the committee.
"This bipartisan agreement is an important path forward that represents a true compromise. Since time is of the essence, we urge our colleagues to move swiftly to support this bill," they said
Speaking separately, Stabenow described the proposed legislation as a "win for consumers and families": "For the first time ever, consumers will have a national, mandatory label for food products that contain genetically modified ingredients."
At first glance, the bill looks like a major step forward for campaigners who have long argued for greater corporate transparency over GMOs. However, it has received a relatively lukewarm response from campaigners.
Writing for The Conversation, a skeptical Professor Jane Kolodinsky from the University of Vermont has argued the bill is unlikely to be a silver bullet to the long-running controversy over GMO labeling. "In my view, the proposed federal legislation, while consistent across the country, makes it very difficult for consumers to obtain the information they want to know — namely, whether a product has been produced using GM technology or ingredients," she said.
Kolodinsky may have a point. Although the bill requires some form of disclosure of GMO ingredients, companies are offered a broad variety of options. The simplest option available would be to simply state whether or not a product contains GMOs on the packaging. Another option would be to provide a Quick Response code, allowing consumers to quickly scan the label with a smartphone. A third option open to companies would be to direct consumers to a phone number or website able to provide details of the product's ingredients.
Kolodinsky argued the plethora of options potentially available to food manufacturers won't make it much easier for the average consumer to determine whether a product contains GMOs. "For a consumer purchasing multiple products, this will be a cumbersome process," she said.
Other GMO-labeling advocates have agreed the bill fell short of expectations.
"We are disappointed that the proposal will require many consumers to rely on smartphones to learn basic information about their food," said Gary Hirshberg, the chairperson of GMO-labeling campaign group Just Label It.
"This proposal falls short of what consumers rightly expect — a simple at-a-glance disclosure on the package," he added.
Both Hirshberg and Kolodinsky argued that senators should have modeled the proposal on a piece of Vermont legislation. Slated to come into effect on July 1, the legislation will require clear text label on products including GMOs. It will also ban manufacturers from claiming products are "all natural" if they contain GMOs. Some estimates suggest over 75 percent of processed foods consumed nationwide include GMO ingredients.
If the Senate committee's bill is passed into law, it will automatically kill the Vermont legislation — and this is no accident.
Commenting on the bill, the agriculture committee's chair, Roberts, said the proposal was intended as a counter to Vermont's attempt to impose state-level regulations. "Unless we act now, Vermont law denigrating biotechnology and causing confusion in the marketplace is the law of the land," Roberts said.
He didn't explain how the Vermont law denigrates GMOs.
Defending the bill, Stabenow argued the committee's proposal is significantly larger in scope than the Vermont law and will cover many products that were excluded under the state's legislation.
"The agreement also closes glaring loopholes under the Vermont law, which would have allowed tens of thousands of processed-food products, like frozen dinners or entrees that contain meat and GMO ingredients, to go unlabeled," she said.
She continued, "Under the law in Vermont, for example, a cheese pizza could be labeled but a pepperoni pizza could not, even if it contained a GMO ingredient."
This loophole exists because foods containing meat products are regulated by the USDA.
However, it's unclear whether the committee's bill will actually close that loophole. The bill includes a provision that exempts products where the "most predominant ingredient" is meat, poultry or eggs.
Nonetheless, Roberts has claimed the committee's bill is superior to the Vermont law.
"It is a far better alternative than Vermont's law with its destructive ramifications up and down the supply chain," he said.
Many large agribusiness firms have long opposed GMO labeling, fielding arguments ranging from increased packaging costs to fears that labels could make GMO products less competitive. In particular, the Vermont legislation has infuriated industry advocates. When Vermont's House first approved the law in 2014, the Grocery Manufacturers Association condemned the regulations as "misguided." That same organization now supports the committee bill.
"We thank Senators Roberts and Stabenow for their hard work and leadership to find the solution that can give consumers more information about genetically engineered ingredients and prevent different state labeling laws," the association said in a statement.
They added, "It is critically important that Congress approve this legislation as soon as possible because Vermont's mandatory labeling law is already having negative impacts."
Roberts received over $900,000 in campaign committee contributions from agribusiness between 2011 and 2016, according to data from the Center for Responsive Politics. Stabenow received over $1 million in the same period from agribusiness.
— Ryan Mallett-Outtrim