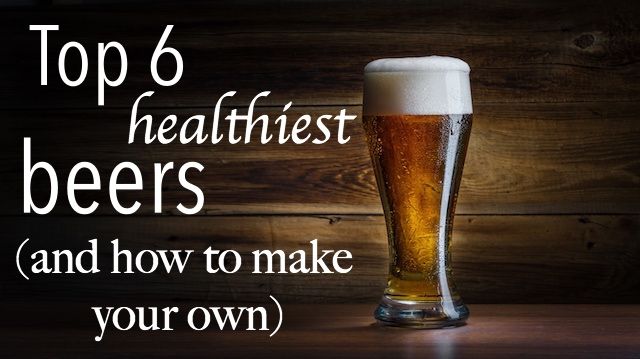 Beer drinkers rejoice; similar to red wine, beer has some health benefits. So here are our top choices for healthiest beers — some are surprisingly low in calories and carbs, others are pesticide and herbicide free, and still others are sans-gluten. Oh, and for an even healthier version, feel free to brew your own.
Research suggests that light to moderate consumption of alcohol is associated with a significant reduction in the risk of cardiovascular disease. While you're not going to get your daily nutritional intake from drinking beer, it's interesting to note how the nonalcoholic components in beer actually have health benefits, such as preventing carcinogenesis and osteoporosis.
In addition, the bitter compounds in beer improve insulin resistance and hyperlipidemia (fat in your blood). Furthermore, research suggests that the bitter substances derived from hops may also help prevent and improve obesity and type 2 diabetes. So, enjoy your beer, but drink in moderation.
Guinness
Guinness, a traditional Irish stout, has the reputation for being meaty and assertive. Yet this distinctively thick, black St. Patty's Day favorite is actually neither. Perhaps a healthier alternative to other calorie-heavy brews, Guinness serves up 126 calories and 10 grams of carbs per 12 fluid ounces — 19 calories less than Budweiser and 24 calories less than Heineken. In addition, with just four percent alcohol by volume (ABV), robust taste doesn't necessarily equate to a higher alcohol content.
Samuel Adams Light Lager
Beer drinkers may frown at light beer, but Sam Adams Light Lager boasts a soft spiciness, a hint of tropical fruit, a smooth finish and a "craft beer" feel. At 119 calories and 9.5 carbs per 12 fluid ounces, this amber-colored Boston Lager is another healthy alternative for those watching calories and carbohydrate intake. In addition, the alcohol percentage is low (4.3 percent ABV).
Pinkus Organic Ur-Pils
For some, choosing organic products is more than just a passing fad; it's a choice not to pollute the body with pesticides and herbicides. Pinkus beer, certified organic by the U.S. Department of Agriculture (USDA), is truly the original non-GMO, organic beer. In fact, the modern organic beer movement began when Brauerei Pinkus-Müller in Münster, Germany, brewed his first all-organic beer in 1979.
Pinkus-Müller's dissatisfaction with poor-quality conventional malt prompted him to choose superior organic malt. Less than a decade later, his brewery switched to all-organic brewing. A 12-ounce serving of Pinkus Organic Ur-Pils contains 192 calories, 13 grams of carbs and 5.2 percent ABV.
Pinkus-Müller's organic beer influenced brew masters abroad, and in 1997, the USDA established the National Organic Program. Today, the USDA regulates the word "organic" so that it represents products made in accordance with the Organic Foods Production Act of 1990.
Peak Organic
If you're seeking a domestic brew that embodies the same healthful principals as its European counterpart, breweries like Peak Brewery thrive on everything organic. Located in Portland, Maine, this craft brewing company depends on local farms and artisan businesses for organic hops, malt, coffees, oats, barley, chocolate and maple syrup.
Look for these sustainable, organic ingredients in the many Peak craft beers ranging from the Fresh Cut Pilsner, Hop Blanc, or their White IPA, to the special seasonal ales they brew — all are free of fertilizers, pesticides and herbicides.
Bard's Gluten-Free
If you suffer from celiac disease or you simply choose to eat a grain-free diet, beer may not be your drink of choice. However, with gluten-free brews hitting the scene, you no longer need to forgo a cold one on a hot day. Bard's, touted the "original sorghum malt beer" contains no wheat, barley, rye or oats, making this a healthy alternative for gluten-free beer lovers.
Brewed with 100 percent malted sorghum, Bard's gluten-free craft beer is the innovation of two home-brewers diagnosed with celiac disease. Sorghum replaces malted barley, making this brew naturally gluten-free and less heavy — yet still rich enough to go head-to-head with traditional lagers.
Green's Gluten-Free India Pale Ale
Similar to Bard's story, Belgium-based Green's was the brainchild of founder Derek Green, who also suffers from celiac disease. Green's beers, inspired by robust European beers, are brewed in Lochristi, Belgium. Using a closely guarded secret recipe, these full-bodied beers are free of a lengthy list of allergens: gluten, crustaceans, eggs, fish, peanuts, soybeans, milk, lactose, nuts, celery, mustard, sesame seeds, sulfur dioxide and sulfites.
Not only are Green's beers a healthy alternative for those who require a gluten-free diet, but they are also a healthy beer for both vegetarians and vegans. Green's award-winning India Pale Ale is amber-red and full of body and flavor. At six percent ABV, Green's India Pale Ale has 113 calories and 7.5 grams of carbs per 8.45-ounce serving.
Brew your own at home!
At its most basic, beer is created from four essential ingredients: water, hops, yeast, and barley. With these ingredients, brewers can create thousands of pleasurable brews, enjoyed by beer lovers throughout the world. Yet, for those who suffer from celiac disease, beer is not a pleasure but a source of pain due to the various proteins found in grains, such as rye, spelt, and barley. Although most people easily digest gluten, others who suffer from celiac disease experience wrenching stomach pain and cramping.
The alternative — brewing your own healthier craft beer at home, made with grains and grasses such as sorghum, buckwheat, rice, and millet.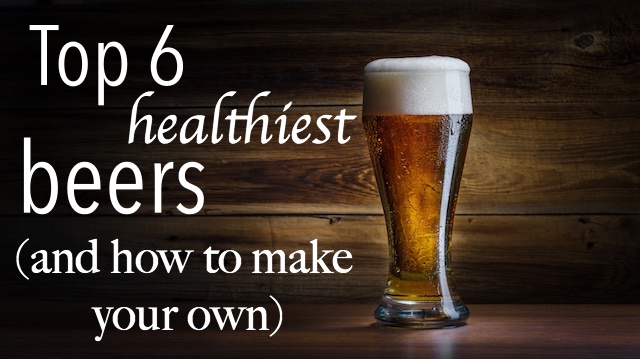 Home brewing is a fun hobby that not only produces delicious results, but also challenges you to create a healthier brew. However, to be successful, home brewing requires a basic knowledge of the brewing process, which incorporates art and science. If you're a beginner, you'll need a starter kit from a home brew supply shop.
Gluten-free beer, both commercial and home brewed, is typically made using liquid gluten-free sorghum extract and doesn't contain barley, wheat or rye. Note: When making gluten-free beer, avoid all cross contamination. Consider basic brewing hygiene and double the effort since even the smallest amount of gluten can make some celiac sufferers ill.
In addition, if you have brewed gluten-based beers before using the same equipment, make sure to replace siphon hoses, airlocks and rubber stoppers. Finally, be extra diligent when cleaning carboys, kettles, utensils, funnels and anything else that would have come into contact with the gluten-based beer. The American Homebrewers Association can help you get started.
Brewing your own gluten-free beer may take a little more effort to produce, but for anyone who's seeking a healthy gluten-free alternative, the payoff will be great. However, whether you're brewing your own or enjoying a commercial brand that's gluten-free, organic or lower in calories, the key to health is drinking in moderation. Cheers!
—Katherine Marko
Katherine Marko is a freelance writer, author and blog creator. Her areas of expertise include food, health, style, beauty, business and nutrition. Marko holds a Bachelor of Arts in English, a diploma in photography, graphic design and marketing, and certification in esthetics.