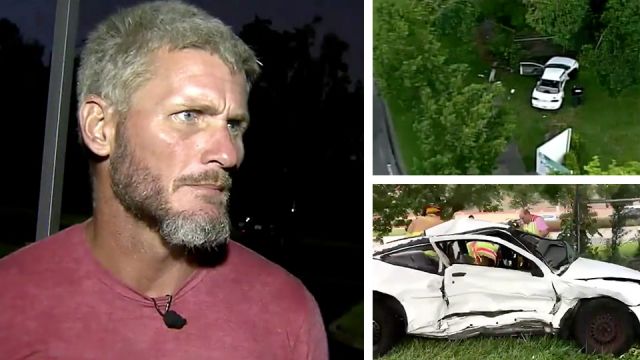 Travis Wilson, a down-on-his-luck homeless vet, probably knew deep down inside that he was better than the circumstances that he found himself in. The former Navy corpsman was living on the streets, doing drugs and he'd been arrested several times (for possession and theft).
A down-on-his-luck vet rises to the occasion
But outward appearances can often be deceiving. When the situation demanded it, Wilson rose to the occasion by displaying an act of selfless heroism that may have saved a person's life. Here's what we know about this breaking story.
Wilson was the first person on the scene following a life-threatening car accident in Pembroke Pines, Florida. Travis was just a short distance away — and in the process of trying to apply for shelter services through an organization called Operation Sacred Trust, which helps displaced and homeless Vets find accommodations — when he heard a loud crashing sound nearby. He immediately rushed to the site of the bloody crash and helped stabilize the victim's neck until paramedics arrived.
Video captures vet's heroism
You can see the video of the horrific collision scene, which includes footage of Wilson's quick-thinking and brave response to the incident, below.
The victim who Wilson assisted was later taken to a local hospital with life-threatening injuries. As it happened, the driver who appears to have caused the collision was an off-duty police officer. That individual sustained only minor injuries.
Following the incident, Wilson admitted that he has fallen on difficult times since leaving the military. But his courageous response to the accident clearly demonstrates that he is a person who has a lot to offer society… if he's given a chance.
Veterans are at greater risk of homelessness
According to the U.S. Department of Veteran Affairs, there are nearly 40,000 homeless Veterans in the United States today. In fact, vets face a 50 percent higher risk for being homeless than the rest of the population. Experts believe this is due to the social isolation and lack of support that many ex-military personnel experience after they leave the service.
Society needs Wilson's 'we're in it together' ethos
Wilson's training and military background, however, came in handy when it was needed most. As he explained to a reporter, "You can't leave the scene. I can't leave the scene — it doesn't matter if the vehicle catches on fire. It doesn't matter. I'm there with him. If we're gonna die, we're gonna die together."
Our society could use more of that kind of ethos.
— Scott O'Reilly