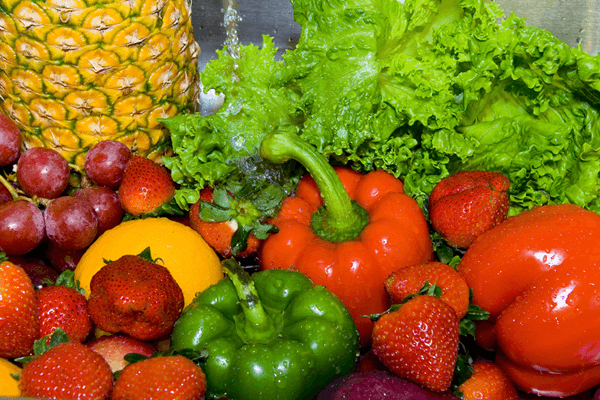 Think of the rainbow…pretty right.  With all of those brilliant NATURAL colors.  Majestic really.
Now, Think about your last meal and the colors of food you saw on your plate.  Probably not as colorful.
How do I know?  Less than 10% of people get the recommended servings of fruits and vegetables daily.  Just in case you are wondering the suggested daily servings of fruits and vegetables is 7-13 servings!  It was increased in 2007 because our bodies need more vitamins, minerals, antioxidants, and phytochemicals to combat chronic illness and aging.  We live in a time where poor health and disease is more widespread than ever.  Which to me is not that surprising considering less than 10% are getting the nutrients their bodies need to survive.
Variety is key here.  Loading up on one specific fruit, vegetable, or color doesn't make much sense, but making sure you are eating a plethora of fruits and vegetables everyday gives your body the nutrients it needs to maintain health and longevity.  Be mindful of the colors you are putting on your plate and you will feel and be so much healthier.
Fun food tip.  Try eating as many colors of food as you can throughout the day.  (Hint: Mint chocolate chip ice-cream doesn't count as your green).  Colors must have occurred naturally, meaning it's how nature intended.  Anything processed doesn't count.  So if you were going to run out to buy some fruity pebbles, nope it doesn't count.
Not only will your meals look more appetizing but it will be automatically be healthier.  The color of each fruit or vegetable contains a specific set of antioxidants and phytochemicals and they all work together to fight free radicals and keep your body in its most optimal state.
Kid's dig it too!  It's a good game for kid's and has them running to the dinner table for meals instead of running away from it.  My daughter is always excited to eat because she likes to eat all the different colors.  We make it a point to say every color we eat.
You are not just giving them a fun treat but instilling good nutrition habits without them knowing it.  When they grow up they will automatically reach for fruits and veggies without even thinking about it because that's what you taught them.  Kid's eat what you give them.
Here are a couple recipes my family loves that contain a lot of color.
Blend frozen strawberries, banana, blueberries, and yogurt with a little orange juice for some yummy smoothies.
Chop and combine fresh cilantro, peaches, yellow bell pepper, orange bell pepper, tomatoes, red onion, and a little bit of fresh jalapeno for a yummy salsa you can serve with just about anything.  We like to put it atop some grilled chicken with sliced avocado.  Yum!
– Angela Garrison
As a Health and Wellness expert, Angela is helping people unleash their super-power ability to prevent their bodies from getting sick in the future.  Angela is also a Children's Health Advocate and founder of the popular Change Your Food Change Your Future program, proving of all the things we control and make decisions about every single day…. there is one that you absolutely must get right.
Visit Angela's site at http://changeyourfoodchangeyourfuture.com/