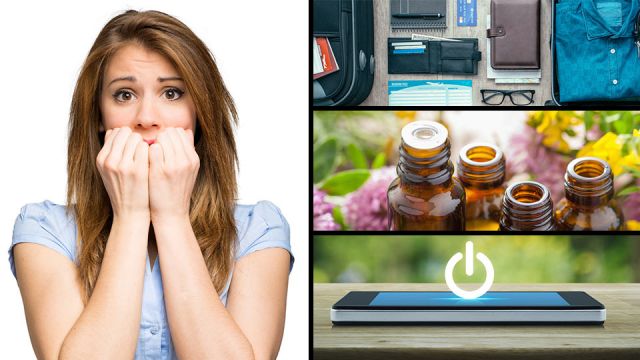 I am a classic vacation worrier. Anxiety has always been a part of my life, and though it's mostly in control on most days, travel of any kind makes it flare up. Despite this anxiety, I've traveled quite a bit, by car, by plane and more (a few horseback rides and boat rides in the mix). Some trips have been better than others, of course. The ones during which I allowed anxiety to take over were pretty brutal.
Fortunately, I've learned that there are some things which really help my vacation worries. Here are a few ways to stop anxiety and start enjoying your vacation.
Make a plan beforehand
Before you leave for your vacation, make extra-sure that everything is set at home. It's best to start planning for this a couple weeks to a month beforehand, depending on how far away you're going and how long you're planning to be away. I always find it helps to make lists. Mine always include things like:
Set the thermostat (lower in the winter, higher in the summer)

Pack phone chargers

Pack the "carry on" bag (I always have a backpack of necessities for road trips and longer hikes — they're not just for airplane rides)

Double check to make sure all lights are off and doors are closed right before leaving
If you have any pets, you obviously need to make arrangements to have them taken care of while you're away. The same goes for the kids if you and your partner are taking off just the two of you. Write everything down so you're not in a panic at the last minute because you forgot to talk to your child's school about who will be picking them up.
Record an "away message" for your voicemail
If you frequently receive work calls, it's best to record a nice, succinct away message. Also do this with your email. Depending on your profession, you could send out a note to your colleagues and clients a week before your trip, just so everyone knows you're going to be out of work mode and not to be contacted unless it's an emergency.
Unplugging during your trip is key to really unwinding from the little (and big) stresses of everyday life, so do your best to fully be present on your vacation. Even the most dedicated workers need time to get away for a while; pressing that reset button is always necessary.
Resist the urge to check work messages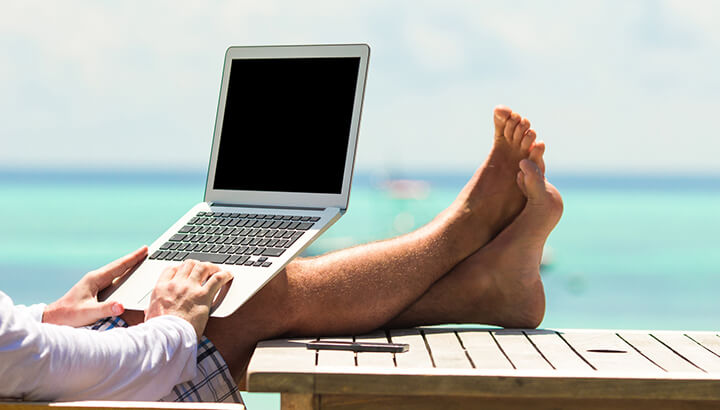 Speaking of making sure your office isn't calling and texting every hour, resist the urge to log into your work accounts and check messages while on vacation. You may want to know what's going on, but unless it's a life or death situation, it very likely can wait. Checking your work messages, even if you don't respond during your vacation, can really get you out of vacation mode mentally. Try to avoid this.
Don't call home too often
This may be especially difficult if the kids are at home with a sitter, and you're on vacation a significant distance away. I've been there, and the urge to call home and check up on things often is understandable. However, keep it reasonable. Once a day is more that sufficient; depending on your situation, it could be every other day.
Unless there's an issue that needs to be addressed, know that everyone is safe at home, and allow yourself to breathe and focus on the fun in front of you. Deep breathing exercises in the morning, before bed and whenever you get stressed can really help with this.
Limit your social media time
In order to fully enjoy and be present in your vacation, it makes sense to put away the smartphone for as much of the time as possible. Sure, it's great to snap photos when the occasion arises, but scrolling through social media, checking emails and keeping up with the news isn't anything you can't be doing at home.
As addictive as our smartphones are, try to keep it stowed. A vacation doesn't come around all the time, after all, and it will be better if you live it fully.
Journal your worries
If you worry a lot like I do, keeping a journal can really help. Keep a small notebook with you, or open up a document to type if you prefer. Without thinking too much about it, free write your worries. Include as much or as little detail as you like — you don't have to show this to anyone. Let yourself write whatever words come to you. Let your ideas take off. Get it all out.
Later, you can read over what you wrote if you like. It may give you some insight on the things that are truly bothering you, triggers for your stress and other aspects of your psyche you may not have consciously considered.  
Weave in some meditation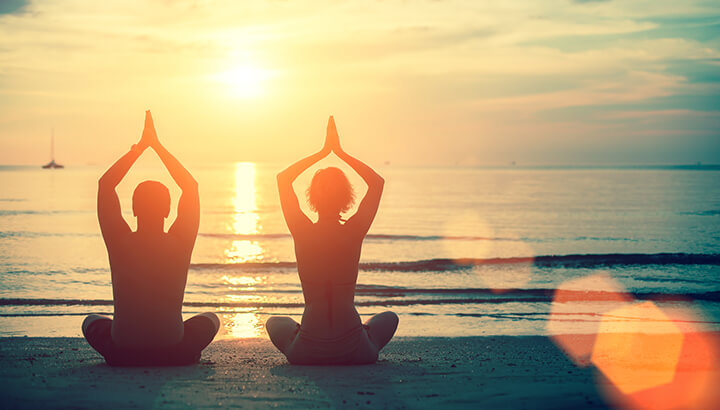 Meditation is one of the best things you can do for yourself if you're stressed — especially if you get stressed easily and often. Try five minutes in the morning and five minutes before bed. This will help you keep a more even keel throughout the day, which aids in preventing those surprise freak out flare-ups.
If you find yourself stressed during your vacation and can find a quiet spot to meditate, go there. Take five or ten minutes, meditate and then rejoin the fun.
Pack some essential oils
Many essential oils, such as lavender, chamomile and frankincense, have potent stress-relieving properties. Bring along a little bottle or two if you can. Doing some aromatherapy or rubbing a bit of the diluted oil on your pressure points may help you to relax, and they're great for enhancing a meditation session. Just make sure to only purchase high-quality, therapeutic-grade oils from a source you trust.
As a bonus, if you bring essential oils on your trip, or even just dab a bit of lavender on a sock, your luggage will smell great.
How do you chase away vacation worries?
— Tanya Mead