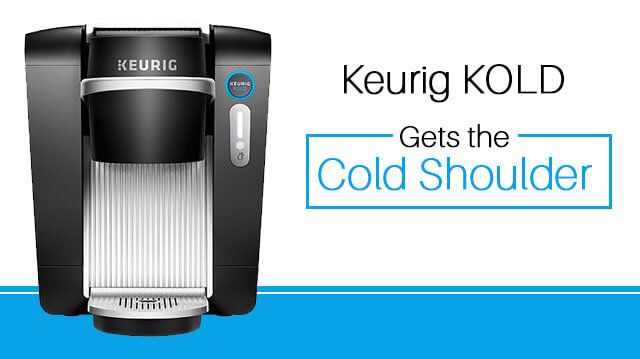 Fifty-four percent of Americans, 18 and older, drink coffee every day. Apparently we're not drinking enough to keep Keurig satisfied because the world will now have something called Keurig KOLD — a soda version of the classic Keurig.
One has to wonder what it is that keeps Keurig so out of touch with present times. According to the most recent Gallup poll, 61 percent of Americans are actually avoiding soft drinks. That number has risen from 41 percent in 2002. Granted, we as a nation drink soda more than coffee, but it does make you wonder why Keurig is pursuing this line of products — in addition to their soup pod line — when the public, and even the K-Cup creator, has called for recyclable pods.
Perhaps we should count ourselves lucky because recyclable pods are supposedly coming, as the Keurig Green Mountain website states, "We have committed to making 100 percent of K-Cup packs recyclable by 2020."
Meanwhile, we could quite literally be circling the planet with the waste produced by Keurig coffee makers. In case you missed that statistic: Keurig produced 8.3 billion K-Cups in 2013, which could wrap around the Earth 10.5 times at the Equator.
Keurig's KOLD reception
"Keurig has redefined the way consumers enjoy coffee and tea in their homes and offices and today with the launch of Keurig KOLD, we're embarking on a new journey that will change the way consumers enjoy cold beverages at home," said Brian Kelley, president and CEO of Keurig in a press release dated September 29, 2015. For only $369.99 you can have Coca-Cola, Diet Coke, Coke Zero, Sprite, Fanta, Dr. Pepper, Canada Dry and a number of Keurig beverages in single pod servings.
Or, you could drink water, organic coffee and organic tea. Got a craving for something bubbly? Skip all the excess sugar and artificial sweeteners and drink some sparkling water with a fresh squeeze of lemon or lime instead. And when you're done with the bottle, you can toss it in the recycling bin. Want to really hydrate? Try some organic coconut water packaged in — you guessed it — a recyclable bottle.
It seems karma has finally caught up with Keuring — reviews for the new Keurig KOLD aren't looking good. Business Insider reported that customers don't like how huge the machine is and "that it hums as loud as a 'freight train,' and it can take up to five hours to cool after being plugged in, as opposed to the two hours it advertises."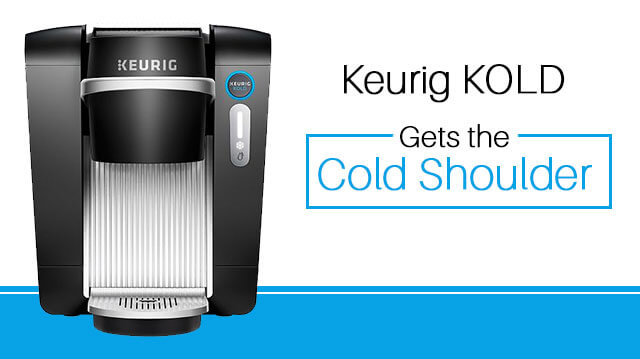 Business Insider points out that the long chill time means that the machine has to remain plugged in 24/7, and you have to use it regularly. Plus, it's expensive. Eight-ounce Coca-Cola pods sell at $4.99 for a pack of four, while a two-liter bottle of soda at the store costs around $2.00.
If there's anything positive to come out of this story, it's that it looks like customers won't be buying many of the machines. "I would not buy this product," said a customer who received a free machine in exchange for an unbiased review. "It is far from economical, and there is no convenience benefit. The pods are almost as large as buying a can of soda. The machine is also too large to keep on the countertop, taking up almost as much room as my microwave. It is also loud — hums louder than the refrigerator on standby." His review isn't unique.
Bad news for Keurig?
According to Business Insider, Keurig's share price has dropped more than 60 percent since the beginning of 2015, due to a drop in sales. Does this mean that people are brewing their coffee and tea in a more eco-conscious fashion? We certainly hope so.
It's time for companies to give us products that are healthier for us and our planet, but market demands dictate production schedules. The best way to get our message across to Keurig and other companies is to simply stop buying their products.
We'd love to hear your thoughts about Keurig. Have you ever used the machine? If so, what prompted you to change your ways?
—Megan Winkler
Megan Winkler is an author, historian, Neurosculpting® meditation coach, certified nutritional consultant and DIY diva. When she's not writing or teaching a class, Megan can be found in the water, on a yoga mat, learning a new instrument or singing karaoke. Her passion for a healthy mind-body-spirit relationship motivates her to explore all the natural world has to offer.
Sources:
http://www.keuriggreenmountain.com/en/Sustainability/SustainableProducts/OurProducts/ReducingProductWaste.aspx
http://www.hsph.harvard.edu/news/multimedia-article/facts/
http://www.businessinsider.com/keurig-kold-reviews-are-brutal-2015-10
http://investor.keuriggreenmountain.com/releasedetail.cfm?ReleaseID=934131