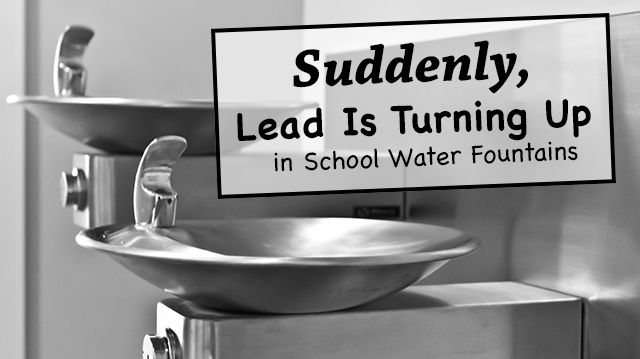 The safety of drinking water at elementary schools is being questioned after high levels of lead were found in water fountains and faucets in a number of states. It remains to be seen whether the lead findings are the result of simple testing errors or something more frightening, and school officials are racing to explain to parents what will happen now
The latest incident of what officials call "higher than acceptable" levels of lead in water occurred at six public elementary schools in Tacoma, Kansas. Test results from May 2015 showed that the amount of lead in the water was higher than 15 parts per billion (PPB), higher than the level allowed by the state. Federal standards set by the Environmental Protection Agency (EPA) are slightly higher, at 20ppb.
The Center for Disease Control (CDC) states on its website that measures have been taken over the last 20 years to reduce the amount of lead that gets into water supplies. Despite those actions, some metal water taps and pipes still contain lead. The CDC states that high levels of lead ingestion can cause elevated blood lead level. A study by the Boston Health Commission found that lead can damage the brain, kidneys, nervous system, and red blood cells.
The situation with the Tacoma schools begs the question: How did it take a year to discover the elevated lead levels? That's a question officials are investigating currently. As it happens, the May 2015 test results had only been noticed until recent reports of lead-related water issues in Tacoma prompted the district to review last years' test results. Officials have not yet disclosed why the results were missed, but a spokesman for the Tacoma Health Department told The Tacoma News Tribune that more information is expected to be released later this week.
"Our pace in releasing data is because we want it to be right," Superintendent Carla Santorno told The News Tribune.
A follow-up test of the water levels at the Tacoma schools found that the lead levels are now at normal levels, meaning kids are no longer at risk. Thankfully, no students had been reported as having lead poisoning over the last year. But how did the numbers turn around so quickly?
Mike Means of the Tacoma Health Department raised the possibility that small pieces of lead from aging pipes or plumbing fixtures became trapped in faucet aerators and collected over time. If someone removed the aerator during testing, it could have dislodged those high concentrations of lead into a testing sample. Unfortunately, without knowing exactly how the testing was handled in May 2015 there is simply no way for them to know what happened. 
"The challenge is, we don't know what the protocols were," Means told The News Tribune. He also clarified that just because a high lead level was reported it doesn't mean the water is permanently contaminated. He recommended that Tacoma public schools re-test wherever high lead levels were previously reported, which is currently taking place.
Tacoma is not the only city to have experienced cases of high lead levels in water. Two Boston public school employees were placed on administrative leave after lead was found in the drinking water of six public schools there. Officials say the incident occurred after newly installed fountains were accidentally activated before testing had been concluded. And of course, there is the highly publicized incident in Flint, Mich., where there was widespread lead contamination in the city's drinking water after the water supply was switched from Detroit's municipal system to the Flint River to save money. 
"This was a man-made disaster. This was avoidable. This was preventable," President Obama, who was in Flint this week, told a crowd at a local high school. "Flint's recovery is everybody's responsibility, and I'm going to make sure that responsibility is met."
What should be done to prevent further situations like the ones in Flint, Tacoma, and Boston? Feel free to chime in with your thoughts in our comments section.
—Zach Halper
Zach Halper is a writer based in Brooklyn, NY. He graduated from Goucher College in Baltimore, Md., in 2009 with a BA in English. He previously worked for The NonProfit Times and Noodle Education. 
Sources:
http://q13fox.com/2016/04/25/drinking-fountains-closed-at-2-tacoma-elementary-schools-after-unreviewed-tests-show-high-levels-of-lead/
http://www.necn.com/news/new-england/Lead-Found-in-Drinking-Water-at-Boston-Public-Schools-378209971.html
http://www.cdc.gov/nceh/lead/tips/water.htm
http://www.thenewstribune.com/news/local/education/article75459927.html
http://www.reuters.com/article/us-michigan-water-obama-idUSKCN0XV0YT