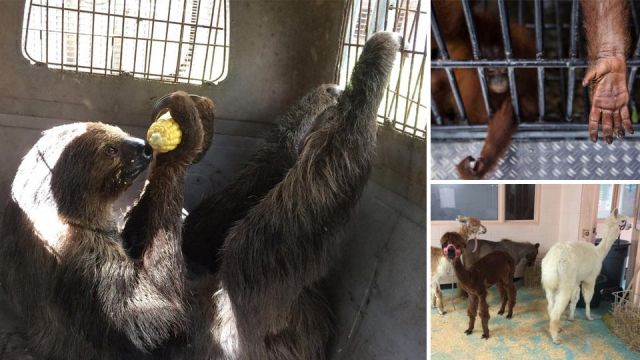 As Hurricane Irma presses upon Florida millions of people have left their homes to avoid her wrath while a large number of animals are "doing some jail time. No, they are not being punished but rather protected from the catastrophic storm.
The Monroe County Jail in the Keys is usually home to about 425 human inmates. Because of the storm threat, these inmates were relocated to facilities in Palm Beach County. Rather than leave the cells vacant, it was decided that more than 250 animals would be moved indoors to protect them from the storm.
Mo the Sloth and Kramer the Emu did nothing to deserve their time in county jail apart from being entirely cute and innocent.
With these two came horses, goats, pigs, sheep, tropical birds, alligators, turtles and more. These animals are abandoned, abused, confiscated or donated and reside on a farm that the sheriff's office manages.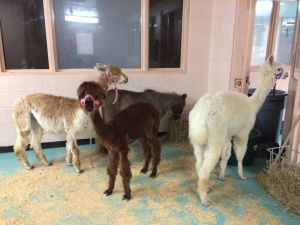 "We spent a number of hours last night moving them from the farm into the jail," said Deputy Becky Herrin, the Sheriff's Office media relations said. "They're occupying the holding cells."
Animals in their jail cells

Posted by Jeanne Selander on Saturday, September 9, 2017
Animals helped all over the state
While protecting and preserving human life is paramount with a storm such as Irma, the animals were not forgotten. All over the state, zoos, refuges, and shelters spent many days creating a safe and comfortable environment for their charges to ride out the hurricane.
Hundreds of thoroughbred horses were relocated from low-lying areas near Miami to barns and facilities in the northern part of the state while the humane society did what it could to find foster homes for more than 100 dogs.
Many animals in zoos were transferred into sturdy holding facilities indoors to protect them from the wind and rain.
"We live in a hurricane-prone area, so our facilities are designed to accommodate these storms," said Brian Dowling, the general curator at Lion Country Safari in Palm Beach County.
Other animals were left in their usual habitat with gates to their shelters left open to keep them from becoming too stressed.
"We allow those animals to decide where they want to go," Dowling said. "It actually reduces the stress level considerably. Their instincts tell them how to ride out the storm."
SeaWorld in Orlando and Busch Gardens in Tampa Bay were keeping workers on site during all hours to care for the animals. Five dolphins from Dolphin Discovery in Duck Key were moved to Central Florida for the duration of the storm.
In Cuba, dolphins were airlifted to safer parts in the northern area of the island until Irma passed.
How you can help
A number of organizations are accepting donations for the welfare of animals in the path of Irma. These include American Society for the Prevention of Cruelty to Animals, the Best Friends Animal Society and the South Florida Wildlife Center.
-Susan Patterson