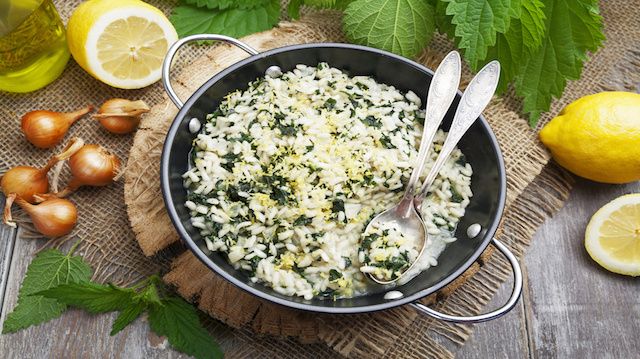 Risotto done right is so delicious. If you've never tried making this culinary delight, simply follow these basic guidelines.
Don't use cold stock. Adding chilly stock will cool everything down and delay the cooking process. Keep the stock simmering in a small pan to ladle when necessary, allowing the rice to cook evenly.

Unlike regular long grain rice, risotto rice (arborio) needs to be stirred. Stir to prevent sticking, but not so much that the rice becomes gluey. So, stir often, but feel free to give your arm a rest.

Slowly ladle in the stock as it absorbs. Adding all of the stock at once will just give you boiled rice, without the creaminess associated with risotto.  

Add cooked vegetables like

asparagus or mushrooms

after the risotto is cooked. Adding raw vegetables too early in the process will make them mushy.
Whether you're new to risotto or a seasoned veteran, this recipe forms the basis for all the creative risotto concoctions your imagination can muster. Makes 8 side dishes, 4 appetizers or 2 meals
5

cups

gluten-free chicken broth or vegetable broth

2

tbsp

extra virgin olive oil

2

shallots, minced

2

cloves

garlic, minced

1 1/2

cup

arborio rice

1/4

tsp

sea salt

1

cup

dry white wine

1

tbsp

butter

1/8

tsp

freshly ground pepper

1

cup

grated parmesan cheese (optional)
Add broth to a medium saucepan and bring to a simmer over a medium-high heat. Reduce the heat to medium-low so the broth remains hot but no longer simmers.

Heat the olive oil in a large skillet over a medium-low heat. Add the shallots and cook, stirring occasionally, until softened, about 2 minutes. Add the garlic and continue to cook, stirring, until fragrant, about 30 seconds.

Add the rice and salt to the shallots and garlic; stir to coat, about 30 seconds. Ladle in a 1/2 cup of the hot broth and a generous splash of wine. Reduce the heat to low so that the liquid is barely simmering.

Stir often, until the liquid has been absorbed. Continue to cook on medium-low, ladling broth in 1/2 cup increments followed by a splash of wine. Stir after each addition until most of the liquid is absorbed.

The risotto is fully cooked when all the broth and wine have absorbed. This should take 25 to 35 minutes total and the rice should be creamy and just tender.

Remove from the heat and stir in the pepper, the tablespoon of butter and 3/4 of the cheese until well combined. Sprinkle the remaining cheese on each serving.
Wild Mushroom Risotto with Truffle oil
Adding mushrooms to risotto is perhaps the most common upgrade to the dish. Use this as a starting point for creative versions of your own. Makes 4 appetizers or 2 meals
1

basic creamy risotto recipe (above)

1/4

lb

fresh wild mushrooms, trimmed and chopped (porcini, chanterelle or hedgehog mushrooms)

2

tbsp

butter

1/8

tsp

sea salt

1/8

tsp

pepper

1/2 - 1

tsp

white truffle oil (optional)
Heat the butter in a large skillet over a medium-high heat. Add the mushrooms and sauté. Stir occasionally, until browned and any liquid has evaporated, about 4 minutes. Season the mushrooms with salt and pepper and transfer them to a bowl.

You can use the same skillet to prepare the creamy basic risotto recipe (above). Remove from the heat.

Along with the tablespoon of butter and the 3/4 cup of parmesan cheese from the basic risotto recipe, add the sautéed mushrooms and truffle oil to the cooked risotto. Sprinkle the remaining cheese on each serving.
If mushrooms aren't your thing, throw in sautéed shrimp and scallops. Once you've mastered a basic risotto, you can change things up and add whatever you desire. Enjoy!  
-Katherine Marko
Katherine Marko is a freelance writer, author and blog creator. Her areas of expertise include food, health, style, beauty, business and nutrition. Marko holds a Bachelor of Arts in English, a diploma in photography, graphic design and marketing, and certification in esthetics.