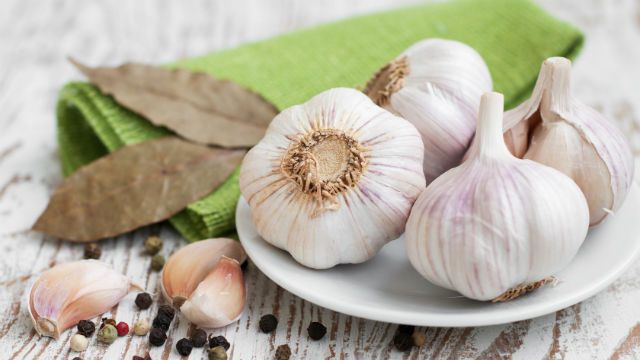 As cold and flu season is upon us, now is the time to give our bodies the tools they need to fight any wayward pathogens that may come our way. One particularly potent food that can help with this is garlic. This ancient bulb has been used for hundreds of years to ward off disease, and it remains just as effective now as in previous generations.
The following are nine reasons to make garlic a star in your meals during the winter chill, and throughout the year.
Garlic is loaded with antioxidants
Especially when it is eaten raw, garlic is home to a number of powerful antioxidants. One of the most notable of these is allicin, a compound which has been found to have significant anti-inflammatory benefits, aiding in the reduction of oxidative stress throughout the body. Garlic also contains B-vitamins, vitamin C, and the minerals calcium, copper, manganese, phosphorus and selenium.
Garlic supports the immune system
The allicin, vitamin C and other antioxidants found in garlic work to support the optimal health of the immune system. The anti-inflammatory benefits that it provides aid in the prevention of many chronic illnesses. Plus, if the immune system is nourished and inflammation is kept in check, your body's defenses will be honed and ready to tackle any invaders.
Garlic boasts antibacterial, antiviral and antifungal properties
Allicin, along with the various sulfur compounds found in garlic, gives it its powerful antibacterial, antiviral and antifungal nature. Because of these properties, garlic has been taken for centuries to help prevent infection and disease, and also once a disease is present to help flush it from the body.
Ajoene, a disulfide found in garlic, has been found effective against Candida albicans, the fungus which is behind many common yeast infections.
Garlic shows great potential against antibiotic-resistant pathogens
With the frightening worldwide rise in antibiotic resistant bacteria , natural pathogen-fighters such as garlic are becoming more and more important. For less-than-serious infections and wounds, garlic may be a first line treatment in many cases. This way, antibiotics can be avoided and saved for times when they are really needed.
Of course, check with a health professional of your choice before using garlic to treat an infection.
Garlic can kill germs found on food
Along with combating pathogens inside the body, raw garlic has been found to kill many forms of foodborne bacteria, as well. In 2012, researchers at Washington State University found that diallyl sulfide, a compound found in garlic, was more effective at fighting Campylobacter bacteria than two common antibiotics.
Garlic is a potent detox aid
The combination of antioxidants found in garlic are a great addition to a detox plan. Garlic can help to clear a variety of toxins from the body, including heavy metals such as lead, as well as environmental pollutants and chemicals ingested through food.
Garlic is heart-healthy
A 2006 study published in the Journal of Nutrition found that garlic aided in circulation, reduced blood pressure levels and lowered LDL "bad" cholesterol. It has also been linked to fighting atherosclerotic buildup, and preventing the formation of blood clots.
Garlic has notable cancer-fighting potential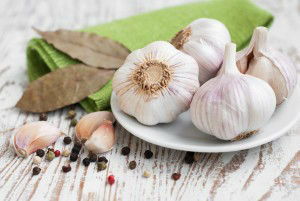 Likely due to its abundance of sulfur compounds, a high intake of garlic has been linked to lowering the risk of many types of cancers. Specifically, it has been found to help prevent the formation of cancer cells and may help facilitate apoptosis (programmed cell death) in these cancer cells.
Garlic is incredibly versatile… and delicious
Many a salad, soup, stew, spread and roast can be greatly enhanced with a bit of fresh garlic. You can also put some in your smoothies, which will add a spicy kick and a world of benefits. For the most potent antibacterial, antiviral and antifungal properties, crush a clove of raw garlic, and let it sit for ten minutes before eating. This will ensure maximum allicin content.
-The Alternative Daily
Sources:
http://jn.nutrition.org/content/136/3/736S.full
http://www.whfoods.com/genpage.php?tname=foodspice&dbid=60
https://www.thealternativedaily.com/antibiotic-resistance-worldwide-concern-now-crucial-time-consider-natural-alternatives
https://news.wsu.edu/2012/05/01/garlic-compound-fights-source-of-food-borne-illness/#.VEZosvnF-Do