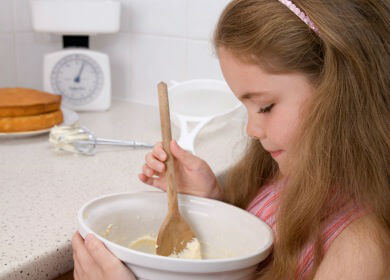 Long before the industrial revolution, women baked from scratch. Grinding flour and making their own cakes, pies and other delectable treats.
As the food industry evolved, women were free to spend less time in the kitchen; they exchanged their freedom for packaged food, fast food and convenient food. But nothing ever tastes as good out of a package as it does when it is homemade, does it?
No, not really, but for many people time is better spent elsewhere than in a kitchen grinding and sifting when a boxed cake takes all of 15 minutes to prepare. However, your great grandmother never put antacid or industrial waste in her cakes did she? We bet not!
Duncan Hines was a travelling salesman who who ate in restaurants all over the country. He and his wife compiled a book entitled the The Adventures of Good Eating in 1935. In the 1940's and 1950's Hines wrote a food column which featured restaurant recipes that could be made at home.
In 1952, Hines sold his first baked bread to a bakery in New York. In 1953, Hines sold the right to his name and book title to Nebraska Consolidated Mills who developed the first Duncan Hines Cake Mix.
Proctor and Gamble bought the company in 1957. Today the brand is owned by Pinnacle Foods. Sadly, Hines died in 1959 of lung cancer but is well remembered for his contribution to the food world. We would bet that Mr. Hines would not be happy with his name being associated with the Duncan Hines cake mix products being sold today.
Foodfacts.com gives 58 of 60 Duncan Hines Cake Mix flavors a rating of F, one a D rating and one a D- rating. Duncan Hines Moist Deluxe Spice Cake is a top seller and one that receives an F rating from Foodfacts.
38 Ingredients Found Inside
Here is a look at the 38 ingredients found inside the spice cake mix. See if you are as offended as we were.
Sugar, Wheat Flour Bleached Enriched (Flour, Niacin, Iron Reduced, Thiamine Mononitrate (Vitamin B1), Riboflavin (Vitamin B2), Folic Acid (Vitamin aB)) , Vegetable(s) Oil Shortening(Soybean(s) Oil Partially Hydrogenated, Propylene Glycol Mono- And Diesters Of Fats, Mono and Diglycerides) , Leavening (Sodium Bicarbonate, Dicalcium Phosphate, Sodium Aluminum Phosphate, Monocalcium Phosphate Contains 2% or less of the Following: () , Wheat Starch, Spice(s) (Cinnamon, Allspice, Coriander, Ginger, Nutmeg) , Salt, Dextrose, Polyglycerol Esters Of Fatty Acids, Color(s) (Caramel Color, Yellow 5 Lake) , Cellulose Gum, Corn Starch Modified, Flavor(s) Natural & Artificial, Xanthan Gum, Dextrin, Maltodextrin, Triethyl Citrate,Acetic Acid
The Analysis
Besides having an astronomical number of ingredients, loads of sugar and having a 2-year shelf life, this spice cake also contains some highly dangerous food additives that may cause substantial health problems.
Soybean(s) Oil Partially Hydrogenated: When soybean oil is hydrogenated, gas is pumped into the oil and it takes on a new texture while the natural omega-3s are damaged as well as the antioxidants. The unnatural use of hydrogenation forms trans fats that the body cannot break down.
Trans fats interfere with metabolism and increase bad cholesterol. It is used in processed food because it is cheap, stable and improves texture while adding to the food's shelf life. Many people are also allergic to soy and can experience a dangerous reaction when consuming soybean oil even in small quantities. And almost all soy is genetically modified.
Color: This is an extremely vague ingredient that many consumers simply overlook. However, colors can be both naturally and artificially derived and either plant based or petroleum based. The lack of information has us concerned.
Caramel Color: This is widely used and is the color of burnt sugar. Acids are used to break bonds between sugars or to make sugars from starches in the caramelization process. Caramel color may contain gluten, a substance that many people are highly sensitive to.
Yellow 5 (Lake): Tetrazine is also known as Yellow 5 or E-102 and is a derivative that is commonly used to color both foods and cosmetics. This substance is made entirely of industrial waste. Research reports that it can cause hyperactivity/ADD or other serious behavioral issues along with asthma, migraines, thyroid cancer and lupus.
When the word Lake is added after the Yellow 5 it indicates that the dye is mixed with aluminum hydroxide. Sold as an antacid, aluminum hydroxide allows the food manufacturer to color the surface of a solid and ensure that the color will not run if it gets wet.
Natural and Artificial Flavors: The consumer is not told what these natural and artificial flavors are. Suffice it to say, both are concocted in a laboratory setting despite the fact that the word natural appears harmless enough. The only distinction between natural and artificial comes from the original source of the chemicals. Here are a few natural and artificial flavorings found in popular foods.
Vanillan: Can cause severe allergic reactions
Amyl Acetate: Many artificial flavors are made from this dangerous substance which can cause depression, indigestion, chest pain, fatigue, headaches, and irritation of the mucus membranes.
Benzaldehyde: This contains hydrogen cyanide, which can cause depression of the central nervous system and convulsions.
Go Ahead, Bake that Cake
Why not go back to the way it used to be done, from scratch and scrap the box along with all of its toxic ingredients?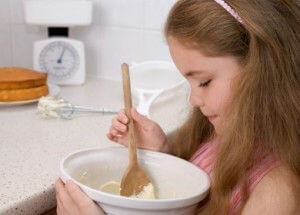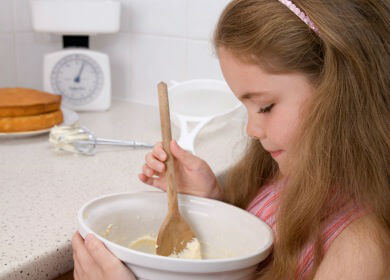 Gluten-Free Old Fashioned Spice Cake
Ingredients:
3/4 cup Asian white rice flour
3/4 cup brown rice flour
1/2 cup cornstarch
1/4 cup tapioca starch
1/2 teaspoon xanthan gum
1 cup coconut sugar packed
1/2 teaspoon sea salt
2 teaspoons baking soda
3 teaspoons cinnamon
1 teaspoon ginger
1 teaspoon ground nutmeg
1/4 teaspoon cloves
2 large free-range organic eggs
1/2 cup coconut oil
1 1/2 cups buttermilk
Directions:
Preheat oven to 340 degrees F
Grease and lightly dust rice flour on a 9×13 cake pan
Whisk all dry ingredients together in a mixing bowl
Mix all wet ingredients and blend with dry – mix in a mixing bowl on medium for about 2 minutes
Pour into pans
Bake for about 40 minutes until fork in center comes out clean
Place on wire rack to cool
Yummy, and no chemical aftertaste!
-The Alternative Daily
Sources:
http://www.cspinet.org/reports/chemcuisine.htm#Alphabetical
http://cspinet.org/new/pdf/food-dyes-rainbow-of-risks.pdf
Armstrong, Eric. "Partially Hydrogenated Oils." TreeLight. 2010. Web. 16 May 2011. .
Jason. "Do You Know Why Is Partially Hydrogenated Soybean Oil an Allergen? | Allergy Relief." Allergy Relief – Allergy Symptoms And Allergic Reactions. 7 Feb. 2011. Web. 16 May 2011. .
"Soybean Oil A Source of Omega-3 Fatty Acids, Low-Linolenic Soybean Oil – United Soybean Board." Soy Health & Nutrition, Soy Foods Recipes, Soy Milk & Soya Bean Research – United Soybean Board. Web. 16 May 2011. .
"U.S. Still Using Toxic Dyes Left Out of U.K. Goods." Health Freedom Alliance. 14 Mar. 2011. Web. 16 May 2011. .
FD&C Red Dye #40 Information, Education and Discussion. Web. 16 May 2011. .
Code of Federal Regulations Title 21 of the Us. Food and Drug Administration. Title 21. Volume 2. Revised 1 April 2010.