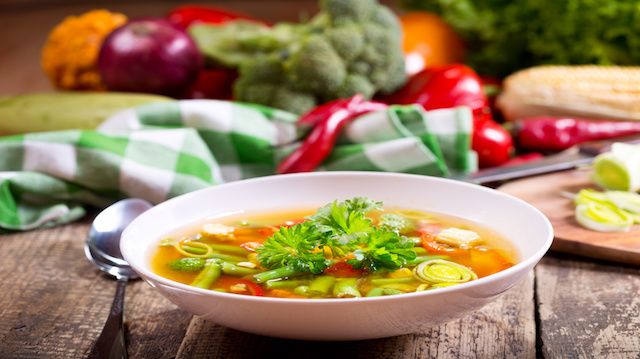 Creamy and chunky soups are comfort food in a bowl. Better yet, these soups are heart-healthy alternatives to highly processed canned soups.
Re-educate your taste buds and taste your food before adding salt. To cut down on the amount of salt you use, flavor your soups with dry herbs, garlic, onion, lemon or dry spices. Also, choose unprocessed sea salt — it's healthy! 
Heat the oil in a large saucepan on medium heat. Add the onions, garlic and ginger. Cook until very fragrant, about five minutes. Add cumin, paprika and cayenne.

Add carrots plus four cups of stock. Cook the carrots until they are very soft, about 40 minutes. Add soup to a blender or food processor. Puree on high until smooth. Return to the heat, and season. Add the additional stock if the soup is too thick.
Roasted Tomato and Corn Chowder
Place tomatoes on a baking sheet. Broil on high for three minutes and reserve. Heat the olive oil in a large saucepan on medium-high. Add the garlic and onions, and cook until fragrant. Add chipotle and tomatoes; cook and stir until hot.

Add stock and bring to a boil. Simmer for 15 minutes. Add the soup to a blender or food processor and blend until smooth. Return soup to the heat and add corn. Cook for an additional five minutes. Add thyme, basil, salt and pepper; combine well.
Preheat the oven to 400 degrees Fahrenheit. Cut both squash into half-inch pieces, place in a roasting pan and toss with two teaspoons of olive oil. Roast for 40 minutes, or until browned.

Add the remaining oil to a large pot. Add onions, garlic and spinach; saute over medium heat until fragrant. Add stock, spices and squash to pot, and simmer for three to five minutes.

Carefully add soup to a blender or food processor and puree. Process the soup in batches. Return pureed soup to pot and bring back to a simmer.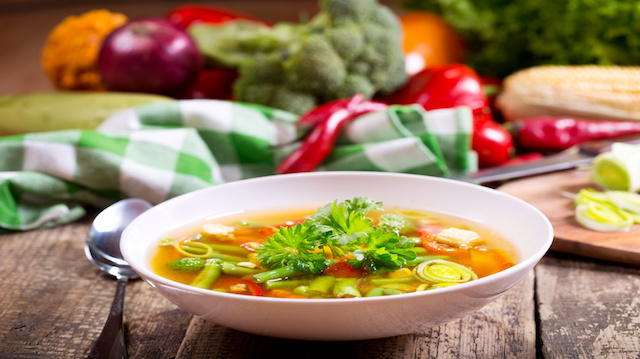 Cook onion, celery, bell pepper, jalapenos and garlic in a stockpot over low heat with oil until onions become translucent, about 10 minutes.

Add tomatoes, beans, honey and seasonings. Cover and simmer for one to two hours, stirring occasionally. If chili becomes too thick, thin with more stock.
Here's to your health!
—The Alternative Daily