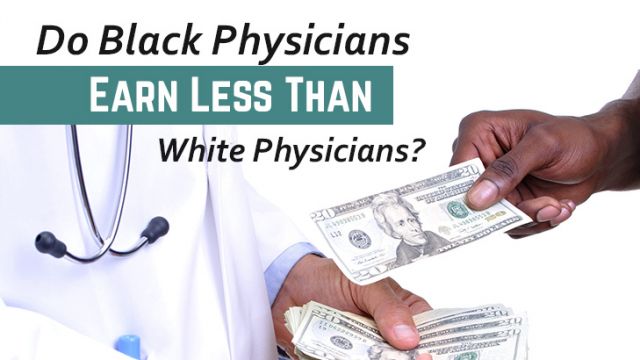 Can gender or color determine a physician's salary? A provocative new study uncovers an alarming gap between the salaries of white doctors and those of black doctors — and women doctors in general. But is there truth in the findings? Experts weigh in, with some suggesting there may be more to this study than meets the eye.  
It seems that white male doctors earn substantially more than black male doctors do, even after considering variables between physicians and practices, suggests a study published in The BMJ. Interestingly, while white and black female physicians earn similar incomes, they still earn significantly less than their male counterparts. 
Historically, women and black people have earned less than white men, which can result from various reasons, including educational differences. However, doctors represent a group with many commonalities, including similar educational levels. Doctor's salaries thus should be consistent between races and genders. But why aren't they?
 What's wrong with this picture?  
Between 2010 and 2013, white male doctors earned a median annual income of $253,042, whereas black male doctors earned $188,230, according to the study. The study used national surveys to estimate differences between the income levels of black and white physicians. 
The first survey used to obtain data is the American Community Survey (ASC), which collects information from about 3 million households annually and was administered by the U.S. Census. The survey is mandatory and is collected by mail, phone and personal visits. It collects information on age, sex, race, occupation, annual income and hours worked and focuses on a physician's personal income earned from labor employment and business income. Physician specialty was unavailable in the ACS, as were characteristics of practices, which could have skewed the results.
 A flaw in the study 
Here's the problem: A significant part of the data didn't identify whether the doctors surveyed were primary care doctors or specialists. While physicians in specialties make significantly more money than primary care doctors, there aren't as many black physicians in specialties, according to a study published in JAMA Internal Medicine that analyzed graduate medical education diversity in the United States. 
Cardiologists, pediatricians and general practitioners are all doctors, but they are paid differently. So, comparing doctor pay rates without knowing whether they are a general practitioner or whether they specialize in an area of medicine is comparing apples to oranges and may not necessarily be a reflection on race. For instance, a doctor with a specialty earns, on average, $284,000 a year, while primary care doctors earn $195,000, according to the Medscape Physician Compensation Report. 
Experts weigh in 
William Weeks, a health economist and physician at Dartmouth College's Geisel School of Medicine, dismissed the study's findings. "This is really not good research. It's a poor design. It's a poor study. It should be ignored," Weeks told The Washington Post. 
In fact, Weeks's own study,  published in Health Affairs, explores the connection between primary care physicians' race, sex and annual incomes. He found that female primary care physicians are consistently associated with having lower annual incomes, but that race doesn't play a role. The reason, according to the study, may be attributed to black primary care physicians caring more for underserved, medically indigent and sicker populations — meaning their income will suffer as a result. 
Salary differences also could be attributed to black doctors not choosing specialties and seeing more low-income patients because they want to pay back school debt, says Anupam Jena, a physician and health economist at Harvard Medical School who oversaw the BMJ study. However, discrimination could also be at play. 
I think the more important question here is, why aren't minority doctors choosing specialties? Are there fewer opportunities for black doctors to further their education? If so, then race is definitely at play and that should be addressed. 
In that same vein, why are female doctors earning less than their male counterparts? Women have practiced medicine for more than a century, reports BMJ careers. Yet, they still earn 29 percent less than male doctors. Perhaps further research is needed to fully understand how differences occur between physicians. It's unfortunate that even today, race and sex seems to determine a person's rate of pay. This is not just in the medical profession but throughout the labor market. 
Have you been discriminated in the labor market because of your race or gender? Let us know.
—Katherine Marko