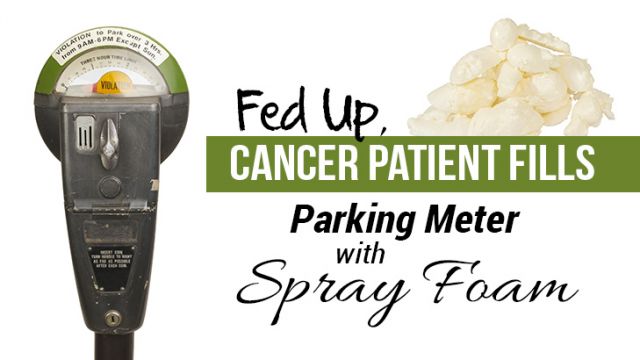 A Winnipeg cancer patient who sprayed foam inside a parking meter to protest the rates patients pay to park outside hospitals and treatment centers is being called a "Canadian hero" and won't be penalized for vandalism.
Colin Kennedy has been battling multiple myeloma, a type of leukemia, since 1999. Frustrated with parking fees, he vandalized the parking meter on May 30 outside the CancerCare Manitoba, where he receives his treatments.
Kennedy estimated parking fees have cost him $600 since July 2015. He said he was tired of the City of Winnipeg and the parking meter company, Impark, charging sick people to park near the clinic and other treatment centers around the Health Sciences Centre.
His foam-spraying tirade received international attention. A CBC News video of him spraying form into the meter has been shared thousands of times on social media, with some Facebook memes referring to Kennedy as a "Canadian hero."
Initially vowing to keep spray forming meters until the fees were removed from meters, Kennedy decided not to do it again after a warning from Winnipeg police, who paid him a visit at his home. He's not going to be charged, however, and he's thankful for the outpouring of support he's gotten, especially an offer from Winnipeg businessman Michael John, who is willing to pay for Kennedy's parking fees and to help pay for his son's education expenses.
Criminal record
John told the CBC he understands Kennedy's frustration because he had to plug those same meters with money during his mother's illness. "I just don't want him to end up getting a criminal record, getting in trouble with the city, over any of these parking meters being plugged up and all," he said.
"After seeing the video of him spraying foam in there, I'm actually worried that the city is now going to come after him for the costs for whatever they have to do to take the foam out."
Kennedy told police he won't vandalize any more parking meters, at least until he has a meeting with Winnipeg Mayor Brian Bowman to discuss what can be done about the high parking fees for patients.
He has publicly expressed his gratitude to John for his generous gesture.
"I want to thank him from the bottom of my heart for being such a kind man — to think of another person, a total stranger," Kennedy said, adding that he had no idea so many people would empathize with his situation.
"I just hope the powers that be — meaning the different political groups or people who have the control over these machines — will see it within themselves to remove these machines from these premises," he told the CBC.
Officials with CancerCare Manitoba have said the facility has no control over any of the parking surround its facilities, but that the staff offers information on parking options to patients. The healthcare center said he doesn't receive any revenue from nearby parking meters or lots.
—Kimberly Hayes Taylor