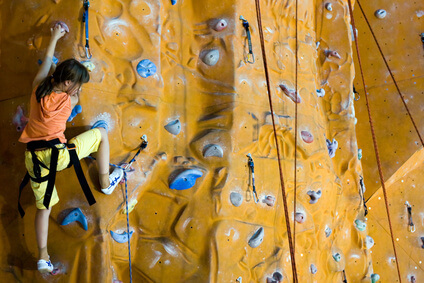 Setting up your kids for a lifetime of fitness and health is one of the best gifts that you can give them. If you aren't setting this example, consider that by exercising with them you'll not only be around longer to see them have their own children, but they're also much more likely to follow suit when they see you active.
Make exercise a regular part of your family time together. Try some of these fun and healthy activities.
Go for a Hike
Enjoying a family hike in the great outdoors instills a love of nature as well as good exercise habits. By involving each family member in helping to choose the route, you can increase the excitement and learning experience even more.
Make the hike even more fun by having a contest to discover certain types of plants or wildlife, count flowers or sing songs. Get creative! With so many scenic national parks, state parks and recreational areas throughout America, you're bound to find a number of ideal hikes. You could even combine a family camping trip with hiking to explore trails outside of your immediate area.
Disc Golf
Disc golf continues to grow in popularity, with more and more courses popping up across the globe – and nearly all of them are free! This is a sport the entire family can enjoy and is similar to traditional golf but played with a Frisbee, or disc. A decent set of starter discs can be had for around $20, so it's a lot less expensive than traditional golf equipment.
Many communities throughout the U.S. offer free clinics, teaching kids as young as two years old, and even seniors into their mid-90s and beyond! This life-long activity can be played by individuals with varying skills, offering an upper and lower body workout as well as cardiovascular benefits. There is little risk of injury, making it a safe, fun and family-friendly activity.
Yard Games
If you'd rather stay close to home, yard games offer a great way to incorporate fun physical activities into your daily life. Think back to when you were a kid. What games did you love to play? Chances are, your kids will love them too.
Just a few to get you started include tag, red rover, kickball, flag football, tossing a ball or a Frisbee – all ways to enjoy getting fit and spending time together.
Indoor Climbing Gym
Kids, and many adults, love climbing. It's one of the best all-around workouts, but it doesn't feel like exercise because it's so much fun. It improves concentration, balance, flexibility and builds muscle strength.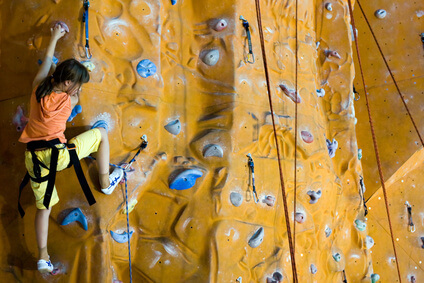 An indoor climbing gym provides a safe way to try rock climbing; with harnesses and pulleys assisting those who slip, there is no need to worry.
Competitions and Charity Events
Most people, young and old, find more motivation when a competition is involved. Charity events also offer a great way to give back, and through walks, bike rides or runs, it gives extra special meaning to fitness. Preparing for an event gives the family an excuse to encourage each other to get ready for the "big race day."
By avoiding the "E" word (exercise), and focusing on the pure pleasure of recreational activities, you'll see how easy it is to keep the whole family close and in great shape!
-The Alternative Daily