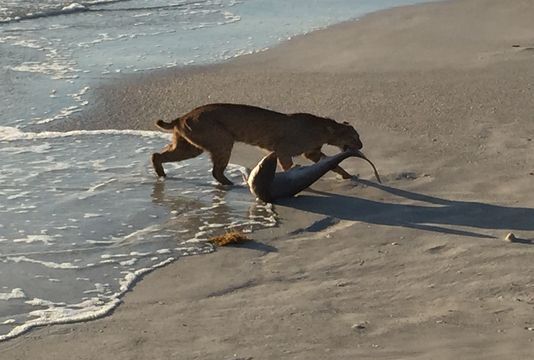 It must have been amazing to see, the circle of life in motion, right in front of your eyes. That is how most people are responding to the man who caught a bobcat fishing in the surf in Sebastian Inlet State Park in Florida.
Most cats, large and small love to fish, and this bobcat was an especially keen "fishercat." Out it went towards the surf only to return with a good size shark for dinner. John Bailey, from Vero Beach Florida, was taking a walk when the cat went out to catch its meal. Bailey was smart enough to pull out his phone and take a quick photo.
Of course, with no one else around, some are claiming the photo circulating on the Internet  (seen below) is a hoax, something had to be photoshopped, people thought. However, when the photos were inspected by National Geographic Editor, Ken Geiger, he very clearly stated it was authentic.
Although it is not every day you see a bobcat on the beach—especially one that enters the surf to grab a shark—Liz Barraco, a spokesperson for the Florida Fish and Wildlife Conservation Commission, says there is absolutely no indication that the photo is a fake. According to Barraco, bobcats eat a number of different types of mammals including birds and occasionally fish. She did admit, however, that this is the first they have seen of a cat going into saltwater to retrieve a meal!
Wildlife biologist, Seth Riley from the University of California, Los Angeles is not only a professor but also a National Geographic explorer. He reported that although he had never seen anything like it, he was not surprised by the bobcat's behavior.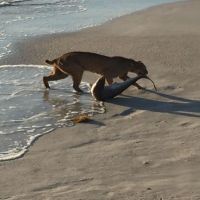 Bailey reported that the bobcat leaped up to grab the four-foot shark and pulled it out of the water. However, when the cat saw him, it dropped the shark on the beach and ran into the woods.
Although the exact number of bobcats living in Florida is unknown, they generally reside in areas of natural habitat—even if there's development close by.
One thing's for sure, John Bailey got the sight of his life—and a fish tale he'll enjoy telling for a very, very long time! We hope the hungry cat went back to get its meal later on.
– The Alternative Daily
Sources:
http://www.miamiherald.com/news/local/community/miami-dade/article17794979.html