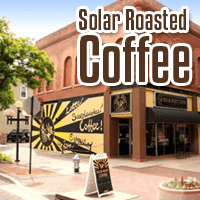 Solar Roast Coffee is truly unique among coffee roasters. Started in 2004 by brothers Michael and David Hartkop of Oregon, Solar Roast is a true demonstration of the potential of using green energy to develop and run a sustainable and successful business.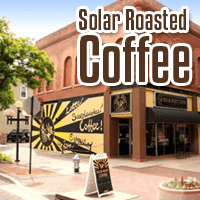 Germination of an Idea
Working together and blending their strengths, Michael and David worked together to bring the germ of an idea into being. Initially, their original goal was to build a business that would allow them to move out of their parent's house. Michael was an apprenticed coffee roast master and David was a special effects artist who was interested in using alternative energy. They decided they had to build a coffee roaster from scratch on a limited budget.
Since sunny days in Oregon are limited, they expanded their search to encompass states with higher amounts of sun, including Arizona, California, Nevada, New Mexico and Colorado. After extensive research, they settled their business in Pueblo, Colorado in 2007, which provides them with large amounts of sunlight for their eco-friendly coffee roasting. Additionally, Pueblo is perfectly sized to support their growing business and, as a university town, they believed they could find support for their unique product.
Success Breeds Expansion
With their parents providing support as initial investors in their business, Michael and David have built several versions of solar coffee roasters successfully. With each new version, they have increased the energy efficiency and capacity of their roasting equipment. They have discovered that not only does the coffee they roast taste better than other coffees, but customers are receptive to their eco-friendly approach to making their products.
In 2009, David and Michael expanded their business to include selling their solar roasted coffee in grocery stores, restaurants and coffee shops in southern Colorado. They ship and deliver coffee weekly to numerous outlets and continue to see their numbers grow today.
In their latest venture, Solar Roast Coffee offers custom-private label solar roasted coffee to customers. They have provided more than 100 private labels for organizations and businesses and anticipate this aspect of their business to continue to grow in the coming years.
You can find out more about Solar Roast Coffee and even order your own bag for home by visiting – http://www.solarroast.com/
What do you think of David and Michael's idea? Would you buy eco-friendly solar roasted coffee if it were available in your area?