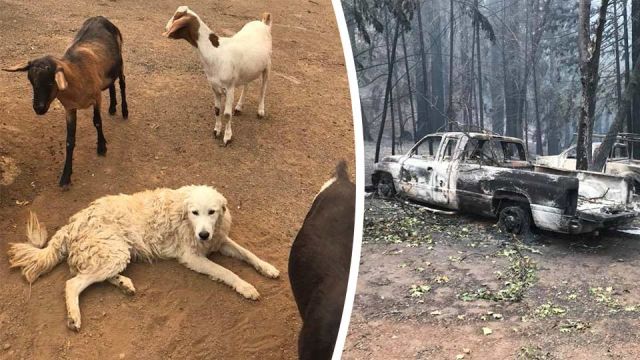 In what will go down as the deadliest week of wildfires in recorded Californian history, some positive stories are starting to break through the cloud of desolation.
A one-year-old Great Pyrenees dog named Odin saved his families eight pet goats from the deadly flames in Sonoma county after he stayed behind, herding them to safety.
Hero dog Odin refused to leave his family's goats, saving his herd and several baby deer from California wildfires https://t.co/kkxGaBiFLu pic.twitter.com/MquydeNVii

— Erin Ruberry (@erinruberry) October 17, 2017
"The fire hit us first before any evacuation notices. We smelled smoke and there had been nothing on evacuations posted yet… I get all the alerts," said owner Roland Hendel.
When the Hendel family saw the skies turn orange and after a neighbor told him to report flames on the property, they knew it was time to pack up and go.
During the Hendel family's panicked packing, Odin refused to leave.
"He just sat down, looked me in the eye and wasn't budging," said Hendel. "I didn't have time to figure out what to do. He was determined to stay and he's his own being."
Here's a video of Odin in the family's barn after the fire's died down:

Unfortunately, the family lost their home and several other structures, however, they were extremely relieved they didn't lose any of their animals. They thought that they didn't have a chance and that they were going to suffer a brutal and agonizing death in the flames.
The Hendel family posted this on their Facebook account:

Although the Hendel family will never know for sure what happened during the worst hours of the inferno on their property, the family is strongly confident that Odin herded the goats to a more rocky area in the pasture.
"His fur is orange so it's not damaged from flames, but heat. And the padding of his paws are burned," said Heldel.
As seen in the video above, Odin is getting a steak dinner and lots of love now that everyone is safe.
More pictures posted by the family:

The Heldel family has set up a YouCaring page that is already far above their goal of $45,000.
In response to the overwhelming support, Heldel wrote, "I am overwhelmed by the support that we have received from all of you. So much kindness and compassion. The human spirit is truly a remarkable and wondrous thing."
–PJ Amirata