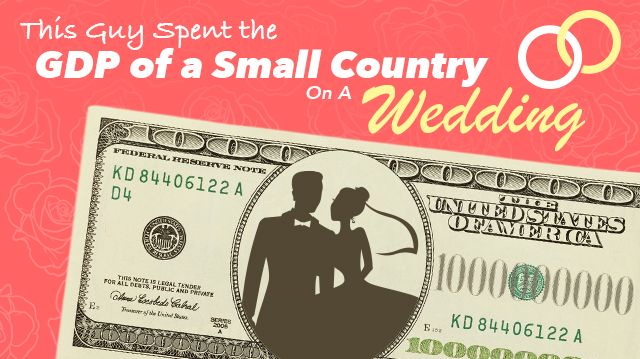 Getting hitched can be expensive endeavor, but not all weddings are created equal.
A number of celebrities easily spend millions. Model Elizabeth Hurley spent $2.5 million. Actress Salma Hayek spent $3.5 million. Internet personality Kim Kardashian racked up a $10 million wedding bill. Prince William and Kate Middleton spent $34 million on their wedding, though $32 million of that went straight to security. 
The Prince of Abu Dhabi reportedly spend $100 million on his seven-day wedding in 1981. Adjusted for inflation, that's about nearly $290 million in today's dollars. 
Meanwhile, the average cost of an American wedding is over $26,000. Most Russian weddings are comparatively inexpensive, costing an average of $15,000. This is not always the case.
Imagine walking down a yellow entrance way lined with men and woman dressed in green garments and white wigs resembling the Wizard of Oz's Emerald City. Passing through the giant double doors, you are led to a wonderland of perfectly curated landscaping magically transposed to an indoor arena — a courtyard filled with purple, green and yellow flowers. Garlands of purple flowers mixed with falling lights that shimmer like stars floating just below the ceiling.
You've just taken a glimpse at the wedding of Said Gutseriev, son of Russian billionaire Mikhail Gutseriev, and 20-year-old Russian student Khadija Uzhakhova. The wedding is being called "the most expensive wedding ever" by Russian media sources. Live performances by Jennifer Lopez, Enrique Iglesias and Sting give some inkling to the costs associated with making this a night to remember. 
Though the exact cost of the affair are unknown, onlookers have speculated a budget of over $1 billion dollars. If this estimate is correct, the wedding truly is the most expensive in history.
The cake was significantly larger than the bride. Her designer wedding gown is reported to have cost $300,000 dollars on its own. It weighed twenty-five pounds. Her diamond-laden tiara is rumored to have cost $75,000. Party favors took on a whole new meaning as the couple distributed intricate gold boxes inscribed with their names and the date of their marriage to their 600 guests. The event ended with half-hour of electrifying fireworks. 
Rumor has it that this lavish affair is only the first installment. The wedding's second, London-based program may very well feature performances by Elton John and Beyoncé. While their performances haven't been confirmed, at this point it wouldn't be a shocking addition. 
While most media sources are content to report on the glamor and glitz of the affair, several have criticized the extravagant wedding for heartlessly displaying a gaudy feast during a national famine. This is made all the more grimace-worthy by the bride's hometown. Uzhakhova hails from Ingushetia, one of the poorest counties in Russia. Russian news sources pointed out that the affair likely cost more than Ingushetia's annual health care and educational expenditures.
The circumstances of the couple's love affair also has come under attack.
Gutseriev reportedly spent years finding the perfect bride for his son. She had to be beautiful, shy and a virgin. Khadija Uzhakhova fit the bill. Hardly the fairy book romance a wedding filled with floor-to-ceiling flowers brings to mind. Still, given the statistical success of arranged marriages, who are we to judge? 
Despite the criticism, the bride is positively glowing in her wedding photos.
—Erin Wildermuth
Erin is a freelance writer, photographer and filmmaker. She is passionate about moving beyond party politics to identify pragmatic solutions to social, economic and political problems. Her writing has appeared in the Washington Times, the American Spectator, Doublethink and Scuba Diver Magazine. She spends her free time scuba diving, snowboarding and ravenously reading popular nonfiction. Erin holds a master's degree in International Political Economy from the London School of Economics.
Sources:
http://astanatimes.com/2013/07/survey-compares-countries-wedding-spending-habits
http://www.cbsnews.com/pictures/most-expensive-weddings-of-all-time/2
http://abcnews.go.com/International/inside-elite-russian-couples-billion-dollar-wedding/story?id=38033885
http://www.dailymail.co.uk/femail/article-3514779/Inside-oligarch-s-multi-million-pound-wedding.html
http://capelino.com/the-wedding-of-the-son-of-mikhail-gutseriev-in-detail-photo
http://www.forbes.com/sites/forbeslifestyle/2016/03/30/russian-wedding-billionaire-sting-jlo-extravagant-mikhail-gutseriev/#14eeb5a12b0a
http://www.marieclaire.co.uk/news/world/552457/billion-dollar-wedding-said-gutseriev-and-khadija-uzhakhovs-spent-1billion-on-their-big-day.html#index=1
http://www.theguardian.com/world/2016/mar/30/multimillion-pound-wedding-russia-sting-jlo-gutseriev