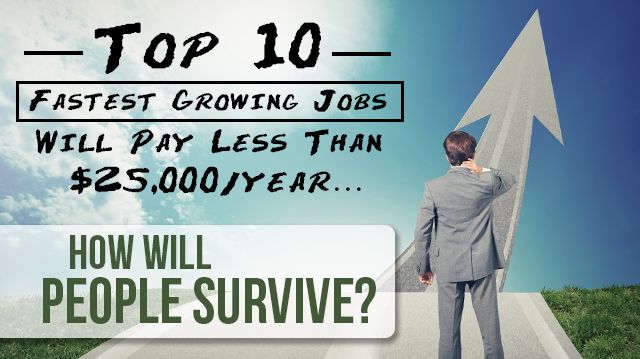 Only 41 percent of Americans say there are plenty of jobs out there. That's according to a recent poll taken by the Pew Research Center. In fact, only about 33 percent of us believe that there are plenty of "good jobs" to be had, and some of the fastest growing jobs pay less than $25,000 a year. These statistics raise the question: How will future Americans survive in such conditions?
Wage growth—or the lack thereof—is a real concern. Chobani CEO, Hamdi Ulukaya, wrote an op-ed for CNN Money last month that addressed this very issue. Ulukaya wrote that Chobani's private and independent status as a company allows it to offer employees several more dollars an hour than minimum wage, and that has led to the success not only of the company but of its employees as well.
"We have the freedom of following our own conscience when it comes to our business practices," Ulukaya wrote. "Others may have to worry about shareholders and the impact of higher wages on quarterly profits, even when there is a long-term benefit. That is why an increase in the minimum wage is important. It gives companies the permission to do the right thing without suffering a competitive disadvantage."
The reality though, is that the workforce is changing. More and more workers are retained by companies on a freelance, contractual basis. Many folks with full-time jobs have started a side hustle. As CNN Money reports, retail hiring has been strong in recent months, but that work is typically paid at an hourly rate. Often retail workers don't work full time, so if minimum wage does increase, it might not have a huge impact on workers. With these trends, how much job growth can we expect to see in the coming years that will offer more than $25,000 a year? Probably not a lot, as it turns out.
According to the Bureau of Labor and Statistics, the 20 fastest growing occupations include a variety of jobs, from wind turbine service technicians to commercial drivers, cartographers and others. Among these, jobs as a physical therapist aide are projected to see the fourth largest amount of growth between the years 2014 and 2024. The median income in 2014 for physical therapist aides was $24,650. Home health aides take the next position in line at number five, with a median income of $21,380. Ambulance drivers and attendants, except emergency medical technicians, are also on the list, and can expect to make a median of $24,080 per year.
Other job markets expected to continue experiencing growth over the coming years, but offer only meager wages, include: 
        

Food prep and service workers ($18,410 per year)

        

Personal care aides ($20,440 per year)

        

Retail salespeople ($21,390 per year)

        

Restaurant cooks ($22,490 per year)

 
Retail and fast-food companies are among the largest employers in America, and since only 34.6 percent of working age Americans have a college degree, jobs in these markets are highly desirable. They don't require specialized training or a college degree.
So the problem here is that the demand for these low-paying jobs is as strong as ever. Other jobs, like those as a health-care aide, require less training than other big growth jobs, making them appealing to people with at least some schooling.
Despite all this, the Pew Research Center reports that our attitudes toward the economy have improved over the past seven years. Fifty-four percent of Americans believe that conditions will remain the same over the next year, and 20 percent believe that conditions in the economy will actually improve. However, those who are considered low-income wage earners still feel as if they're being left behind.
The various factors at play here—education, minimum wage, job opportunities—are all talking points as we near the presidential election this fall. Will the next president address these factors? Time will tell.
—Megan Winkler
Megan Winkler is an author, historian, Neurosculpting® meditation coach, certified nutritional consultant and DIY diva. When she's not writing or teaching a class, Megan can be found in the water, on a yoga mat, learning a new instrument or singing karaoke. Her passion for a healthy mind-body-spirit relationship motivates her to explore all the natural world has to offer.
Sources:
http://money.cnn.com/2016/04/18/news/economy/fastest-growing-jobs/index.html?iid=EL
http://money.cnn.com/2016/03/31/news/economy/chobani-minimum-wage/index.html?iid=EL
http://www.bls.gov/ooh/fastest-growing.htm