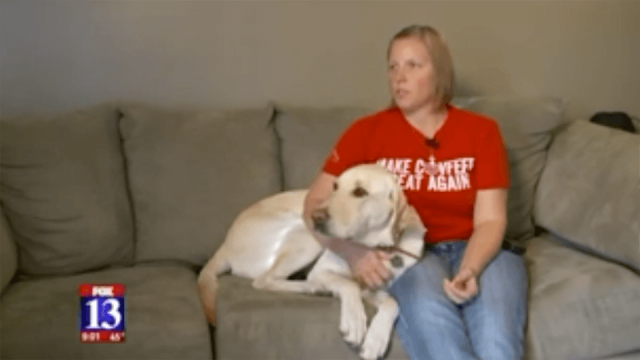 A United States military veteran was kicked out of a local bar in Utah solely because of her service dog named Hawk. Annalisa Hope, who is a West Jordan, Utah resident, claims she is embarrassed and disappointed in how she was treated by the bar, especially with the Americans with Disabilities Act in place.
The incident took place at Bout Time Pub and Grub in West Jordan, Utah. This video was released by Fox 13, a local news agency:
Hope suffers from severe PTSD and anxiety, which she obtained with her service as a medic in Iraq. Large crowds and social scenes trigger problems, but she does enjoy socializing when Hawk is with her.
"He's my battle buddy," Hope said of Hawk."You know, in the military you have the term 'battle buddy,' someone who is always there for you — sorry, it's going to make me cry, because you can tell him anything and they're always there for you, just unconditional love."
Here is a picture of Hope with Hawk:
Veteran says she was kicked out of Utah bar because of her service dog https://t.co/gwnIqFuNwx pic.twitter.com/23LMLqq4B5

— FOX 13 News Utah (@fox13) October 21, 2017
"Because of what happened in the service, I don't like people to stand at my back or when I'm in a large crowd," she said. "It's a loud environment, things can happen suddenly, people cheering can sometimes upset me."
Hope said she doesn't think there's any way she could have handled the bar scene without her dog present.
Upon arrival at the bar, one manager said she could not enter unless she had documentation or paperwork for Hawk. However, that kind of documentation doesn't exist for service dogs. The Americans with Disabilities Act clearly states that service dogs don't need vests, certifications or identification and businesses can't request these items.
Despite the problem, the restaurant owner, Tim Ryan, eventually reached out to Hope to work out the dispute and educate his staff on the rights of service animals and people with disabilities.
— PJ Amirata