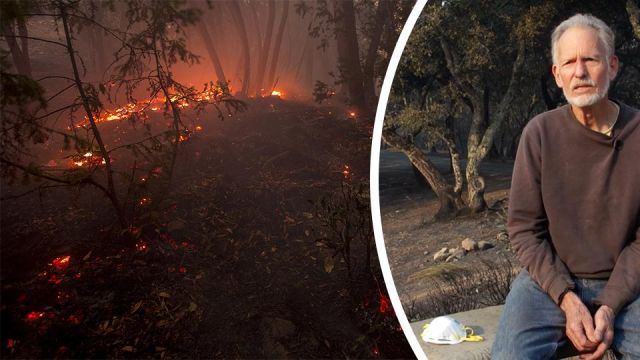 The wildfires that have swept Northern California have had a devastating impact. At least 42 people have been killed, 15,000 individuals have been displaced from their homes, and nearly 250,000 acres have been scorched or blackened by the blazes. By some estimates, economic losses are sure to top $1 billion.
Homeowner that refuses to evacuate saves home
However, one homeowner was determined to battle the flames that threatened his property. As you can see from this video interview (below) Bob Reid seems mild-mannered and anything but foolhardy. But when the wildfire approached — and Santa Rosa officials gave emergency evacuation orders — Reid made the seemingly reckless decision to stay behind and try and save his home.
Reid's wife (along with a roughly a dozen neighbors) vacated the vicinity shortly before the flames arrived. Reid, however, had purchased some firefighting equipment beforehand and had been educating himself on how to combat wildfires by watching some online videos. Unfortunately, much of that know-how proved irrelevant as the fiery conditions were far different than he anticipated.
The flames defy expectations
Reid had expected a wall of fire, but instead, he found himself facing eddies and swirls of flames that constantly shifted as the gust of winds picked up and died down.
Reid admits that the intensity of the inferno-like conditions was much more prolonged that he had been expecting. As he explains, sparks and hot gases would appear from all sides, disappearing for a time, but then reappearing from different angles. At one point, hot gases singed his eyebrows.
Reid spent much of his time cutting down smoldering trees in order to try and stop them from spreading the flames. He went around at night with a flashlight trying to determine which ones needed to be felled. He was often amazed that wood, which seemed like it would be very hard to burn, had in fact ignited.
Reid describes his efforts as simply "doing what you can" and he refuses to pat himself on the back. Yet, he managed to do something extraordinary — he saved his home while every one of the 11 other homes in the neighborhood perished.
Most fire experts, needless to say, would counsel against trying to do what Bob Reid did. Nevertheless, there are things people can do in advance to better protect their homes. You can check out some tips for protecting your property here. If you live in a vulnerable region, then officials also urge people to have an emergency wildfire action plan.
— Scott O'Reilly