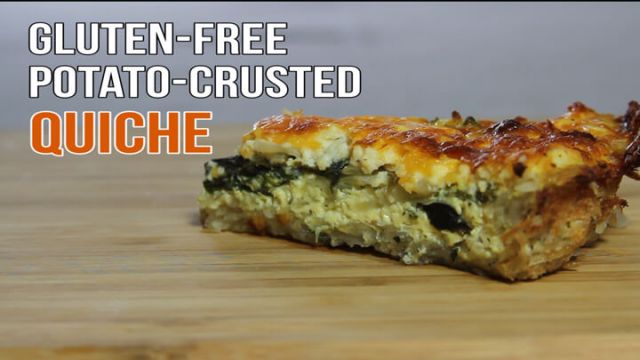 Quiche is a medley of delicious tastes melded together in every bite. The pie can be thrown together in under an hour and serves six to eight slices. It's perfect for family breakfast or brunch offerings. You can even add spinach to your quiche for extra health benefits.
Unfortunately, traditional quiche isn't a great option for those who prefer a gluten-free diet. But who says quiche needs to be traditional? This potato-crusted alternative neatly alters your pie into a gluten-free dish. Enjoy!
Quiche Ingredients
2 potatoes

1 onion

1 tbsp minced garlic

5 oz fresh spinach

4 eggs

1 cup milk

Feta cheese to taste

Cheddar cheese to taste

Olive oil to taste

Salt to taste

Pepper to taste
Instructions
1. Preheat oven to 400°F. 
2. Peel and shred potatoes.
3. Add 1 tablespoon olive oil, and salt and pepper to taste.
4. Arrange the mixture in a pie dish and pat firmly to form the crust.
5. Bake for 20 minutes, then turn down oven to 375°F. 
6. Get out a saucepan and saute onion, garlic and fresh spinach in 1 teaspoon of olive oil.
7. Mix four eggs, milk and salt and pepper to taste.
8. Pour the spinach mix into the pie crust, along with feta and mozzarella cheese to taste.
9. Pour in egg mixture.
10. Bake at 375°F for 50 minutes.
— Erin Wildermuth