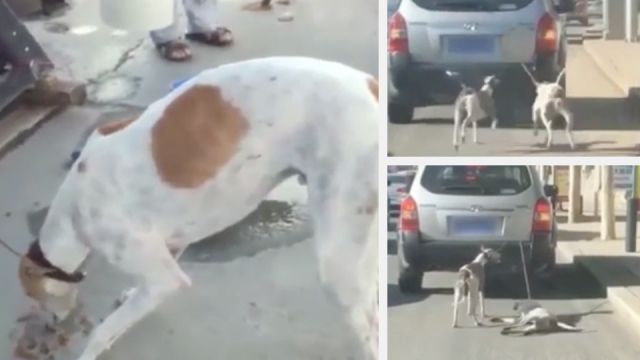 Footage has emerged of a man in China training his dogs for a race by dragging them behind a car with a rope.
Watch the video for yourself:
Despite their exhaustion, as shown in the video, the man kept forcing the dogs to run behind the vehicle. He strongly denies animal abuse, yet the dogs were panting — and one even collapsed in the street. Still, the dog owner claims that he loves his animals.
The clip first started going viral in China, then moved its way around the globe. Wendy Higgins from Human Society International says that this incident is shocking and appalling. "The dogs were placed in extreme risk of injury or even death, and in fact the video appears to show one of the dogs having bleeding paws at the end of the ordeal, likely from desperate attempts to keep up with the vehicle," says Higgins.
Sadly, this isn't the only case like this
There have been other incidents of animals being dragged, most recently a shark dragged from the back of a boat this past summer.
CAN SOMEONE PLEASE TELL ME WTF IS GOING ON HERE ???? JUST GOT THIS ON MY FEED ! SENT FROM @bearjew428 AND @MICHAELWENZEL .FOR ONCE I MAY HAVE TO AGREE WITH @PETA. #WHODOESTHISSHIT #sowrong #notcool
That incident was met with far more backlash. Even Florida Governor Rick Scott addressed the situation and called it "deeply disturbing."
What do you think — does that dog owner love his animals or were his methods downright cruel? Let us know in the comments.
— Peter Amirata