What is Detox Drops™?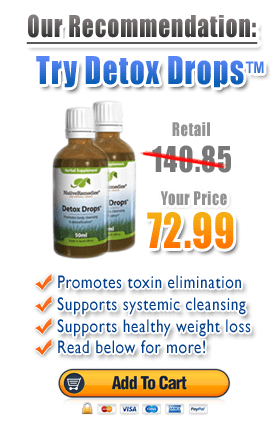 Detox Drops is a 100% safe, non-addictive natural herbal remedy formulated for teens and adults by our team of natural health experts. Detox Drops contains a selection of herbs known for their supportive function in maintaining liver health and well-being.
Detox Drops can be used as part of a gentle detoxification program to safely cleanse and flush out the system. It supports the body's natural ability to remove toxins and waste by-products, without harmful side effects.
The formula remains true to the whole spectrum method of herbal manufacture, ensuring the bio-availability and balance of all the active ingredients contained in the remedy. This method of manufacture also significantly reduces the likelihood of side effects and maintains all active ingredients in perfect balance – exactly as nature intended!
By cleansing and refreshing all body systems, Detox Drops can also present a wonderful start to any new program to stop smoking or begin a healthy weight loss program.
Benefits:
Promotes detoxification and toxin elimination
Supports healthy liver functioning and systemic cleansing
Improves energy levels and stamina
Supports healthy weight loss efforts, including the breakdown of dietary fats
Promotes clear healthy skin
Supports overall immune system health
Ingredients:
Dandelion – contains bitter principles that have a tonic effect on the liver and digestive system.
Fennel – Apart from its naturally supportive properties for digestion, Fennel also helps to maintain liver, kidney and spleen health.
African geranium – is well known for its supportive capacity on liver functioning and as a digestive tonic.
How Long Until I See Results? As with many effective herbal treatments, Detox Drops begins to work on the body systems almost immediately. Detox Drops is presented in a concentrated tincture formula that facilitates rapid absorption into the blood stream. This means that the natural flushing of body toxins is supported from the start. The full system takes 6 weeks to complete. Each bottle lasts 3 weeks.
If you order today, we will ship you an
additional bottle of Detox Drops ABSOLUTELY FREE!
That's 3 Bottles of Detox Drops for the price of 2!
How to Take:
Dilute drops in a small amount of water, juice or milk.
Adults & Children 12+: Take 15 drops 3 times daily for 6 weeks.
Children 6-11: Take 1 drop per year of age 3 times daily for 6 weeks
Caution: Fennel and Dandelion should not be used in conjunction with any diuretic medication such as Lasix or 
hydro-chlorothiazide. Safety during pregnancy or breastfeeding has not yet been established.
Highest Quality, Herbal Ingredients
We utilize only the highest quality, laboratory-tested, raw ingredients formulated in therapeutic dosage, free of added fillers such as gluten, artificial colors, flavors or preservatives. Herbal products use whole herbs that are wild crafted wherever possible to preserve the balance of the environment. Homeopathic ingredients are listed in the Homeopathic Pharmacopoeia of the United States (HPUS), the official homeopathic compendium accepted by the FDA.

Detox Drops are manufactured according to the highest pharmaceutical standards using our Full Spectrum Approach, according to the principles of GMP (Good Manufacturing Practice) to guarantee the highest degree of consistency, reliability and potency of our remedies. All of our products are manufactured in FDA-registered, GMP-certified facilities under the supervision of an expert team of herbalists, naturopaths, homeopaths and responsible pharmacists, and all 100% homeopathic remedies are individually registered with the FDA. No animal testing is carried out whatsoever.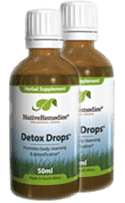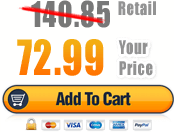 Try Detox Drops Today and Start Detoxing The Natural Way!