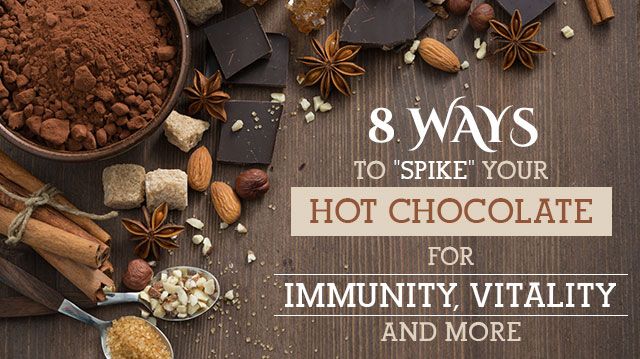 A cold night, a warm fire, and a steaming cup of sugar, corn syrup, modified whey, hydrogenated coconut oil, artificial flavors, and cacao processed with alkali. For many consumers, what appears to be a delicious cup of hot cocoa is actually a cup of unhealthy, highly processed ingredients. But there's good news: you can create delicious hot chocolate at home from nourishing ingredients, including a few that will spice it up for energy and health.
Make your own hot chocolate
Unlike the sugar- and corn-syrup-laden commercial hot chocolate available in stores, homemade hot chocolate only contains a few ingredients. Most online recipes call for some variation of the following:
        

Milk (plant-based or otherwise)

        

Cacao powder

        

A sweetener

        

A pinch of salt
By making a few smart decisions about your hot chocolate, you can create a tasty, guilt-free treat that's good for your health. For example, by opting for plant-based milk, like almond or coconut milk, as a base for your hot chocolate, you reduce the amount of saturated fat in each cup. Natural cacao powder — instead of alkalized cacao — infuses your drink with healthful antioxidants.
A natural sweetener, such as blackstrap molasses or organic honey, can give you another energy boost. Blackstrap molasses contains iron, magnesium, vitamin B6, selenium and calcium; it has long been considered a superfood. Organic, local honey may provide protection against seasonal allergens. Finally, choosing a natural salt can provide minerals that are absent in commercial hot chocolate mix. For an extra boost, add one of the following ingredients for wellness:
Turmeric
As we've reported before, turmeric reduces pain and swelling and may combat cancer. It can also help relieve digestive problems, hepatitis, fibromyalgia, menstrual problems and a myriad other conditions and ailments. A sprinkle of turmeric adds an aromatic element to your homemade hot chocolate. Some people report that this Indian spice has a slight orange or ginger scent. Be careful not to add too much, though, as it can be bitter in large quantities. If you get overzealous in your sprinkling, add a bit of natural sweetener to counteract its bitterness.
Coconut oil
It's no secret that we're big fans of coconut oil, and with good reason. It has been shown to help people lose weight and promotes the production of high-density lipoprotein (HDL), or "good" cholesterol, without increasing the "bad" variety of cholesterol, low-density lipoprotein (LDL). It may combat conditions and diseases like diabetes, Crohn's disease and Alzheimer's, and it may give you an energy boost. Healthy, plant-based fats are also good for brain health, so mix a teaspoon of extra virgin coconut oil into your cup of hot chocolate for a delicious health boost.
Peppermint
Adding peppermint oil or a peppermint tea bag to your hot chocolate can give it a cooling minty flavor. It can also freshen your breath, relieve headaches, boost energy and improve your mental focus. Spiking hot chocolate with mint may also balance hormones. Be sure to use only therapeutic grade essential peppermint oil if you decide to go that route — not all essential oils purchased commercially are safe for internal use.
Ginger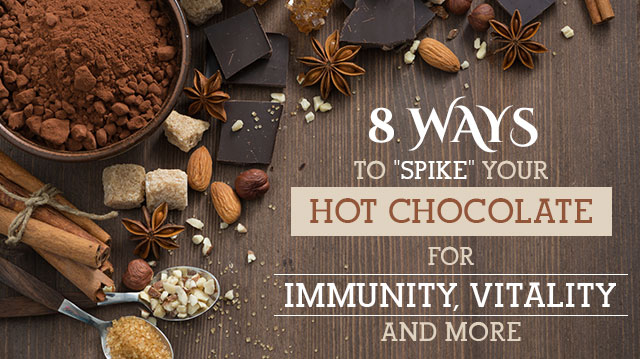 According to the National Center for Biotechnology Information (NCBI), ginger is among the most commonly used spices across the globe. For thousands of years, ginger has been used to treat nausea, arthritis, hypertension and other ailments. Its warm bite with a hint of sweetness makes it a favorite in many dishes. Sprinkle a bit of powdered ginger in your hot chocolate for a zesty addition that will wake your senses. It may even benefit your heart, digestive tract and joints.
Cayenne pepper
Cayenne pepper is a great addition to chocolate. It brings a touch of spiciness to the palate and infuses your treat with powerful antioxidants. Rich in capsaicin, cayenne pepper may provide relief from poor blood circulation. In fact, it is often used in medications to prevent high cholesterol, blood clotting and heart disease. Other benefits include relieving muscle spasms, osteoarthritis, fibromyalgia and nerve pain associated with HIV or diabetes. Sprinkle a little cayenne and cinnamon in your hot chocolate for a decidedly Mexican flavor.
Cinnamon
A study published in Critical Reviews in Food Science and Nutrition found that cinnamon may support diabetics by imitating insulin in the body. Its fragrant aroma invokes a sense of the holidays, but it may also help reduce blood pressure. Plus it's in most of our pantries. Why not try it the next time you're enjoying some hot chocolate?
Unprocessed salt
Not only is unprocessed salt a natural, mild alternative to "table salt," it's also quite beneficial to our health. It helps regulate the water content in our bodies and supports sinus health, respiratory health, bone health and vascular health. Other benefits include supporting libido and increased absorption of nutrients in the digestive tract. Salt is often used in sweet dishes and drinks to enhance their sweetness. If you've ever tasted hot salted caramel drinks, you know exactly how delicious some natural salt can be in hot chocolate.
Cloves
Cloves have been used for thousands of years to relieve pain and upset stomach. Adding ground clove to your hot chocolate may help relieve pain in the body. It may also have an expectorant effect on your sinuses. This sweet, warm spice, which is found in pumpkin-pie spice and used in numerous baked goods, also contains a wealth of antioxidants. In fact, it's one of the most powerful antioxidants in the world.
However you "spike" your hot chocolate for health and energy, remember always to use organic and natural ingredients — things you can pronounce. Experiment with a variety of spices in your pantry and be sure to let us know if you try something we haven't discussed here. With some adjustments to a traditional homemade hot chocolate recipe, you can enjoy a drink that tastes like heaven and is good for your health.
What do you like to add to your hot chocolate?
—Megan Winkler