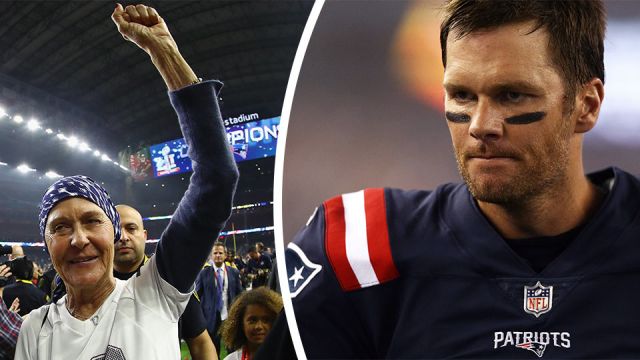 In recent years, the color pink has become synonymous with the month of October, which is known as Breast Cancer Awareness Month.
It marks the beaconing of an annual international health campaign organized by major breast cancer charities and one major supporter has been the NFL, both in raising a substantial amount of awareness and making charitable donations.
Galynn Brady, future hall of fame quarterback Tom Brady's mother, has been battling the disease since she was diagnosed in June 2016.
In an interview with the NFL Network, Galynn Brady, who is 72, opened up about what it was like battling with a fast-growing and aggressive cancer.
She had to go through multiple surgeries, two lumpectomies and then five months of chemotherapy.
Historically, she has attended most of Tom's games, but for the 2016 season, she couldn't make any, along with her husband Tom Brady Sr., except for the Super Bowl because her chemotherapy ended two weeks prior.
Watch Galynn's recount of her battle:
All for mom.@Andrea_Kremer sits down with Galynn and Tom Brady, Sr. #CrucialCatch

📺: @NFLGameDay pic.twitter.com/mKSFNXqu23

— New England Patriots (@Patriots) October 22, 2017
During Tom Brady's preparation for one of the biggest games of his life, Super Bowl 51, he routinely offered his mother words of encouragement. "You'll be ready for the Super Bowl," he told her. Fortunately, she was.
Here is a picture of Tom Sr., Galynn and Tom Brady at the Super Bowl:
WATCH: Tom Brady's mom describes her fight with cancer in emotional interview: Galynn Brady explains what her life… https://t.co/z3XXrp12x3 pic.twitter.com/fhWLKEpJuM

— MoneyShark (@MoneyShark_3) October 22, 2017

"I think there's a special bond between a mother and a son," said Galynn. "I just wanted to be there for Tommy, and I wanted to be there with our family. Everybody was going to the Super Bowl and I didn't want to miss that."
Fortunately, she was able to cheer on her son from the stands at NRG Stadium, allowing her to forget about the horrendous disease she was battling in the months before. "It was a euphoric feeling. I'm so glad I decided that I would go and just put cancer aside for that weekend," she said.
Just going to the game was incredible for Galynn and her family, but to end up seeing the greatest comeback in Super Bowl history and seeing her son win his fifth Super Bowl was even sweeter. She describes it as "one of the most joyous moments of our life after everything we had gone through."
When the Patriots were trailing, Patriots wide receiver Julian Edelman was heard telling Tom Brady, "We're going to win this for your Mom, for your Mom Bro." Essentially, some players on the team, like Edelman, were using Galynn's illness as a way to inspire themselves to keep fighting.
Here's a picture of Galynn with Tom. Tom considers himself a "Mama's Boy."
Patriots' team owner Robert Kraft presented Galynn with a Super Bowl ring, in hopes of showing her how much they wanted that Super Bowl win to be her win also.
"She's my everything," Tom Brady said immediately after completing the greatest comeback in Super Bowl history. "I just love her so much." Currently, Galynn is cancer-free, but her cancer is known to have a high rate of recurrence.
In honor of breast cancer awareness month, you can make your donation or show your support here.
— PJ Amirata