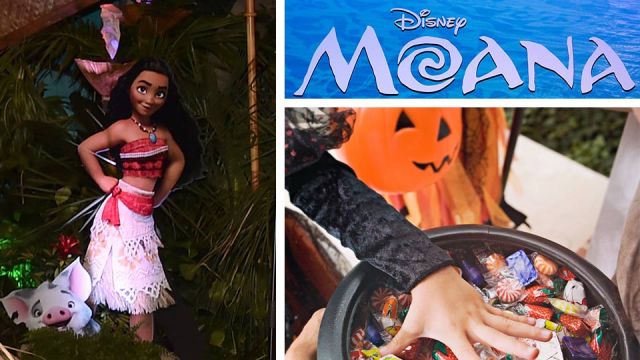 Multiple news outlets, most notably Cosmopolitan and Redbook, are publishing stories suggesting people should be outraged about kids dressing up as Disney's fictional "Moana" character for Halloween.
Hey Parents: Maybe Don't Dress Your Kid Up As Moana This Halloween https://t.co/F1tppGs47f pic.twitter.com/NOMPW3OOFi

— Cosmopolitan (@Cosmopolitan) October 23, 2017
The movie, released last November, was an instant box office success and millions of people loved the movie.
The film tells the story of Moana, a daughter of a chief in a Polynesian village, who sets out on a sea journey and saves her family's island from destruction. It is considered by many to be another Disney classic.
That being said, people are claiming that by dressing your child up as the character, you are being "racially insensitive."
Also, these new outlets are claiming that Moana is cultural appropriation because they feel she is reducing the Polynesian culture to stereotypes, therefore belittling it.
This is a picture of the costume, which Disney has since pulled:
Moana costume pulled by Disney because Hawaiians thinks it's racist and appropriating their culture. pic.twitter.com/3MNnmY9bmH

— The Teatarian (@teapartytempest) October 24, 2017
The Cosmopolitan article argues, "To clarify: No one is telling you to ban your child from belting out Moana songs in your living room. They're good songs! Moana is a powerful, phenomenal Disney heroine who relies on more than just her CGI perfection to save the day. But there's no better time than when a kid is in their formative years to teach them that it's not OK to mock other people's cultures."
An article on raceconscious.org, by Sachi Feris, argued that she forced her daughter to switch from a Moana costume to a Mickey Mouse one, purely due to the fact that she "won't have to worry about making fun of anyone or dressing up as a culture different from our own because Mickey Mouse is a pretend mouse!"
The other article from Cosmopolitan argues, "This isn't about putting a damper on your kid's creativity; it's about exercising sensitivity towards anyone who doesn't get to choose how the world at large sizes them up."
Both articles also argue that children who are white should especially avoid the costumes because of their white privilege.
Overall, I think we can all agree that stereotypes are never a good thing, but to not allow children to dress up as their favorite Disney character for Halloween is absolutely insane.
People pay big money to go see these Disney movies and children of all backgrounds are going to want to dress up as these characters. How far will our society go to try and be inclusive to everybody, especially on a holiday?
Of course, you're always going to have people upset at something, but to try teach children about cultural sensitivity by not letting them dress up as the characters they see on the big screen is too far.
For example, even LeBron James' daughter threw an entire Moana themed party.
LeBron's daughter had an awesome Moana-themed 3rd birthday party! 😄 pic.twitter.com/v8roK3EADu

— Alysha Tsuji (@AlyshaTsuji) October 22, 2017
It hurts to see these people try and tear down the fun and good-heartedness of children, to only appease a small minority of sensitive people. The articles about Moana have sparked more controversy online:
Thinking of going as Moana for Halloween now. https://t.co/zmj83FfSAP

— Stephen Miller (@redsteeze) October 24, 2017
Awww…did you want to dress up as Moana? 😂😂😂 Btw…Children do not love to appropriate other cultures. That's what racists think is fun.

— MaryLouise Torres (@Emmluu) October 24, 2017
If you are offended by a moana HALLOWEEN COSTUME FOR A CHILD then I PROMISE you ARE the problem. https://t.co/qyFR1IslBT

— Ali♛✞ (@AliGreen13) October 24, 2017
What do you think about this costume situation? To you, is it offensive or should kids be able to wear it? Let us know!
— PJ Amirata