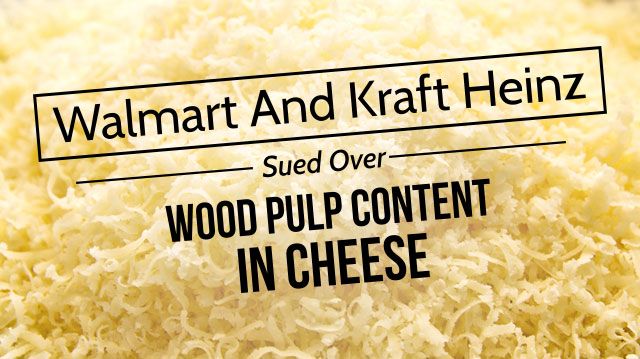 We reported recently that a Bloomberg News investigation caught several cheese brands adding large amounts of cellulose, or "wood pulp," to their grated Parmesan cheese products. Now, two of the companies that Bloomberg investigated — Walmart and Kraft Heinz — are facing lawsuits.
Plaintiffs in both the Kraft and Walmart lawsuits are claiming that the companies mischaracterized the amount of cheese that is actually in their "100% Grated Parmesan Cheese" products. Customers paid for the product thinking that they were getting pure Parmesan cheese, but found out later that the 100 percent Parmesan products actually contained wood pulp, or cellulose, as well. The Kraft brand was found to contain about 3.8 percent cellulose in its grated Parmesan, while Walmart's Great Value 100% Grated Parmesan Cheese was found to contain a whopping 7.8 percent.
What is cellulose?
Cellulose is a naturally occurring fiber contained in all plant foods. That's right! Fruit, vegetables, grains, nuts and beans all contain cellulose. What this means is that if you eat a lot of whole, unprocessed foods, you're probably already getting a lot of cellulose in your diet.
However, the cellulose added to your grated cheese is a little different than what naturally occurs in fibrous fruits and vegetables. According to The Wall Street Journal, "Powdered cellulose is made by cooking raw plant fiber — usually wood — in various chemicals to separate the cellulose and then purified. Modified versions go through extra processing, such as exposing them to acid to further break down the fiber." The resulting food additive is then added to grated cheese to block out moisture and coat each individual piece so that they won't stick together.
However, grated cheese isn't the only place you can find this food additive. It's also used as an anti-caking agent in spice mixes and powdered drinks; added to many fast food items; mixed into ice cream, salad dressings and condiments to make them creamier; and is sometimes added to processed foods to up the fiber content.
Although adding cellulose to food in this way is approved by the FDA and consuming it is thought to be safe, I'd prefer to just stick to getting my daily dose of cellulose from broccoli, where it naturally occurs, rather than cheese and ice cream, where it definitely doesn't.  
Put the truth on the label
Although cellulose in small amounts is probably not harmful, the lawsuit raises a larger question about what constitutes honest food labeling. It should go without saying that any food that is labeled 100 percent parmesan cheese should only contain Parmesan cheese. Cases like these make it clear that some food companies are purposefully misleading consumers through the labels they put on their food products. And unfortunately, that puts the responsibility on the consumer to know where their food comes from and what's in it.
So how can we make sure we know what we're buying?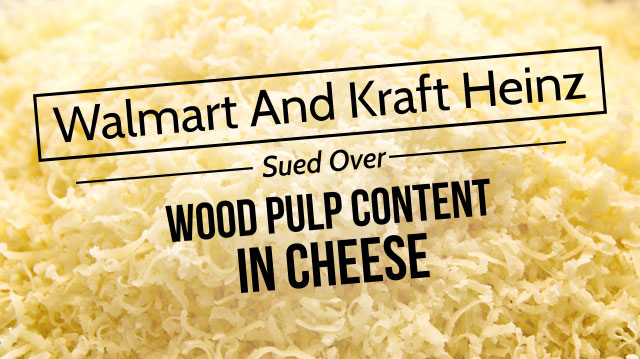 Buy Local: The best way to ensure quality is to buy locally from an artisan you trust. This way you can become familiar with the farmers and cheesemakers, as well as the methods they use and the quality you can expect.
Buy Organic: If buying local isn't possible, then buy organic from a reputable brand. Organic dairy has also been shown to contain more heart-healthy omega 3s.
Check Labels: The ingredients in cheese should look something like this: milk, cheese culture, salt, enzymes. Anything else (including cellulose) probably doesn't belong in there.
Grate Your Own: Even Whole Foods' 365 Organic Grated Parmesan was found to contain a small percentage of wood pulp. Avoid the wood pulp by buying a block of high-quality cheese and grating it yourself.
Cheese is delicious, and it can also be very healthy in moderation. Let's keep it wood pulp-free!
—Teresa Manring
Teresa is a freelance writer and yoga teacher currently living in Sri Lanka. She loves to write about policies, ideas, and practices that promote a healthy planet and create healthy people.
Sources:
http://www.chicagotribune.com/business/ct-parmesan-cheese-lawsuits-0301-biz-20160229-story.html
http://lawstreetmedia.com/blogs/law/lawsuits-against-shredded-cheese-producers-continue-over-wood-pulp-controversy
http://www.wsj.com/articles/SB10001424052748703834804576300991196803916
http://ecowatch.com/2016/02/24/parmesan-cheese-wood-pulp-filler