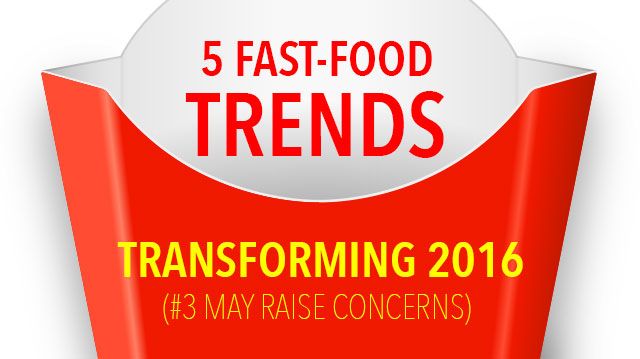 Fast-food restaurant chains have been feverishly searching for fresh ways to get more customers to their counters. Fast-food restaurants such as McDonald's want to see a turnaround in revenue in 2016. McDonald's suffered a roughly $1 billion loss in revenue between 2013 and 2014, according to reports. In response to the downturn in sales, food-food restaurants are stepping up their game. Marketing, technology, convenience and healthier options are all on the menu in 2016, but some trends may not be the best for consumer health.
Now there's a fast-food app for that. One tech-savvy trend offered by fast-food restaurants this year will involve a mobile application ordering system. Orders will go from smartphone to restaurant kitchen line at the touch of a button. This is a two-way street for customer and company convenience. A mobile ordering application gives customers the menu at their fingertips and the option to checkout online, which fast-food companies hope will increase sales. Ordering apps also offer companies a means of access to more customer information for marketing purposes.  
Healthier items may now be a menu staple. Over the last few years, there's been a gradual awakening in America to the dangers associated with consuming convenience food. Obesity, diabetes and heart disease have all been linked to the consumption of fast food. This improvement in the lifestyle choices of consumers has resulted in lost revenue for fast-food companies. In an attempt to increase customer numbers and revenue, fast-food chains are making healthier options a menu staple.
In 2015, fast-food chains made some big announcements. Many fast-food restaurants made a commitment to begin using cage-free eggs in five to 10 years; some became GMO-free, and a few pledged to use antibiotic-free poultry products. Taco Bell vowed to go "all-natural," and McDonald's recently opened a new concept restaurant in Hong Kong called McDonald's Next, offering quinoa side salads and asparagus burger toppings, according to news reports. 
Fast-food customers will no longer need to leave their homes. Hungry and want McDonald's? You can order via a mobile application and also have your order delivered. Chipotle, McDonald's and Starbucks have partnered with Postmate, an "urban logistics & on-demand delivery platform," according to news reports. Even Uber has considered adding food delivery to its service. This new trend could spell disaster for the health of consumers.
Say goodbye to dollar menus. In 2016, dollar menus and value menus will begin to look quite different, especially for those who loved how much food five bucks could buy at a fast-food drive-thru. This month, McDonald's is launching its newest marketing ploy, the McPick, which allows customers to pick two menu items for two dollars. Fast-food restaurants will begin offering value items for limited periods instead of having year-round dollar items.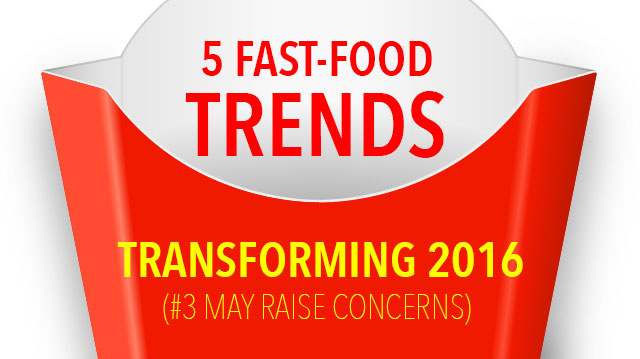 Snacks are back. Fast-food restaurant chains are beginning to see the value in offering snacks for a lower price, such as McDonald's one-dollar mozzarella sticks or small fries. The snacking culture will affect trending fast-food choices in 2016, and this does not bode well for consumer health.
Not surprisingly, fast-food trends for 2016 focus mainly on convenience. It seems the new healthier options offered by fast-food restaurants are simply a way to get more customers in the door and at the counter, where it's difficult to resist the smorgasbord of unhealthy temptations on the menu.
Are fast-food restaurants doing their part to reduce the various chronic diseases ailing the American population? Or is their focus still the bottom line?
—Stephen Seifert
Stephen Seifert is a writer, professor, adventurer and a health & fitness guru. His flair for travel and outdoor adventure allows him to enjoy culture and traditions different than his own. A healthy diet, routine fitness and constant mental development is the cornerstone to Stephen's life.
Sources:
http://www.statista.com/statistics/208917/revenue-of-the-mcdonalds-corporation-since-2005
http://campaign.mcdonalds.com.hk/en/promotions/createyourtastehk/desktop/?utm_source=en_create_your_taste&utm_medium=corp_left_nav&utm_campaign=Create-Your-Taste
http://time.com/money/3896566/taco-bell-natural-ingredients
https://postmates.com/about
https://postmates.com/press
http://www.mcdonalds.com/us/en/food/full_menu/snacks_and_sides.html