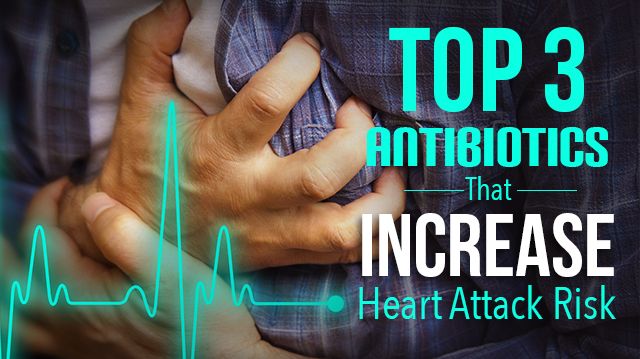 Certain antibiotics used to treat pneumonia, bronchitis and bacterial infections may increase the risk of heart attack, but only for people with underlying heart disease such as arrhythmias, structural changes to the heart, or heart damage from a previous heart attack. Read on to find out which three antibiotics pose the highest risk.
Cardiovascular death linked to macrolides
Macrolides are the most commonly prescribed antibiotics, and are used to treat a number of bacterial infections. Under the umbrella of macrolides are the commonly prescribed antibiotics azithromycin, erythromycin and clarithromycin. Research published in the New England Journal of Medicine studied more than a million cases of antibiotic-treated patients in 2012, and discovered some scary findings. 
The study found that patients taking azithromycin for five days were three times more likely to suffer a fatal cardiovascular event, compared with patients who took no antibiotics. Azithromycin, it seems, also caused irregular heartbeats in some patients. Similarly, erythromycin and clarithromycin were found to be linked to an increased risk of sudden cardiac death, according to the study.
Another study published in the Journal of the American College of Cardiology analyzed 33 studies involving more than 20 million patients between 1966 and 2015. Researchers compared patients treated with macrolides to similar patients treated with other antibiotics or patients who did not receive antibiotic therapy.
This time researchers examined each macrolide separately: azithromycin, clarithromycin and erythromycin. In this analysis, researchers found that each antibiotic was linked to an increased risk of sudden cardiac death or ventricular tachyarrhythmia (rapid heartbeat).
In those patients not taking macrolides, researchers found 80 cases of rapid heartbeat per million treatment courses. For those using macrolides, there were an additional 118 patients with rapid heartbeat or related sudden cardiac deaths per million treatment courses. The study revealed 36 additional sudden cardiac deaths from causes other than rapid heartbeat and 38 additional cardiovascular deaths per million treatment courses. 
"Given that macrolides are one of the most commonly used antibiotic groups and millions of patients are prescribed these drugs annually, the total number of sudden cardiac deaths or ventricular tachyarrhythmias and cardiac deaths may not be negligible," said Su-Hua Wu, M.D., Ph.D., one of the study authors. "The heart safety of each macrolide needs to be better understood, to help guide clinical treatment decisions."
FDA warning for azithromycin
In response to the study published in the New England Journal of Medicine, the US Food and Drug Administration (FDA) made a statement declaring they were aware of the cardiovascular deaths associated with azithromycin, in comparison to persons treated with amoxicillin, ciprofloxacin or no drug.
On March 3, 2013, the FDA made a follow-up announcement with a warning to the public that azithromycin can cause abnormal changes in the electrical activity of the heart, which may lead to a potentially fatal irregular heart rhythm.
"Health care professionals should consider the risk of fatal heart rhythms with azithromycin when considering treatment options for patients who are already at risk for cardiovascular events," said the FDA. 
Azithromycin is commonly prescribed to battle bacterial infections like pneumonia, bronchitis and sexually transmitted diseases, and marketed under the brand names Zithromax, Zmax and a treatment course commonly referred to as a "Z pack."
FDA warning for erythromycin 
Under adverse reactions listed in the FDA drug label, erythromycin — commonly prescribed for bacterial infections such as bronchitis, whooping cough, pneumonia and dental surgery — has been associated with a risk factor for sudden death and abnormal heart rhythms including rapid heartbeat.
FDA warning for clarithromycin
Clarithromycin — commonly prescribed for bacterial infections affecting the skin and respiratory system — is not only associated with an increased risk of cardiovascular death, but also with an increased risk of all-cause mortality.
The FDA drug label indicates clarithromycin is associated with prolongation of the QT interval (a heart rhythm disorder that can cause serious irregular heart rhythms) and infrequent cases of arrhythmia. Additionally, cases of torsades de pointes (a specific type of abnormal heart rhythm) have been reported in patients receiving clarithromycin. Fatalities have been reported, say the FDA.
The bottom line 
In 2011, approximately 40 million people in the United States were prescribed azithromycin, according to the FDA. 
"This possibility should give clinicians pause when they're considering prescribing antibacterial drugs, especially for patients with preexisting cardiovascular risk factors, or clinical conditions in which antibacterial drug therapy has limited benefits," said the FDA.
While some drug labels have been updated to strengthen the warnings and precautions, it's still important to recognize that macrolide antibiotics can cause death in people with underlying heart problems. And while this may make a lot of people nervous, the new findings help doctors determine who has an increased risk for heart problems when taking macrolide antibiotics. Discuss your antibiotic treatment with your doctor and make sure they are aware of your medical history and any drugs you are taking. 
—Katherine Marko
Katherine Marko is a freelance writer, author and blog creator. Her areas of expertise include food, health, style, beauty, business and nutrition. Marko holds a Bachelor of Arts in English, a diploma in photography, graphic design and marketing, and certification in esthetics.
Sources:
https://www.nlm.nih.gov/medlineplus/druginfo/meds/a697037.html
http://www.bpac.org.nz/BPJ/2012/may/macrolides.aspx
http://www.acc.org/about-acc/press-releases/2015/11/09/13/51/common-antibiotics-increase-risk-of-cardiac-arrhythmias-cardiac-death
http://www.ncbi.nlm.nih.gov/pubmed/10377939
http://www.nejm.org/doi/full/10.1056/NEJMoa1003833
http://www.fda.gov/Drugs/DrugSafety/ucm304372.htm
http://www.fda.gov/Drugs/DrugSafety/ucm341822.htm
https://www.nlm.nih.gov/medlineplus/druginfo/meds/a682381.html
http://www.accessdata.fda.gov/drugsatfda_docs/label/2011/050611s027lbl.pdf
http://www.accessdata.fda.gov/drugsatfda_docs/label/2012/050662s044s050,50698s026s030,050775s015s019lbl.pdf
http://www.mayoclinic.org/diseases-conditions/long-qt-syndrome/basics/causes/con-20025388