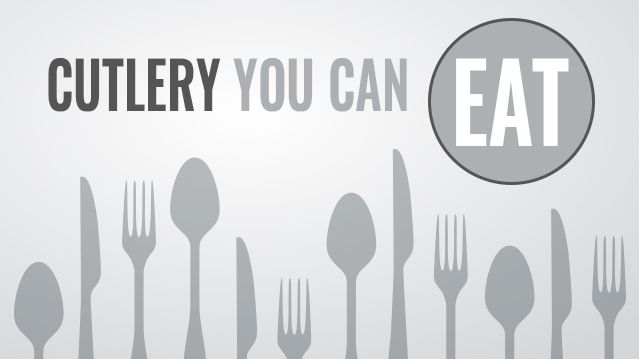 Plastic waste is a huge issue worldwide, and one major contributing source is plastic cutlery — plastic spoons, forks, knives, sporks and chopsticks are everywhere.
They're offered to café-goers with their coffee, they're in every fast-food restaurant imaginable, many sit-down restaurants feature some plastic options, and they're given to kids to eat lunch in school cafeterias. All of that plastic adds up, and fills our landfills and oceans.
However, Bakey's, an innovative company based in India, has a solution: edible cutlery.
Bakey's was formed in 2011 in Hyderabad, India, by Narayana Peesapaty. The company's edible spoons are made primarily from sorghum flour, with no additives or preservatives. They can be eaten, are durable enough to stand up to hot liquids (so you can use them for hot coffee and soup) and decompose naturally within just a few days.
If these spoons are dropped on the ground, litter isn't an issue. The spoon will either be eaten by insects or animals, or will biodegrade completely within a week or two. If stored properly, the spoons have a shelf life of 18 months. 
According to Bakey's Kickstarter page:
"Compostable utensils made of corn may seem like an answer to the problem. But it turns out, a good percentage of corn-based biodegradable utensils are thrown into landfills anyway, where they will remain for a very long time without degradation. Because these utensils need high heat and very specific conditions to properly degrade, many times their benefits are negated."
Regarding their spoons, Bakey's explains:
"Our ingredients are as simple with absolutely no preservatives. The lack of water, moisture or fat in our product allows it to have a long shelf life without the need for extra preservatives. They include: sorghum flour, rice flour and wheat flour. However, because we knead our dough through a certain method, our final product contains less than 10 ppm in gluten. Though we are not yet certified gluten free, we are working on it, and our ultimate goal is to create a formulation that requires absolutely no wheat."
The edible spoons are also vegan and free of preservatives, trans fats and dairy. Within a year, Bakey's goal is to certify its cutlery with additional merits, including "Non-GMO," "Gluten Free," and "Organic."
Along with plain sorghum (that's filled with a wealth of health benefits), Bakey's makes the spoons in a range of other flavors, including garlic and ginger, onion and tomato, and hot and spicy. The company also plans to make other types of cutlery once it is able to expand its production, including forks, chopsticks and eventually other types of "disposable tableware."
Bakey's also aims to package its spoons in "water-soluble packaging inside a box," although the company is not quite at this stage yet, and currently packages the spoons in bulk inside biodegradable cellophane.
Peesapaty is confident if enough volume of edible spoons is sold, he can make his product even less expensive than plastic cutlery. Fortunately, it seems that he may indeed reach this goal, as according to Bakey's Kickstarter page, nearly $135,000 have been pledged — way more than the company's original $20,000 goal. 
Imagine a world where all disposable cutlery — and disposable dishes, for that matter — were replaced with natural, edible, completely biodegradable versions. If this idea expanded worldwide, we would significantly reduce our plastic waste.
Kudos and best of luck to Bakey's! We hope this concept goes viral.
—Tanya Rakhmilevich
Tanya is a writer at The Alternative Daily with a passion for meditation, music, poetry, and overall creative and active living. She has a special interest in exploring traditional Eastern remedies and superfoods from around the globe, and enjoys spending time immersed in nature.
Sources:
http://www.treehugger.com/green-food/move-over-disposable-utensils-because-bakeys-edible-cutlery-here.html
https://www.kickstarter.com/projects/1240116767/edible-cutlery-the-future-of-eco-friendly-utensils
http://www.bakeys.com/edible-cutlery