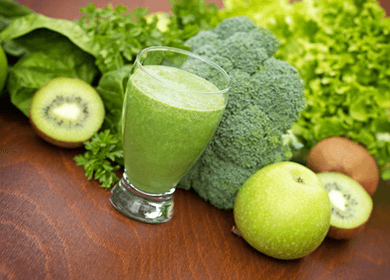 Do you eat leafy greens daily? If you are like most Americans, you probably don't get nearly the amount of vegetables, especially leafy greens. Sometimes it is a matter of time, sometimes a matter of taste.
For whatever reason, we just don't consume enough fresh veggies and are thus, deficient in many beneficial vitamins and minerals. One way to boost your veggie intake is to consider adding green smoothies to your diet.
Green smoothies can be made of any number of ingredients, but always include a leafy green veggie such as kale or spinach. People who enjoy one or two healthy green smoothies daily report some remarkable health benefits. Just be sure that your smoothie is made from all natural, organic ingredients.
Making a Basic Green Smoothies
Green smoothies are quick and easy to make. The first thing you do is to decide what you would like to use for your base. Three popular options include, green tea, coconut water or purified water.
Add two cups of your favorite green food such as kale, spinach or spirulina. You can also add 2 tablespoons of green superfood powder if you prefer.
Healthy fats, fiber and fruits, are the next ingredient. Good options include  1 tablespoon of coconut oil, 1 tablespoon of chia seeds and 1 cup of berries.
To give your smoothie a super healthy boost, consider such additions as bee pollen, raw cacao or raw maca.
If you need a little sweetener you can add a teaspoon of raw stevia, raw honey or raw coconut sugar crystals.
Of course, there are many spin offs of the ingredients listed above. With a little creativity, you will find your "perfect" green smoothie recipe. Just put all of your ingredients into a blender and hit the on switch. Be sure to enjoy your smoothie right away.
Health Benefits of Going Green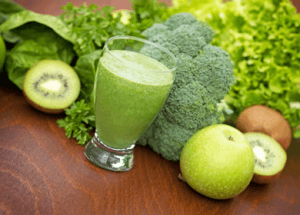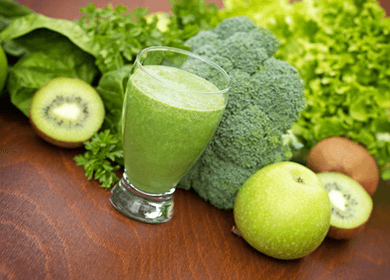 Green smoothies are a tasty and efficient way to get a healthy dose of vitamins, minerals, antioxidants and phytonutrients.  Greens tend to alkalinize the body, helping to balance pH. Those that drink green smoothies regularly report that they have more energy and feel better than ever.
In addition, leafy greens have an anti-inflammatory effect on the body which helps to lessen joint pain. The superfoods that you can add to your smoothie carry with them some astounding health promoting properties of their own. People who consume green smoothies, in combination with a healthy diet and regular exercise, also report losing weight especially that excess belly fat.
Have you gone green? What's your favorite recipe?
– The Alternative Daily