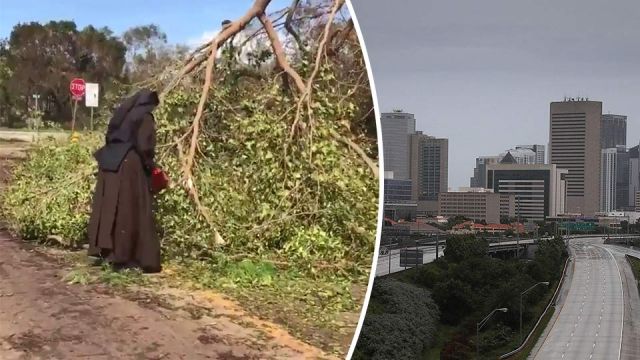 Millions of homes and business are still without power across Florida, and it could be weeks before utilities are brought back for all residents. However, it looks like some residents are taking matters into their own hands.
Sister Margaret Ann takes matters into her own hands
"There was a need and I had the means, so I wanted to help out," says Sister Margaret Ann. "We teach out students to help other people, don't think of yourselves," she said in an interview.
The nun went viral after Miami Dade County Police Department shared picture and videos of her. The post included, "As we recover from Hurricane Irma, these acts of kindness remind us all that we are one community in Miami Dade County!"
Nun video goes viral
Not surprisingly, the video has sparked lots of comments and shares online:
FTR: The chainsaw of Miami nun in the news for her post-#Irma clean-up work is bigger than that used by Florida's Agriculture Commissioner. pic.twitter.com/XkQZ7iJHIJ

— Peter Schorsch (@SaintPetersblog) September 13, 2017
This chainsaw-wielding nun is showing everyone how to clean up after a hurricane https://t.co/11IYx3P4i9

— Lindsey Bever (@lindseybever) September 13, 2017
A fully dress nun with a chainsaw. But actually helping roadblocks during the hurricane. Wow https://t.co/wqWVbCExKs

— George Escobar (@legeorgee) September 13, 2017
This nun clearing debris from hurricane Irma with a chainsaw is my new hero 👏🏻 pic.twitter.com/ZfCEz7IYNL

— Classy Catholic (@ClassyCatholic) September 13, 2017
Nun With A Chainsaw Becomes Symbol Of Post-Irma Cleanup: 'She Rocks' https://t.co/mJDIB1KBj0

— NPR (@NPR) September 13, 2017
just your local nun being awesome. https://t.co/XteAwwy8fW

— Mohamed Salih (@MohamedMOSalih) September 13, 2017
🌴I'm going to go "Out On A Limb" and say:

"Nun with a chainsaw"

is my favorite non-political #phraseoftheday 💥 pic.twitter.com/IzpUNV9Te4

— ladyhawker (@ladyhawkerfinds) September 13, 2017
The chainsaws were sitting in a closet at her school, Sister Margaret Ann said, "and they … needed to be used." https://t.co/HAbEe52JSr

— NPR (@NPR) September 13, 2017
Police say the act of kindness displayed by Sister Margaret Ann has spurred others to pitch in clearing debris as well.
— Peter Amirata