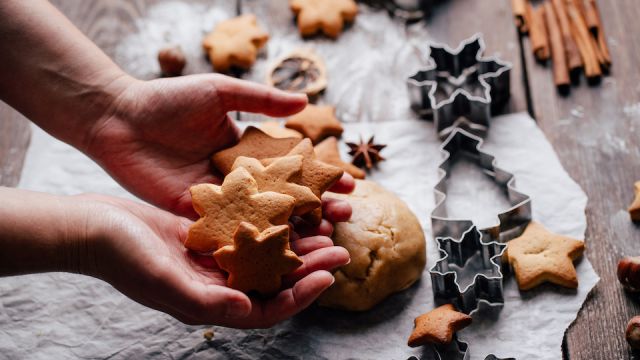 Ah, the holidays, the best time for year for joy, friendship, family, laughter, and…E. Coli? With Thanksgiving leftovers still in the fridge and the memory of the most recent romaine lettuce E. Coli outbreak fresh in our minds, another recall has Christmas bakers anxiously checking their flour stockpiles.
The recall
On November 27, the FDA announced recalls on certain batches of Hodgson Mill Unbleached All-Purpose White Wheat Flour and UNFI Wild Harvest Organic Unbleached All-Purpose Flour. Both recalls were voluntary and were made in extreme caution after the potential for E. Coli contamination was discovered through sampling raw flour. Though no one appears to have contracted E. Coli from this flour, consumers are still being urged to check the UPC codes and sell-by dates of the 5-pound flour bags in their pantry and throw out any that could be contaminated. Hodgson Mill is encouraging customers to return any of the affected flour for a full refund. 
More information on the UNFI recall, including which bags of flour could be contaminated, can be found here. Information and a list of recalled products for Hodgson Mill can be found here. 
Raw cookie dough
Though there is some debate as to whether or not high heat can actually kill E. Coli, especially heat-resistant strains, cooking your food to the proper temperature is generally considered a safe way to eliminate most bacteria. Therefore, even if you do accidentally use contaminated flour, baking your cookies should eradicate E. Coli.
Raw cookie dough is another story entirely. There's perhaps no holiday buzzkill quite as unfortunate as a severe case of E. Coli. Unless you want to end up in the emergency room over Christmas, or doubled over in the bathroom, it's a good idea to avoid raw cookie dough. 
You likely already know that by eating raw cookie dough, you are exposing yourself to a number of potentially harmful pathogens. If the threat of salmonella from raw eggs hasn't stopped you yet, perhaps this latest warning about E. Coli and other bacteria in raw flour will deter you from the dangerous (yet delicious!) habit. 
The CDC recommends following these guidelines to help protect you and your family:
Do not taste or eat any raw dough or batter, whether for cookies, tortillas, pizza, biscuits, pancakes, or crafts made with raw flour, such as homemade play dough or holiday ornaments.

Do not let children play with or eat raw dough, including dough for crafts.

Bake or cook raw dough and batter, such as cookie dough and cake mix, before eating.

Follow the recipe or package directions for cooking or baking at the proper temperature and for the specified time.

Do not make milkshakes with products that contain raw flour, such as cake mix.

Do not use raw homemade cookie dough in ice cream.

Keep raw foods such as flour or eggs separate from ready-to-eat foods. Because flour is a powder, it can spread easily.

Follow label directions to refrigerate products containing raw dough or eggs until they are cooked.

Clean up thoroughly after handling flour, eggs, or raw dough:

Wash your hands with running water and soap after handling flour, raw eggs, or any surfaces they have touched.

Wash bowls, utensils, countertops, and other surfaces with warm, soapy water.
Though it can be tempting to lick the spoon to savor every last drop of your holiday baking masterpieces, stay patient, and enjoy the cooked result. If you demonstrate any of the signs or symptoms of E. Coli, such as severe stomach cramps, bloody diarrhea, vomiting, or fever, after eating raw contaminated flour before seeing the recall, visit your doctor and inform them of your potential exposure to E. Coli. Remain vigilant for about a week after eating this flour as E. Coli can take between 3 to five days to cause symptoms. 
Is raw cookie dough really worth spending Christmas in the emergency room? Stay safe during this busy baking season and enjoy your holiday goodies once they've spent some time in the oven. As always, remain vigilant about various food recalls and always practice appropriate food safety. 
May you have a happy and healthy holiday season!
-The Alternative Daily