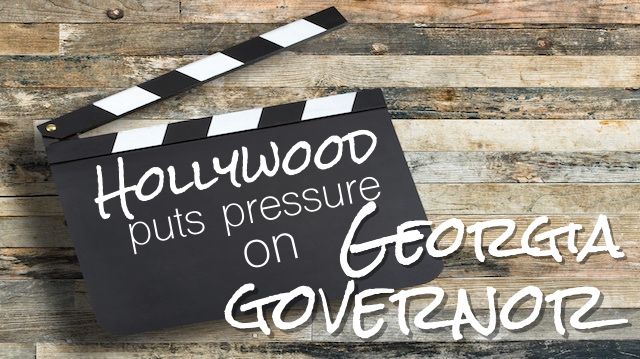 Georgia Governor Nathan Deal is coming under pressure from a consortium of Hollywood big players to veto a bill they argue will severely limit the rights of Georgia's lesbian, gay, bisexual and transgender (LGBT) community.
On Thursday, Time Warner, 21st Century Fox, and the Weinstein Company joined the ranks of Hollywood organizations, actors and directors speaking out against the bill. Those who have already voiced their concern include Viacom, Starz, and Discovery, while Disney, Marvel and AMC have announced their intention to boycott film production in Georgia in response to the proposed bill.
The bill, known as HB 757, would give religious officials the power to legally refuse to perform marriage ceremonies, rites and the administration of sacraments if it is not in accordance with their own religious beliefs. It would also give individuals the right to refuse attendance at marriage ceremonies that violated their own personal religious beliefs. While the bill does not make specific mention of gay marriage, its wording implies that there would be a significant impact on the Georgian LGBT community. HB 757 has already been passed in the Georgian State Senate and House.
The Weinstein Company has said that it "will not stand behind sanctioning the discrimination of LGBT people or any American," saying it would abandon plans to shoot a biographical film of Richard Pryor in Georgia later this year. The movie is scheduled to be directed by Lee Daniels and will feature Eddie Murphy, Oprah, Kate Hudson and Tracy Morgan. The company stated that they would move production of the film to another state if the bill was passed.
Many of the other Hollywood media companies that have spoken out against the bill have a strong presence in Georgia. The three divisions of Time Warner (HBO, Turner and Warner Bros.) all conduct business in the state, while AMC's leading series The Walking Dead is filmed in Georgia. Not all of these companies, however, have gone so far as to promise a boycott of production in Georgia in response to the bill.
In addition to Hollywood's increasingly negative response to the bill, major corporations such as Apple and the NFL have expressed their concern. Last Friday, the NFL issued a statement on HB 757, saying that "NFL policies emphasize tolerance and inclusiveness, and prohibit discrimination based on age, gender, race, religion, sexual orientation, or any other improper standard." NFL's spokesman Brian McCarthy went on to say that the laws and regulations of states can play a role in the choice of Super Bowl host sites.
The Georgia bill comes in the wake of a similar Indiana bill passed last year, which significantly diminished the anti-discriminatory rights of the LGBT community in that state. HB 757 has the potential to cause political turmoil as it could present the answer red state legislators are pushing for to attain a "win" for conservatives during this election year. With such high-profile opposition, however, Georgia runs the risk of alienating a large proportion of its Democrat population.
—Liivi Hess
Liivi is an Integrative Nutrition Health Coach and is training to become a doula. She inspires women to find peace and personal power by taking control of health and fertility naturally. Liivi's passion is ancestral nutrition and primal lifestyle design. She and her partner Will live between Toronto, Canada and Queenstown, New Zealand.
Sources:
http://money.cnn.com/2016/03/24/media/time-warner-georgia-discrimination-bill/index.html
http://www.theverge.com/2016/3/24/11300890/anti-lgbt-bill-georgia-time-warner-disney-marvel
http://thinkprogress.org/lgbt/2016/03/19/3761847/georgia-religious-liberty-bill-super-bowl
http://thinkprogress.org/lgbt/2015/11/18/3723348/indiana-lgbt-road-map-to-discrimination