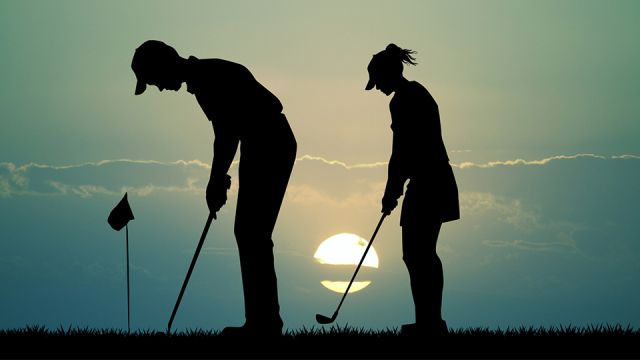 A Massachusetts high schooler won a local golf tournament by four shots, but won't be getting the first place trophy because she's a girl. 
Emily Nash won the Division 3 boy's golf tournament with a 3-over-par 75 at Blissful Meadows Golf Club in Uxbridge, a tournament that is held annually in the region.
The is the official scorecard from the tournament:
Congratulations to the team for finishing 4th in Districts! Emily Nash had low round of the tournament shooting a 75! ⛳️ pic.twitter.com/GQnPyAiWOo

— Lunenburg H.S. Golf (@LunenburgGolf) October 24, 2017
While no one is claiming she didn't win fair and square, the Massachusetts Interscholastic Athletic Association rules declare that any girls who play on fall boys' sports teams aren't eligible to compete in individual championships.
In other words, her score counted for her team's total, but didn't count for her individual competition.
Here is Emily on the golf course:
Emily Nash defeats boys, but MIAA prohibits her from winning CMass Division 3 golf title https://t.co/mdF3qBeISx @tgsports #Lunenburg pic.twitter.com/xrdjfAfR8h

— Telegram & Gazette (@telegramdotcom) October 25, 2017
Robert Durfesne, a volunteer official who ran the tournament, said, "It's a real injustice that she wasn't announced as the winner."
Nash says she was "disappointed" she didn't get the trophy, but according to reports she knew about the rule heading into the tournament. Ciolino, who was awarded the first-place trophy, offered his rival the trophy, but she declined to accept because it wasn't official.
"It was complete garbage," Dave Kocur, the Blissful Meadows Pro Shop manager, told PGA.com. "She played the same tees, played under the same conditions and everything."
Tournament director Kevin Riordan is planning to purchase a special trophy for Nash. "We don't make the rules, we just enforce them," said Riordan. 
Also, Nash played from all the same tees as the boys, so it's not like she had any unfair advantage.
In the year of 2017, you really have to ask yourself if this is fair and just. Many are calling for the "MIAA" to get with the times, especially with a situation like this.
Nash's tournament win has people commenting about the matter online:
So this is dumb as hell – a girl beat all the boys in a golf tourney but wasn't awarded the first place trophy. https://t.co/koAhthUuVg

— Shane Bacon (@shanebacon) October 25, 2017
@tjauclair thanks 4 article on @pga Emily Nash denied win.#sametees #samecourse #sameconditions #dowhatsright #swgproud pic.twitter.com/ovvMZaPMLP

— Suzy Whaley (@suzywhaley) October 25, 2017
Congrats to HS Golf Champion Emily Nash coming in 1st in the boys division. A strong role model for young female athletes to look up to

— Maureen T. LaRoche (@Coach_MLaRoche) October 25, 2017
What do you think about the developing situation? Was this fair? Let us know in the comments!
— PJ Amirata