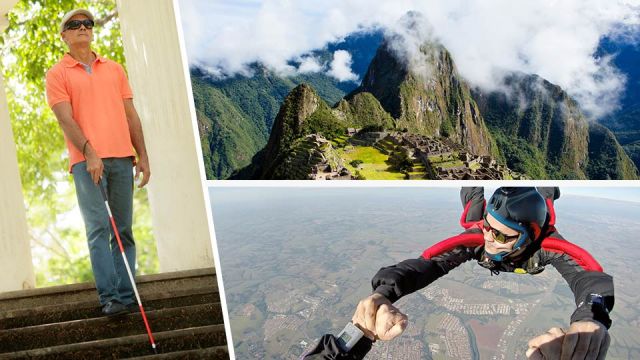 Traveling presents all sorts of fun and tough challenges. There's a lot of really basic stuff to learn when you're in a new place, such as how to get around and where people hang out. We might assume that all of this would be so much harder with a disability like blindness, and we might assume that some forms of sightseeing would be pointless without the ability to see… but these people are proving us wrong.
Peter White presents a travel show
Peter White is the radio presenter of "Blind Man Roams the Globe" and he says sounds and voices "beat sightseeing and views" to tell him about the places he visits. When he visited Marrakesh, he rode around the city on a horse-drawn carriage. He noticed the way the sound of the horses' hooves on the pavement had a "changing acoustic" in different parts of the city.
In Marrakesh, the chaotic, busy streets of the Medina — which has hardly changed over the last 500 years — meet the commercial part of town, with wide modern streets. A blind person traveling on horse-drawn carriage there can "get a sense of the width or narrowness of the streets you are passing, (and) even a feel for the wealth and sizes of the houses too," says White. His memories as a traveler are of everyday things, rather than grand architecture, which he says tends to be "noiseless."
Ekinath Khedekar jumped from a plane
Ekinath Khedekar, a corporate executive from India, is blind, but doesn't feel that sightseeing is everything. "You can have a multi-sensory experience by just listening to a buzzing city and its local languages, taking in the various smells that make a lane distinct or just feeling the vibe of a quaint town," he told MSN. And when he jumped from a plane over the Swiss Alps, he felt like every minute sensation, including the free-fall, the wind and the air pressure.
Khedekar says that Google Maps is a big help when he travels, but sometimes it's wrong, and in that case, people always help out. Cities like Prague also offer a lot of tours for the blind and special guides for historical walks.
Tony Giles has traveled to all seven continents
And then there's Tony Giles, a completely blind man, who is also 80 percent deaf without his hearing aids. He says he's visited each of the seven continents, as well as all 50 states in the U.S., all ten Canadian provinces and all South American countries. He usually travels alone, but has also traveled with his girlfriend, who is also blind.
Giles told Connect Magazine that traveling for him is about learning and meeting people "from different walks of life and different cultures and seeing how people feel in different situations." That, and adventure. Here's a bungee jumping experience he described:
"They said, 'We'll take you to the edge of the platform and after three taps on the shoulder, you jump off.' I had a two or three seconds… freefall… then bang! Electric waves of energy and adrenaline passed through me. Not knowing what would occur next was exulting and fantastic; the danger, the fear, the madness — I loved it all and wanted more," Giles wrote in his book, "The Kiwi Experience."
Further to that, Giles said he is sensitive to changes in space and temperature, and the energy of his surroundings. "If I'm walking along a path and come into an open field, I can detect that the energy has changed and a space has opened up," he said. Also, different cities smell differently. "Bangkok has a dirty smell of fumes mixed with incense. That's my vision of a country: the sounds and the smell."
Ashley Bernard stands up for herself and travels anywhere
It's possible to travel anywhere, says Ashley Bernard, a totally blind woman, in her article for Perkins. She says the right combination of mobility, reasoning skills and self-advocacy keep her going.
Her white cane helps her board planes and trains, use Uber and walk across campus, though she says some well-meaning people don't understand that. She described one time when, "At an airport, an employee started yelling at me, 'Someone should be with you at all times!' She then yelled that she would report the airline for negligence. Well, thank you, but that's not necessary. And please stop shouting."
Bernard asks for help when she needs it, such as at baggage claim, but will often use technology and apps to get around. Ultimately, she feels traveling is an adventure with "new stories to tell at the end of every trip."
Challenges for blind people who travel
White said one of his biggest challenges was traveling to non-English speaking countries. Without knowledge of the local language, methods other people might use — like pointing and miming — are difficult for him. On the other hand, Giles said his biggest challenge is money, and knowing what the different notes are. He says he's been short changed a few times, but "that's just part of traveling."
Emma Tracey, a BBC producer who has been blind from birth, said that some destinations simply aren't appropriate. She needed a lot of support when climbing during a trek in Machu Picchu in Peru, and felt ambivalent on reaching the summit. She said more multi-sensory destinations, with a lot of noise and decent transport systems, were better.
Why do you travel and what challenges have you faced? How did you overcome them?
— Tamara Pearson