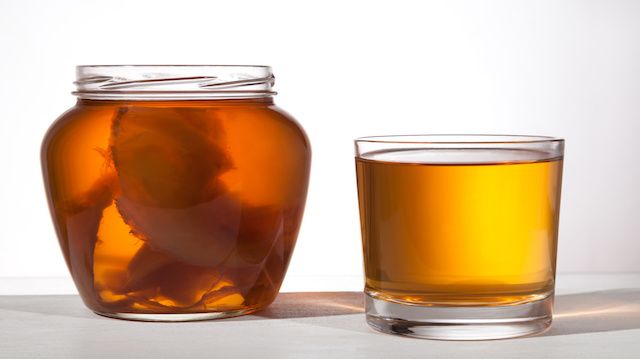 The Alcohol and Tobacco Tax and Trade Bureau (TTB) has stepped in over the alcohol content of kombucha. Recently, some kombucha tea products have tested over the 0.5 percent alcohol content limit for nonalcoholic beverages, according to the TTB. A 0.5 percent threshold constitutes roughly one-eighth of the alcohol found in a light beer.
Can kombucha tea actually get you drunk? The TTB is taking a hard stance on the issue, issuing letters to kombucha tea manufacturers across America. Any companies that produce kombucha products over the 0.5 percent alcohol limit will face a stiff fine, according to the TTB. The TTB did offer a solution: companies can change their kombucha products to alcoholic beverages, and pay the exorbitant taxes associated with the change in labeling. 
What's the big deal? Government agencies like the TTB warn that kombucha containing more than the 0.5 percent alcohol content limit may be harmful to children, women who are pregnant, and those who may be allergic to alcohol. 
Interestingly, kombucha tea is sold as a health beverage and has nothing to do with the alcohol industry whatsoever. However, the fermentation process of the key ingredients, including yeast and bacteria, may increase the alcohol content of the natural drink. On the other hand, kombucha may boost immune function, and offers a wealth of health benefits due to its probiotic properties, Ed Rothbauer, the owner of High Country Kombucha in Colorado, told CNN.
Originating in Asia, kombucha tea has been around for centuries. Ever since it hit the Western world, it has been taking the alternative health industry by storm. The kombucha industry itself has gathered an estimated 600 million dollars in sales this year alone, and is expected to reach 1.8 billion dollars by 2020, according to MicroMarket Monitor.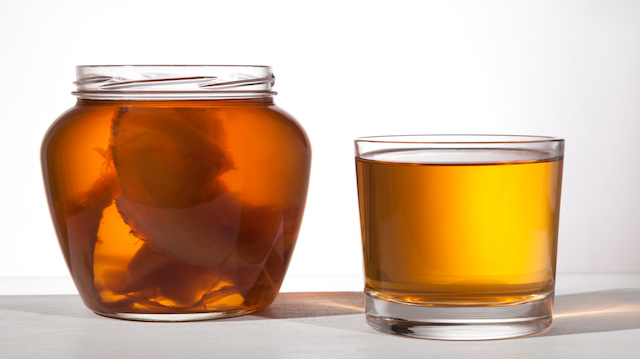 Kombucha tea, despite the TTB's alcohol content restrictions, boasts many health benefits. Kombucha aids in digestion and boosts gut health. As mentioned, it may boost your immune function. It can also be helpful for skin problems like rosacea, and may help to ease joint pain and discomfort.
Kombucha tea has been widely studied regarding its health properties. A study published in Food Research International (2000) reviewed the various health benefits of kombucha tea. This review of past research on kombucha tea found that it was anti-inflammatory, reduced cholesterol, promoted liver function, and had "an antibiotic effect against bacteria, viruses and yeasts." 
Kombucha tea may be under scrutiny for being just above the TTB's acceptable alcohol content threshold, but it surely packs a healthy punch. 
Do you drink kombucha tea, and if so, why?
—Stephen Seifert
Stephen Seifert is a writer, professor, adventurer and a health & fitness guru. His flair for travel and outdoor adventure allows him to enjoy culture and traditions different than his own. A healthy diet, routine fitness and constant mental development is the cornerstone to Stephen's life.
Sources:
http://www.ttb.gov/kombucha/kombucha-general.shtml
http://www.micromarketmonitor.com/market-report/kombucha-reports-7107519209.html
http://www.kombuchashare.com/research/Tea,%20Kombucha,%20and%20health.pdf
http://edition.cnn.com/2015/12/09/health/kombucha-tea-alcohol-content/index.html