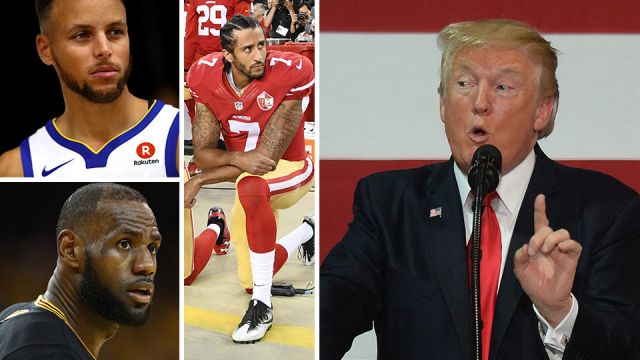 This weekend, there has been heightened controversy surrounding President Trump and the sports world.
This past Friday, while campaigning at an Alabama rally for a candidate in a close Republican primary election, President Trump gave his updated opinion surrounding national anthem protests in professional sports.
"Wouldn't you love to see one of these NFL owners, when someone disrespects our flag, say get that son of a b**** off the field right now," said President Trump. "Kneeling during our national anthem is a total disrespect for everything that we stand for….players that kneel should be fired!"
These anthem protests were first sparked in 2016 when former San Francisco 49ers quarterback, Colin Kaepernick sat through a pre-game national anthem. Since then, dozens of other players across the NFL have followed suit by kneeling in protest during the national anthem.
Donald Trump Jr., President Trump's oldest son, tweeted this during the rally:
Love this: @realDonaldTrump on NFL players disrespecting our flag/anthem: "get that son of a bitch off the field right now – YOU'RE FIRED!"

— Donald Trump Jr. (@DonaldJTrumpJr) September 23, 2017
These comments were met with backlash, especially for those who have felt the kneeling is bringing out an important issue. For example, Packers Tight End Martellus Bennett, a strong proponent of talking about racial tensions in the United States, was vocal on twitter about the situation.
I'm ok with being fired for what I believe in.

— Martellus Bennett (@MartysaurusRex) September 23, 2017
Not coincidentally on that same day, Golden State Warriors Guard Stephen Curry, who already was probably not going to the Championship White House visit even if his team went, confirmed he was not going.
"My stance is the same as it was on Friday," Curry said Saturday. "And even kind of cemented even further about how things in our country are going, especially with Trump representing us in a very damaging way."
After Curry said he was not attending, President Trump decided to defend himself and the White House visit tradition. Also, due to Curry's hesitation surrounding the situation, President Trump said the entire team was now uninvited.
Going to the White House is considered a great honor for a championship team.Stephen Curry is hesitating,therefore invitation is withdrawn!

— Donald J. Trump (@realDonaldTrump) September 23, 2017
Shortly after, NBA superstar LeBron James responded to President Trump's tweet. The tweet has gone viral with over 600k retweets so far.
U bum @StephenCurry30 already said he ain't going! So therefore ain't no invite. Going to White House was a great honor until you showed up!

— LeBron James (@KingJames) September 23, 2017
LeBron has been vocal about his opposition to President Trump in the past, and campaigned with Secretary Hillary Clinton during her presidential campaign. LeBron has since followed up with his tweet by sharing this video on his twitter account to further explain his opinion on the highly controversial topic.
"It's not about dividing. We as American people need to come together even stronger." — @KingJames responds to @realDonaldTrump's comments. pic.twitter.com/UHpzXpb42K

— UNINTERRUPTED (@uninterrupted) September 23, 2017
Curry further responded to the situation by saying "I have an idea of why, but it's kind of beneath a leader of a country to go that route. That's not what leaders do."
The Warriors mark the first professional team to not go to the White House during President Trump's tenure after winning a championship. Both the New England Patriots and NCAA Football Champion Clemson Tigers have attended.
—Peter Amirata