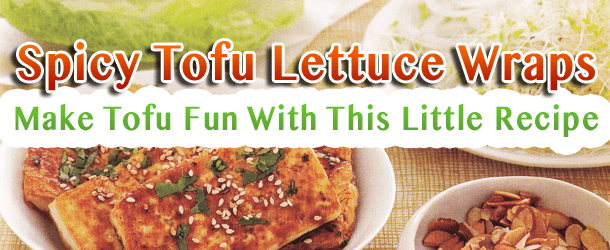 I love the idea of mid-week Tofu Dinners and follow it myself.  It's a great way to detox from the weekend and prepare for the upcoming one as well. It's extremely beneficial to occasionally give our bodies a break from animal based proteins and go for plant based proteins instead. Try my Spicy Tofu Lettuce Wraps…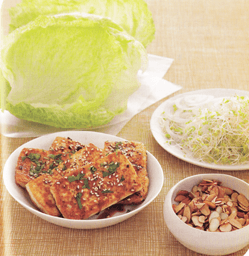 Ginger, spicy mustard and cilantro give this tofu wrap a lively kick.  Good lettuce wraps are all about the contrast of warm, flavorful fillings and the cool crunch of the outside, so feel free to make them with your favorite burrito or taco stuffers.  If you are serving these tofu wraps at home, pass the filling and lettuce leaves separately so each person can make his or her own wrap.  Serve a brisk salad of cucumbers, scallions, and rice vinegar alongside.
Ingredients:
-1/4 cup low-sodium soy sauce
2 teaspoons chopped cilantro
1 teaspoon minced garlic
1 teaspoon grated fresh ginger
1 teaspoon toasted sesame seeds
1 teaspoon spicy mustard
1 teaspoon hoisin sauce
1/2 teaspoon organic maple syrup
1 pound extra-firm tofu, cut crosswise in 1/2-inch slices.
2 teaspoons extra-virgin olive oil
8 iceberg lettuce cups
1/2 onion, thinly sliced
1 cup alfalfa sprouts
2 tablespoons slivered almonds, toasted
Directions:
1. Whisk together the soy sauce, cilantro, garlic, ginger, sesame seeds, mustard, hoisin sauce, and maple syrup in a shallow dish large enough to hold the tofu in a single layer.
2. Add the tofu to the marinade, turning to coat, and refrigerate for 30 minutes to 1 hour.
3. Heat the oil in a skillet over medium heat.  Add the tofu and marinade and cook, turning the tofu once with a spatula, until the tofu is hot and the marinade is reduced and thickened. Divide the tofu and sauce among the lettuce leaves.
4. Top with the onion, sprouts, and almonds.  Roll up and serve.
Nutritional Info Per Serving:
187 calories (93 from fat)
14 g protein
10 g fat (1.3g saturated fat)
9 g carbohydrates
3 g fiber
0 mg cholesterol
626 mg sodium
– Nancy Kennedy
Nancy Kennedy is Hollywood's Premiere Nutrition Expert and Trainer to The stars. She is also a well known Spokesperson for many Corporate Brands, a columnist, and the author of The Hollywood Wrap, Rodale. Nancy's signature style can even be found on her line of healthy fast foods available in Southern California and soon nationwide!
Visit Nancy's Website at http://www.NancyfKennedy.com/