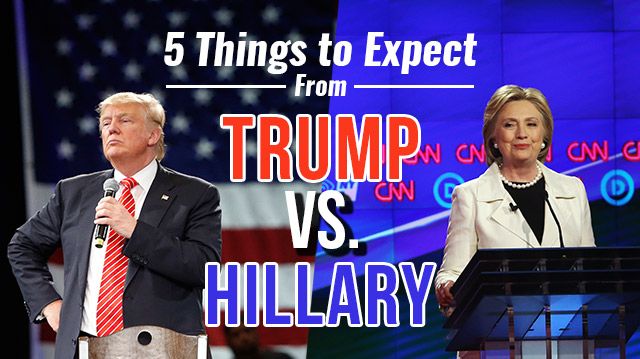 Interestingly, Trump and Clinton, have the highest unfavorable rating of any candidates ever in U.S. history. Yet, whether you stand behind the Democrats or Republicans, there is no mistaking — this is the year of Trump vs. Hillary (okay, maybe only almost for sure if you are a Bernie supporter). From Donald Trump's promises of being, "different" if elected, to Hillary Clinton's enticing Sanders' supporters, let's have a look at what we can expect from Trump vs. Hillary.
Trump will moderate (he has to) 
For some, who may be hard pressed to imagine Donald Trump reinventing himself as a moderate Republican, it seems he may be moving in that direction. Originally, Trump dismissed the North Carolina bill that would bar transgender people from using bathrooms matching their gender identity. However, more recently Trump said "a trans person should be able to use whatever bathroom they want." 
Trump has upset many people during his presidential campaign. From Muslims to immigrants and particularly women, Trump has offended them all. And while he has not been exceptionally conservative on issues relating to the LGBT community, his comments signal a moderate shift. 
Strategist Paul Manafort recently told Republican National Committee members that Trump is now evolving. He indicated that Trump knows his negatives need to be dealt with. And after the primary Manafort said, "his image is going to change" in ways that will comfort the general electorate.
"When I'm president, I'm a different person," Trump said. "I can be the most politically correct person you've ever seen." Is this a sign of things to come? He really has no other choice.
Hillary will build on the Bernie coalition (she has to) 
In the coming weeks, with or without Bernie, Hillary Clinton will need to woo young voters backing Sanders by addressing moral issues of wealth and inequality. Surprisingly, Sanders, who has grown into a strong opponent, and despite trailing Clinton in polls, once again proved his appeal to Midwest voters by clinching a surprise victory in the Indiana primary — his 18th victory of 2016. 
Clinton has been reserved, as she waits for Sanders to shift from defiance toward acceptance. "I applaud Senator Sanders and his millions of supporters for challenging us to get unaccountable money out of our politics and giving greater emphasis to closing the gap of inequality," said Clinton to a Philadelphia crowd. "Whether you support Senator Sanders or you support me there's much more that unites us than divides us."
Sanders has pledged to stay in the race until the party convention in Philadelphia this July. However, he has acknowledged that catching up with Clinton is an "uphill struggle."
Greater numbers of new voters (left and right) 
Throughout the first 12 primaries of 2016, combined Republican turnout has been over 17 percent of eligible voters and the Democratic turnout has been over 12 percent — highest turnout for Republicans since 1980, as well as highest turnout for Democrats since 1992. 
In a Pew Research survey from September 2015, nearly two-thirds (63 percent) of respondents said it was "very likely" they would vote in either the Republican or Democratic primary or caucus in their state. However, according to Pew, far more people say they'll vote in primaries than actually do.
Still, this year's presidential nominating season rivals 2008 for record voter turnout. From Donald Trump's victories to the surprisingly robust battle between Clinton and Sanders, the races indicate a record turnout among Republicans and higher than usual turnout among Democrats, according to the Pew Research Center. 
In the wake of Ted Cruz dropping out, and now Ohio Governor John Kasich reportedly leaving the U.S. Republican presidential contest, there is a clear path for Donald Trump to obtain his party's nomination. But how might that affect voters? While some may turn out in hopes of voting in their favorite presidential candidate, others may turn out for the opportunity of eliminating their least favorite candidate.
Greater numbers of non-voters (this is just amazingly true)
To some, it may seem that "not voting" in the upcoming election is downright irresponsible. But in reality voter turnout in the United States is among the lowest in the developed world according to Pew Research. In 2012, U.S. turnout was 53.6%, based on approximately 129 million votes cast for president, with an estimated voting-age population of just under 241 million people.
So what's holding Americans back from voting? "Too busy" tops the list of reasons, suggests the Washington Post, as per the Census Bureau. In addition, a general lack of interest, followed by illness, being out of town, forgetting, and a dislike of the candidates or the issues. Some blamed registration issues, inconvenience and lack of transportation or bad weather.
Seven more months of exhausting press coverage
While most countries can wrap up an election in a few months, the U.S election seems to be endless. And while it's easy to recognize the many issues associated with a drawn-out campaign such as focus on trivial issues, mean spirited debates and downright boredom, there are some benefits to seven more months of press coverage — exhausting as it may seem.
Longer coverage allows for a more democratic process. The longer information circulates, the more you get to know each candidate and their fundamental issues — allowing you to better choose a leader that can positively shape your community and country.
-Katherine Marko
Sources:
http://www.vox.com/2016/4/25/11498654/donald-trump-reinvent-moderate
http://www.theguardian.com/us-news/2016/may/03/bernie-sanders-wins-indiana-democratic-primary
http://www.pewresearch.org/fact-tank/2016/03/08/so-far-turnout-in-this-years-primaries-rivals-2008-record
http://www.pewresearch.org/fact-tank/2015/05/06/u-s-voter-turnout-trails-most-developed-countries
https://www.washingtonpost.com/news/the-fix/wp/2015/07/17/why-dont-americans-vote-were-too-busy