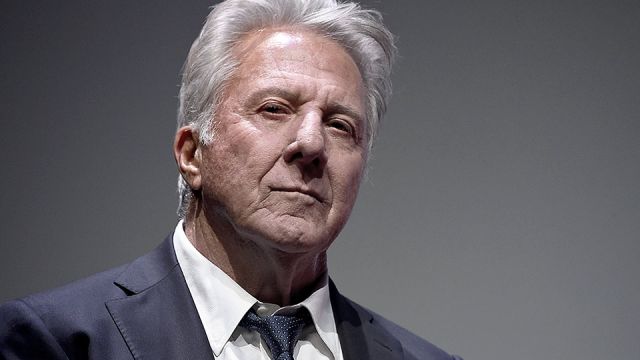 This week, yet another big Hollywood name has had to apologize for sexual assault. Today, Dustin Hoffman apologized to Anna Graham Hunter, after she claims he made unwanted advances on her during the filming of the television movie "Death of a Salesman" in 1985.
Today, Hunter tweeted this, an exposé type of article called "Dustin Hoffman Sexually Harassed Me When I Was 17", which she wrote in the Hollywood Reporter.
Story I wrote for The Hollywood Reporter https://t.co/pprfvXBjRd

— Anna Graham Hunter (@annaghunter) November 1, 2017
As read in the article, she claims she repeatedly had to "Slap away Hoffman's butt grabs and laughed off his vulgar language."
She continued, "At 49, I understand what Dustin Hoffman did as it fits into the larger pattern of what women experience in Hollywood and everywhere. He was a predator, I was a child, and this was sexual harassment. As to how it fits into my own pattern, I imagine I'll be figuring that out for years to come."
Here is a photo of the two pictured on set of Death of a Salesman:
Guest column: Dustin Hoffman sexually harassed me when I was 17 https://t.co/xE3Djlplsa pic.twitter.com/jhPfKUAALo

— Hollywood Reporter (@THR) November 1, 2017
When reached by The Hollywood Reporter, Hoffman responded to the allegations by saying "I have the utmost respect for women and feel terrible that anything I might have done could have put her in an uncomfortable situation. I am sorry. It is not reflective of who I am."
Recent misconduct allegations have been off the charts in recent weeks, with others such as Kevin Spacey and Jeremy Piven having apologized for sexual misconduct.
All the major allegations have stemmed from the Harvey Weinstein case, which is becoming far more important as the days pass, primarily due to the fact that so many others are now speaking out.
Also in the Hollywood Reporter article, Hunter wrote how she was told to put up with his behavior by a supervisor who told her to "sacrifice" some of her values for the sake of the production.
"One morning I went to his dressing room to take his breakfast order. He looked at me and grinned, taking his time. Then he said, 'I'll have a hard-boiled egg and a soft-boiled clitoris,'" Hunter recounted.
Similar to the Weinstein exposé, Hunter's recount is detailed and thorough. It shows the helplessness and confusion young women can feel in certain situations, where they can especially be taken advantage of.
The news about Hoffman has sparked conversation online:
In 2016, if you saw an actor's name trending, you immediately assumed they'd died. In 2017, it's because they're a predator.. #DustinHoffman

— Katie Harker-Pugh (@katieharker) November 1, 2017
Depressed over this. Between Dustin Hoffman and Kevin Spacey, I feel so let down. I loved them. I don't anymore, and that's no ones fault but theirs. https://t.co/THVHT9jbBS

— great exposure (@serenalawless) November 1, 2017
Harvey Weinstein,
Brett Ratner,
Kevin Spacey,
Dustin Hoffman…
It seems that in Hollywood
either you make movies
or you are harassed.

— Isaac Nervoso (@IsaacNervoso) November 1, 2017
One can only assume that more victims will be speaking out about their unfortunate dark pasts in coming weeks, especially based on the last few.
–PJ Amirata