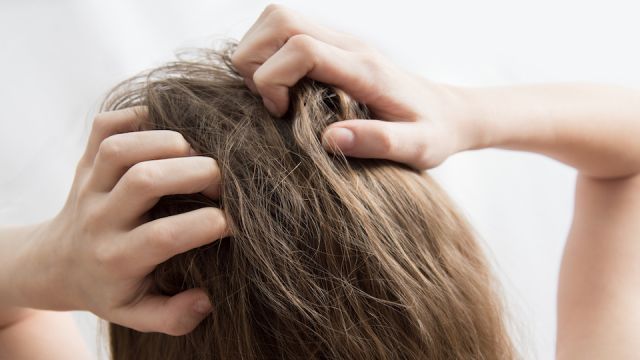 It is so annoying when your scalp itches. There is nothing more embarrassing than going around scratching your head. You know that you don't have lice and you keep your hair clean, so why does your scalp itch so much? There are a number of things that can cause an itchy scalp including fungal infections like eczema and psoriasis, dandruff, dirty hair, and even what you eat. There is good news; you can whip up several highly effective home treatments that will eliminate the itch while conditioning your scalp and hair.
One of the worst things you can do is dump a bunch of shampoos and other products on your already irritated scalp. Many of these products can cause more irritation and inflammation while not addressing the underlying reason for the itch in the first place. Not to mention the fact that many so-called "anti-itch" products come with a hefty price tag.
Natural ways to fix your itchy scalp
There are a number of all natural ways to keep your scalp healthy and your hair silky and vibrant. Here are a few recipes that you can try at home that will help relieve your itchy scalp once and for all.
Honey and Tea Tree Oil Scalp Scrub
Research shows that honey can resolve dandruff and ease an irritated scalp. In the study, participants had relief from itching and scaling in as little as two weeks. It is thought that honey's powerful antifungal and antibacterial properties along with its inflammation busting properties can knock out any pathogens causing scalp conditions while easing redness and swelling.
Ingredients
1 Tbsp  raw organic honey

2 Tbsp raw unfiltered apple cider vinegar

4 ounces aloe vera gel

1 Tbsp coconut oil

1 tsp Castile soap

3 Tbsp filtered or purified water

10 drops tea tree essential oil

10 drops rosemary essential oil

BPA-free plastic dispenser bottle
How to make
Mix the honey and apple cider vinegar together.

Add in the aloe era and coconut oil and blend well.

Once well-mixed, transfer to a mixing bowl.

Add the castile soap and water and blend well.

Add essential oils and blend well.

Pour into the bottle and shake vigorously.

Apply to wet hair. Massage into scalp and let it sit for a few minutes.

Rinse well.
Banana and Avocado Scalp Smoothie
Bananas and avocados are loaded with nourishing vitamins, minerals, and healthy fats that reduce inflammation while providing vital moisture. Avocados are especially loaded with antioxidants which your skin cells on your scalp love while bananas help to replenish moisture and ease dryness and flaking. Your scalp will drink up this fruit smoothie!
Ingredients
How to make
Mash the two bananas in a bowl.

Add the medium avocado and mash together with the bananas.

Apply to the itchy areas on your scalp and let it sit for about 30 minutes. Cover your head with a plastic bag for even more intense moisturizing.

Rinse your hair with lukewarm water.
Collodial and Oatmeal Shampoo
Colloidal oatmeal is a fine ground oatmeal that is often used to help ease dry and itchy skin. This colloidal oatmeal shampoo combines natural ingredients to make an effective balm to nourish a dry and inflamed scalp.
Ingredients
1 cup oatmeal

1 tablespoon lemon juice

1 teaspoon apple cider vinegar

10 to 20 drops lemon essential oil
How to make
Pour 1 cup of oatmeal into a blender and grind until it is a fine powder.

Combine oatmeal in a bowl with 2 cups of boiling water until the oatmeal is completely dissolved and then allow the mixture to sit for 5-10 minutes.

Pour the mixture through a coffee filter or sieve.

Pour the liquid into a medium-size bowl and toss out the remaining mixture.

Add in lemon juice and apple cider vinegar. Stir until well mixed. If you have color-treated hair, omit the lemon juice.

Add 10-20 drops of lemon essential oil to the bowl and stir.

Pour the ingredients into an empty shampoo bottle.

Wet your hair with warm water and work the product into your scalp. Let the mixture sit on your hair for two minutes before rinsing.
Itchy Scalp Spray
This natural scalp spray can cool inflamed and itchy skin, helping you feel calm and relaxed. Witch hazel is a natural astringent that contains tannins and essential oils that have both antiseptic and anti-inflammatory properties. The menthol crystals help bring immediate cooling to affected areas while the sea salt and the apple cider vinegar help kill bacteria and reduce inflammation. Aloe vera gel also container powerful antibacterial properties.
What's in it
2 Tbsp witch hazel

½ tsp sea salt

¼ tsp menthol crystals

1 Tbsp aloe vera gel

½ Tbsp raw apple cider vinegar

3 drops

lavender essential oil

3 drops calendula essential oil
How to make it
Microwave the witch hazel for 10-15 seconds until it is warm.

Add sea salt and menthol crystals. Mix until well blended.

Add aloe vera gel and apple cider vinegar.

Add essential oils.

Mix well and use a funnel to put all ingredients into a dark-colored spray bottle.

Shake and spray the solution to affected scalp areas. Use on itchy skin elsewhere as well.
-The Alternative Daily